THE
LOGO

COMPANY
Need a custom logo fast? Our team will create a stunning, original design for you in just three days. Your business will stand out from the crowd, wowing competitors and customers alike.
AN UNPROFESSIONAL LOGO LACKS CREDIBILITY
Building a solid business foundation means creating a logo that inspires. With our help, your logo can build a credible image and create customer loyalty.
5 Designers - 5 Choices
When you're building a logo, you deserve options. Our team puts five designers on your logo project so you have the ability to choose the designs that speak to you.
Unlimited Redraws
We believe in perfection down to the last detail for our clients. Our highest priority is designing a logo you can be proud of. That's why we don't place any limits on the number of changes you can make.
Three Day Turnaround
Three days is all it takes to reveal the new face of your business. And you'll be there every step of the way to see your new logo come to life.
Copyright Transfer
Once your logo is complete, we transfer 100% ownership to you with a certificate of transfer.
Multiple File Types
Your new logo will take countless forms out in the real world. We'll make sure you have all the file types you need to bring it fully to life.
Master File Included
Designers and printers will use a master file of your logo to create all sorts of media. Our team will make sure you have it, too.
Permanent File Storage
We keep a permanent record of your logo projects in our files for free. No need to worry about losing your master file in a computer crash.
100% Original Designs
We believe in one-of-a-kind logo designs. It's our promise to deliver 100% unique logos to every single customer.
Our 90-Day Guarantee
We believe in satisfied customers. So if you're unhappy with our work at any point within a 90-day period, we'll refund your purchase.
Simplicity Itself
You don't need to know a thing about logo design as we do everything for you. Complete a simple questionnaire and the design team will perform their magic even if you have no idea what your logo design should look like.
Post-Sales Support
Need help navigating the post-design process? Our team is here for you every step of the way. We'll speak with printers and designers on your behalf to make sure your beautiful new logo can make its way fully into the world.
"How We Make Your Logo Perfect" GUARANTEED!
Our 10-point primer and checklist is available for free if you want to make sure you're engaged in the right design process. Even if you don't choose The Logo Company, we want to make sure you fully understand how your logo should be designed.
Logo + Matched Stationery
Logo + Matched Stationery + 500 Business Cards
Click on any of the logos above to reveal more logos to view
Integrity & TRUST – THE PILLARS OF A GOOD BUSINESS
All of the logos we design have one goal in common: building a strong marketing foundation for your business. The greatest logos inspire something deeper than credibility. They radiate integrity and stir up confidence. Let's design a logo that inspires, together.
Why The Logo Company Is Different
There are hundreds of logo designers online seemingly all doing the same thing so you need to understand what makes us different from all the rest.
With our unlimited everything policy (that's unlimited revision rounds and unlimited redraws) you have the freedom to experiment with different ideas with your designer. It doesn't matter how many changes you make or how many designs we present to you because you will never be asked for extra money. If you don't like any of the first set of designs, that's perfectly OK and you're not going to hurt our feelings by telling us. We'll just have a chat and find out what's not working and then the next set of designs will be bang on the money.
We're not in business to nickel and dime you, we're here to make sure you get the logo of your dreams and nothing less. That's why our unlimited everything policy is so loved and enjoyed by our customers and you're going to love the freedom of it too. You have complete peace of mind knowing that the logo design is going to be perfect.
We never put you under pressure to select a design you're not happy with. In fact we go out of our way to make sure we only ever move forward when you're absolutely delighted and ready for the next stage. You're in complete control of your own happiness.
Because we start your project with five designers and not just one, you get to see some varied design styles right at the outset. With other logo designers you often get assigned just one designer and if you don't like their style of design you're pretty much stuck right at the start.
With our service you're not going to feel awkward rejecting the designers work because you're going to see so much variety that there'll be a style perfect for you right at the get go. We've got all the different design styles covered so you can relax.
Another great advantage of starting your project with five designers is you don't really need to know what your looking for. This is extremely common among our customers so you're not alone feeling that way. After all you're not a designer and unless you have a specific design in mind how could you possibly know what you want. Don't worry, you're going to get so much variety there is bound to be something you like and if not we have you covered with our unlimited everything policy. Sit back, let us work our magic and things will be a lot clearer for you when you see the first set of designs.
Owning the copyright to your logo has so many benefits. Firstly, the logo is yours and you own it outright which means you can do with it as you please. You're not tied in to a designer you have to pay royalties to for your own logo. How painful would that be? You don't need to worry about that with this service because when your logo is finished we'll hand it over to you with a certificate of copyright ownership. This certificate transfers any rights we have to the design during the design stage completely over to you in full.
The copyright ownership can be used to register your logo as a trademark. Having a trademark gives you the strongest brand protection and is a valuable business asset that you can sell on if you have an exit strategy or you want to hand it down to a member of your family. You will feel immensely proud of the strong brand you have built up and passed on.
We never sacrifice quality for speed. We have fine tuned our processes over the last 20 years so we can deliver stunning design choices that are totally relevant to your business in just 3 days.
When starting or rebranding a business you have a lot on your plate. The sooner you can get stuff off your todo list the sooner you can start making more money.  You're going to get to a finished logo that radiates credibility and trust fast and that is going to free you up to concentrate on delivering your product or service to your market.
Not only do we provide the initial design choices in just 3 days but we turn around your change requests and final file package in just 2 days. We're business owners too and know how important it is to get your brand working for you the best it can in the shortest time possible. As the saying goes, time is money.
You can relax knowing that we have your back. You're going to get a ton of different file formats and sizes to cope with any media you're thinking of using your logo on. We even provide you with instructions on which file is best for which media so you are never in the dark or confused about what file to use where. You don't need to learn new software or try to work out how to resize images because we have you covered.
If you come across a situation where you need a specific file format but you don't seem to have that one in your final logo files pack then we can work with you to either provide the format you need or at least a format that will work. You're never just left on your own to figure stuff out because we have you covered with our after service support policy.
We've spent countless hours refining and testing our design process over the last 20 years. Now, we can deliver top-notch logo designs in just three days. Our number one priority is creating a logo you love. A logo that makes your business stand out from the crowd. It all starts with a brainstorm. After that, our team draw draft sketches of the best ideas from the brainstorm. Only after our designers are satisfied with the sketches do we move them to the digital realm. It's here that your new logo really comes to life. Once the designs have been refined to perfection, you'll have the opportunity to see the fruits of this detail-oriented process.
ENGINEERING CREDIBILITY THROUGH DESIGN
You know what makes us different. Here's how we tailor the experience for you.
The service we provide isn't a logo builder software application or a bunch of designers holding a competition to see who can design the best logo and then get paid. This is a custom logo design service where we do everything for you without you having to know anything at all about design. Our designers are all highly motivated salaried professionals and get paid what they are worth. That means we don't cut corners and never use bits of old discarded designs or repurpose old rejected logos.
Everything we design is created from the ground up based entirely on your business starting with brainstorming and then concept sketches. It's a proper design process taking only the best ideas to the computer for digitising.
We never use clipart nor copy others designs. You are guaranteed to get a logo that is relevant to your business and a real one of a kind that you can then successfully trademark and build a solid brand around.
The big problem with do it yourself software and even competition websites is that they are usually regurgitating the same images with different business names and colors so they look a bit different but ultimately are far too similar to other designs. This is problematic when you come to trademark the design as it will often be impossible because of it's similarity to already trademarked designs. This is not so with our service because we guarantee that every single design is completely unique.
This is your main asset and you get it at the end of the design process with all the other file formats. The master file format is different though and you could say it's like owning the keys to the safe because you can work with any printer or designer worldwide without incurring file conversion costs. The master file is fully editable as standard and includes everything in the file that any designer or printer might require.
The master file is also a vector format. That just means it can be resized without any loss of quality. It also means your logo will look crisp and sharp on a pen as well as on a massive billboard at the side of the highway.  Being fully editable means if you want to make some color changes or add a word like "Anniversary" you can do it for minimum cost with any designer worldwide. You're not locked in to us. You have complete freedom and control of your logo to take advantage of every opportunity that arises.
Have you ever had a hard drive crash? If you haven't, believe me it's not a pleasant situation to find yourself in. If you've a comprehensive back-up plan then you don't need to worry as long as it works when you need it.
With our service you can relax. We keep your logo files in our fully backed up archive system permanently so even if your computer crashes in 10 years time we'll have the original logo files ready to send to you and for no extra cost. The relief our customers feel when their computer dies and they realise we still have their logo files is immense. We're your insurance in case of a disaster.
We get so many customers coming back to us after we've finished their logo completely frustrated with a professional print shop. The story often goes like this: The customer wants to print some business cards and the printer asks for a specific file format. The customer not being a designer or printer is not really sure what file format the printer needs and so they just send them a bunch of different files. The printer does not see a format he can work with and tells the customer to come back with something else.
Can you imagine how maddening that scenario is? You end up piggy in the middle between the designer and the printer not knowing who is right and who is wrong. Well, that's a nightmare played out daily between customers, printers and designers the world over. We save you from that madness.
Just give us the name and number of your printer and we'll work directly with them on your behalf so there are no costly misunderstandings or mistakes. We'll make sure the printer has absolutely everything they need while you get on with running your business. Now that's what we call peace of mind.
We understand it's nerve racking spending money on something you have no idea at the outset what it is going to look like. You're probably wary of working with an online designer and have heard horror stories of people wasting their money and getting nothing in return. Those scenarios are not possible with this service. Our guarantee is extremely simple.
If you don't get the logo of your dreams you get all your money back. Every cent of it. We don't charge you a processing fee or get you to sign up to restrictive contracts. We don't make you jump through hoops or ask you any awkward questions. It's as simple as that. You want your money back, just ask. This guarantee is valid all the way up to us delivering your final file formats or a full 90 days from the start of the project.
There are only ever 2 outcomes when you use our service for your logo design.
Outcome number 1 – You will get the logo of your dreams. It will radiate credibility and trust and make your business look established so you can concentrate on building a truly solid brand.
OR
Outcome number 2 – You will get all your money back. No questions asked!
So as you can see you have absolutely nothing to lose and no reason to delay taking advantage of the benefits a strong professional logo design will deliver to your business. We have you covered for 100% of your money because all the risk is on us.
Scroll down to see a sample of some of our latest work. This fun logo design and matched stationery set is an actual example of the quality you can expect when trusting your brand to The Logo Company.
If you're still unsure of our commitment, you can just ask our past customers. Their kind words are why we're still in the business of logo design after 20 years.
"I am so much more than pleased with my logo, the word pleased doesn't do it justice. I love my logo. And when you do business with The Logo Company, I know you will love your logo as well"
"The instructions make it very easy to get your design ideas across and the response time has been phenomenal. I have tasked several logo design companies in the past and none have given me the level of results and customer service that the Logo Company has."
"I received their logo ideas very quickly and the couple of rounds of a few tweaks of the logo I ultimately chose were just as quick and spot on. I would recommend this company to anyone who wants a great logo done by true professionals. It was a pleasure to work with them."
"If you're looking for a company to do design work, don't bother looking anywhere else, it will just be a disappointment! We will definitely consider thelogocompany.net for designing our website and any other design work we have in the future."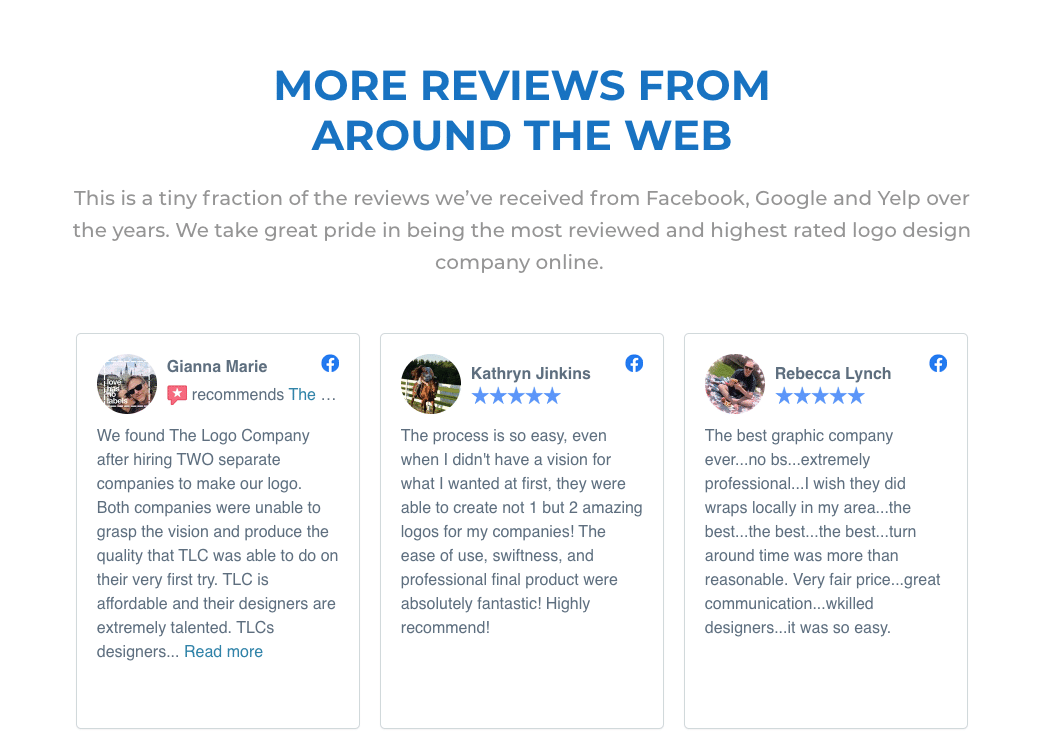 We have a money-back guarantee that's second to none. If you're dissatisfied with any aspect of our work within a 90-day period, we'll refund 100% of your purchase. No questions, no red tape. This guarantee remains in effect until you've selected a final logo design or if your design is not complete within 90 days of ordering.
YOU HAVE QUESTIONS – WE HAVE ANSWERS
Over 20 years in business means a lot of questions. Fortunately, we have the answers you're looking for. Scroll down for a quick FAQ curated by our team.
I need more than a logo. Can you help?
Yes we can. We understand that one size doesn't fit all. Your unique business situation can require a completely tailor made solution. That's why you can book a phone time with one of our branding consultants to discuss an affordable solution just for you.
Why do I need to pay upfront?
When we take on your logo design, we immediately assign a team of five designers. Within three business days, these professional designers will create five unique concept designs to move forward with. In order for us to dedicate these resources to your logo, we need to confirm you're a genuine customer. Your upfront payment tells us you're as serious about your new logo as we are. Fortunately, our costs are lower than most designers and we're dedicated to communicating with you, the customer. In addition, we provide a 100% money-back guarantee so your investment remains safe.
I already have a logo but I need the various file formats. Can you help?
Yes we can. If you email your existing logo to us in its current format, we can provide a quote for both price and time commitment. In the vast majority of cases, we'll be able to prepare your design in multiple formats, including a vector file that can be resized with zero loss of quality.
What if I don't like the design?
We've got you covered. We provide you with unlimited redraws and revisions. So if you're unhappy with your first set of designs, we can have a conversation to figure out what's working and what needs work. In our experience, the second set of designs usually hits the nail on the head.
I have no idea what I want!
That's okay! This is surprisingly common among our customers. Fortunately, we're prepared. When you place your order you'll get to complete a short questionnaire about your business. Our designers have mastered the art of taking inspiration from these questionnaire answers and using that to create logos that are both stunning and relevant. Whether you have a clear vision or not, it's our top priority to create a design you love.
Can I get a refund?
Absolutely. We have the best refund policy on the market, and it's simple. If at any point in the process you're dissatisfied with our work, we'll refund 100% of your purchase. No questions, no red tape. Our money-back guarantee is valid up until you select a final design or if a project is not finished within 90 days of your order.
Can I edit the logo myself?
The logo is designed in Adobe Illustrator the industry standard vector drawing program. If you have access to Adobe Illustrator, you can absolutely edit the logo yourself. The master file that you'll receive is fully editable, as well.
Who owns the copyright to the finished logo?
You do. At the end of the logo design process when we send, we'll send you all the file formats you'll need and a certificate of copyright transfer. This certificate is your proof that you own the copyright to the design. We retain zero rights to your logo, which means you're free to use it as you wish.
What can I use the logo on?
If you can imagine a place to use your logo, you can apply it there. The master file we send over makes this possible. With this file, you can resize or recolor your logo with zero loss in quality.
How many designs do I get to choose from?
With five designers assigned to your logo and unlimited redraws, you could feasibly see more original designs than you can count. Each design will be completely unique and 100% relevant to your business. You can experiment as much as you like and there won't be any rush from us.
Our goal is to leave you 100% satisfied with your new logo.
How long does all this take?
Initial designs will be ready for you to view in just three business days. Any subsequent redraws or revisions to the designs will take an additional two business days. With 20 years of experience under our belt, we're 100% confident in these turnaround times.
How much does it cost?
We have 3 different logo packages:
A logo design only package for $199. A logo with a matched stationery set design for $249 and a logo with a matched stationery set design including 500 business cards delivered to your door anywhere in the US or Canada for $339.
You may be offered one or two optional upgrades at checkout. Optional upgrades include a Microsoft Word version of the professional printable letterhead for $80. A social media file format pack for $100 and from time to time various print offers.
How do you send me the logo?
Our project management system allows you to view your designs throughout the process and provide feedback on each iteration. Once the final design is complete, you'll be able to download it right from our system to your computer. In addition, we'll keep your design safe in our archives should you lose your copy. We can also work directly with your printer of choice and send them any files they may need on your behalf.
Can I speak direct with the designer?
Unfortunately, it's not possible for customers to speak with designers directly. That being said, every customer works with one of our experienced project managers throughout the design process. This project manager will work with both you and your team of designers to make sure you walk away 100% satisfied with the final product. We take great pride in our communicative working style, and we can't wait to show you.
Can we speak on the phone?
Yes! Though in most normal circumstances, you won't need to. Our project management system runs like a well-oiled machine, so you can send real-time messages and get real-time responses in just minutes. That being said, we understand that some concerns are best addressed over the phone. So if you'd like to chat on the phone instead of online, just let us know.
Can I give you ideas or a sketch of what I want?
Absolutely. If you have a solid idea of what you want your logo to be, our designers can help you bring it to life. Part of the beauty of our service is that our designers possess the skill to help you flesh out a rough idea or polish a near-completed one.
What is a "Matched Stationery Set"?
Our stationery set includes all of the digital files you'll need to have business cards, envelopes, or letterhead printed. Each of these items will be designed around your logo to help enhance your new brand. It's all about making a great first impression!
It's all about making a great first impression and these designs when printed out do exactly that.
How thick are your business cards?
We print our business cards on a heavy card stock 12pt in weight. To give you an idea of what that looks like, they're about the same thickness as a credit card. We can also print on both sides at no extra cost to you.
How many stationery designs do I get to choose from?
The stationery design process is very similar to the logo design process. You'll be able to choose from three designs that really accentuate your new logo and branding. As a crucial part of your new branding, these designs are never based on templates and are always 100% original.
What is the size of the letterhead?
Typically our U.S. clients use letter size. Our European clients use A4 size, and some of our legal type business clients prefer legal size. If you need a unique size, just let us know and we'll make it happen.
What is the size of the envelope?
Our envelopes are designed for the standard #10 size. U.S. customers typically prefer this size, and European clients usually order similar sizes. If you need a unique size, just let us know and we'll make it happen.
Do you design brochures and other marketing materials?
Yes. Everything starts with your logo, but once that's finished we can design almost any type of marketing material you need. We can also offer multiple design and print options that will suit your budget. When you're ready to get your name out there, we're ready to make it happen.
Do you offer web design?
Yes! If you're ready to revitalize your online presence, we're ready to help. Contact us today to learn how we can help generate real traffic and conversions on your site.
After completing your purchase you will be forwarded to a short questionnaire