Small Businesses Are Beating The Global Downturn. Will You Join Them?
Getting your brand into the faces of your potential clients has always been the biggest challenge for small businesses. Offline advertising is often expensive and notoriously hard to track return on investment. Online advertising is getting more and more expensive as people wise up and compete for the same search terms. Even if you rely on footfall past your premises, the game has changed. No longer are clients loyal to a single brand, they want more for their money and they will travel a little to find it. Gone are the days where people make a choice to eat out at one place or another. It´s now a choice to eat out or spend the money on something else. Money is a lot tighter in this time of austerity.
Advertising is the lifeblood of many small businesses and gaining new clients is the reward for that work. However, getting new clients is just the start, you want to retain them too. You should strive to build loyalty into your brand so that your clients come back to you time and time again. It´s important to keep communicating with your existing clients so when they are ready to make that buying decision, your name is on the top of the list.
Facebook, Twitter and traditional websites are one way of reaching out and building a buzz around your brand. The problem with these mediums though is that your clients can only interact with you when they are online or in your premises. How do you get your message to these people when they are not online?
Mobile apps are the new rock and roll of marketing for small businesses. Since the launch of the Iphone and the Itunes store, mobile apps have been taking the world by storm. Millions of apps are downloaded and installed on mobile devices every single day. Very soon, more people will be interfacing with the internet on a mobile device than a computer. That time is coming at us very fast and it gives small businesses a massive opportunity to build their brand. Those small businesses that embrace this technology early on will have a competitive advantage over their peers. But why should small businesses take their brand mobile? Whats in it for them?
Watch The Video And Understand Why It Makes Perfect Sense.
1. Push Notifications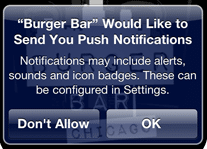 This is a game changer in the world of businesses communicating with their clients. If you were to send an email to a client it might never get read. In fact, many emails never get read at all and often go right to the spam bin. It´s a bit hit and miss and very unreliable as a method of communication. Not so with sending messages direct to someones phone. They will nearly always read it. Just imagine if you ran a take-a-way establishment and you wanted to push a certain special offer to all your clients this lunchtime. Send them a text message direct to their phone and the chances are they will read that message at the time you want them to. How powerful is that? Think of all the different types of businesses that could benefit from this type of instant communication. One way to achieve this is by integrating a chat API like Sendbird into your mobile app. This will allow you to build social, marketing, and support chat features that can help boost engagement, conversions, and customer satisfaction. Sure you can sign up for an SMS package but that is going to cost a lot of money and you are not guaranteed to be hitting the right market for your goods. Push notifications and in-app messaging built into a mobile app with a chat API are free and unlimited. You can send as many as you want, when you want. As long as your target has the app on their phone, they will get your message. This feature alone could pay for the app many times over in a short space of time. "
2. Apps Are Cool
Let´s take out all the sensible and well thought out reasons to have an app. Forget about the benefits to your business that the different modules in an app can deliver to your clients and lets get right down to the emotions. Apps are cool. They are in fashion and they are now. People love apps and they love to interact with them. Being associated with cool has not harmed many brands. In fact, most brands will get a positive boost if they are seen to be trendy and with the times. A well designed app that has some cool and useful features could put your business ahead of the curve in the minds of your potential customers. Cool is good for business so don´t underestimate the value this can bring to your brand.
3. Shopping
More and more people are making purchasing decisions with the help of a mobile device. When that decision is made, more and more people are making that purchase on their mobile device. A business app with a built in shopping cart will allow your clients to shop with you using their preferred tool. Business apps are now interfacing with the most popular shopping cart software too. Popular software like Magento and Shopify are now also available inside well designed business apps. These allow clients to order and pay using their mobile device. This is convenient and it is growing in popularity every day. If your clients can´t buy from your business on their mobile device, they are likely to find somewhere they can.
4. GPS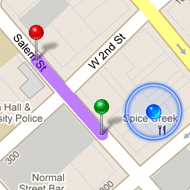 Most mobile devices come standard with GPS built in. It´s a great tool and can be leveraged by small businesses who build in the best features GPS offers into their mobile app. For instance, a small business can provide turn by turn directions to their front door from anywhere in the world. Businesses can offer loyalty rewards to their clients who check in with them on a regular basis using the GPS features of the device. If you say, "check in at the check-out 10 times in a month and win a free T-Shirt". The uses for that are only limited by your imagination.
5. Loyalty Programs
How often have you started collecting the stamps at the local coffee house only to get to 8 of 10 and lose the card? You know the story well. It´s frustrating and can actually turn your customers off. They might well think why bother and they have been meaning to try the new place down the road anyway. This is not going to happen if you run a loyalty program from your business app. They present their mobile device to you at check-out, you enter the secret pin code and they get their stamp. Collect all stamps for the reward of your choice. Even if they lose their phone, when they get a new device, they will sync it with the App Store and "hey presto" they still have your app and all their stamps in tact. Happy loyal customers come back time and time again.
6. Events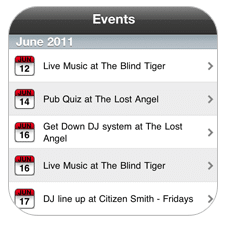 People make impulse decisions about a lot of things in their lives. They are out and about and decide to do something or go somewhere on the spur of the moment. How do you take advantage of this scenario if your prospects are out and about with no access to a computer to look up your web page? Even if you have a well designed web page that works well on a mobile device, it´s a well known fact that websites designed for computers act differently on mobile devices. People are used to working in a certain way with their mobile that often does not suit a website that was designed to be viewed on a computer. It can be a frustrating experience and one that is not often repeated.
Having your events in your mobile app means that not only do your prospects have instant access to whats going on, they can see that information the way they prefer to without the frustrations of looking at a website on a small screen. You can use your events tab in your app in association with your push notifications for an even bigger impact to get people to your events and spreading your buzz.
7. Build Your Brand
Get your logo on the launch screen and displayed throughout your app. Build that brand recognition that until now has been the domain of big businesses with massive six figure advertising budgets. Your app is going to be downloadable on the Itunes Store and the Android Market (google) for maximum exposure. Anyone locally searching for your type of business on the app stores is going to see your app and give you that extra brand exposure. You are going to look bigger than you are and this can be a factor in building brand trust and loyalty. You love your logo design so get it working for you in the biggest shop front in the world.
8. Compliment Your Existing Branding
Mobile apps are not replacing your existing marketing channels, they are strengthening them and complimenting them. You still have your website for traditional internet access to your brand. You still have your Facebook and Twitter accounts linked out from your website. Your blog is still your blog. Your app can bring all these together too so that people can access these features better on their mobile device and in a single place. It´s another avenue for you to get your brand in front of your prospects. It´s not an either or situation but a great opportunity for small businesses to do more and reach more clients for just a small investment.
9. Measure Return On Investment
With access to the number of downloads of your app on the different markets you can see how well your mobile marketing is progressing. One of the hardest things to measure in marketing is the return on investment. Ask yourself what it would mean to your business to gain just one new client. What about 10 new clients? What about 100? Then ask yourself what it would mean to you if these customers kept coming back to you time after time. The platform the mobile app is developed from can give you some great metrics to allow you to better track that elusive return on investment. Knowing what works and what does not work in business is a powerful tool to grow your bottom line.
10. It´s All About The Facts
As the saying goes, the numbers don´t lie. Here are some interesting and enlightening facts that should convince you to at least look deeper into the feasibility of having a mobile app developed for your business. Opportunities like this revolution in mobile apps come around once in a lifetime and those who adopt early will be able to benefit their brand for much longer.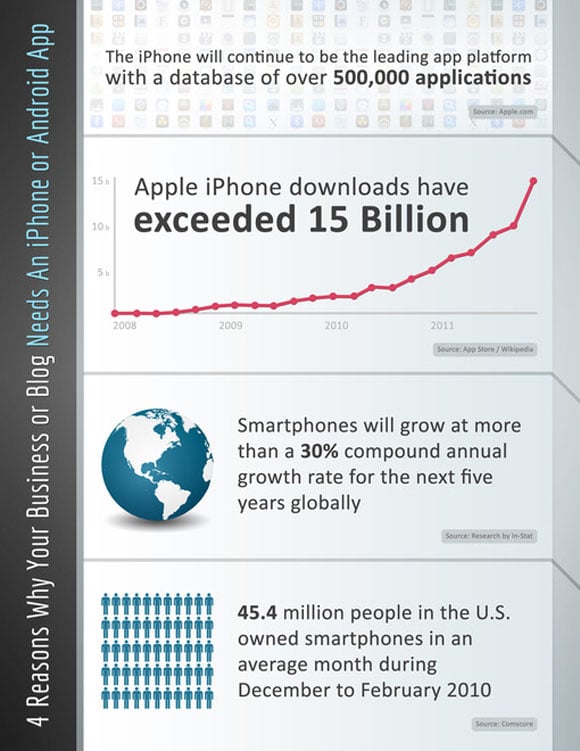 Can You Afford It?
The Logo Company develops apps for small businesses. Not just apps but beautiful, stunning apps that get downloaded and used by real people buying from real businesses. We are a registered Apple and Android developers and also provide HTML5 mobile sites to compliment our apps. Traditionally it has cost businesses many thousands of dollars to develop business apps and then pay the developer time and again for the smallest updates to the app. We have developed a really easy content management system that gives you direct access to things like push notifications and events updates etc that does away with the need for a developer on stand by. Because we have a simple back end system in place our costs are not in the thousands. Nowhere near in fact. If you want to take advantage of seeing a customized demo app that we will set up specifically for your business then please complete the form here: http://app.thelogocompany.net