Your logo is everything to your construction company. Your customers will see your logo on business cards, on advertisements, and even on catalogues too. It's important to know that branding is how your customers will remember you, and it is also the best way for you to highlight your strengths. If your logo is memorable, then this will help your company to get more loyal customers, who may be more likely to make more transactions with you. A lot of construction companies make the mistake of choosing any logo for their business, and as long as it looks like it fits the niche, it's good enough. This is not true at all, and if you follow this approach, you may find that you lose out on customers more than you realize. Luckily, there are ways for you to turn things around, such as by hiring a logo design company like The Logo Company. When you come through a service such as ours, you can feel confident knowing that everything we do is for the sole purpose of solidifying your brand. We will create a logo that helps you to stand out from the crowd while also helping you to cement your place in the mind of your customers. Want to find out more? Simply take a look below.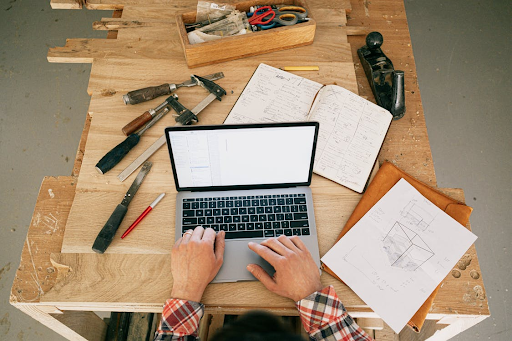 Why is a Good Logo Important for your Construction Company?
Logos are very important. They are usually the first visual representation that people will get of your company, so it is imperative that your logo instantly connects with your customers. It is important that you take note of other brands that are recognized, and why this is the case. You also need it to be meaningful to your company, as this will strengthen the connection between your brand and the business itself. Again, a designer from our team will do all of this for you, helping you to bring your vision to life.
Set Yourself Apart
Your logo will be placed on your site, social media pages, business cards and even online ads. The more your clients see it, the easier they will find it to remember it. Sure, word of mouth referrals are ideal, but in this day and age, construction is a competitive industry. That's why you have to go the extra mile when you are trying to create a high level of brand awareness.  A good logo will do this for you because it will help you to stand out from the crowd and it will showcase you as being the professional you truly are.
Building Credibility
Developing a brand that is strong and recognizable will help you to build credibility. It will also help you to establish a lot of trust with your client base. It doesn't matter whether they are new, past, or current because a good logo can speak volumes about your credibility. When clients hire you, they will associate the superior services you provide with your brand, and this will make them more likely to call you for the next project that comes up.
Preparing to Create a Logo
Before you even think about choosing an image for your logo, or even a color, it's important to do some research. This is why it is so beneficial to go through a professional company because they will do all of this for you. When you come through us at The Logo Company, we will do everything we can to take a look at your competition and pinpoint what you like, what you don't like, and the general feel you are going for. It's vital that an analysis such as this is done, as it helps you to pinpoint any mistakes that your competitors may have made, and it also helps you to ensure that the logo fits in with the image that you ideally want your company to project. Another reason to pay attention to the logos of others is so you can make sure that you do not inadvertently copy. When you come through us, we have a collection of imagery, font and colors to choose from, so you will never have to worry about something being similar. Your logo will be unique to your company in every way.
Symbolic Logo Design
This theme essentially assumes that there is going to be a symbol or an image present. The most common variant of a construction company logo is actually a symbolic image with a house, building, bricks, or even construction equipment. A logo regarding this theme helps to speak about your activities and it makes them easy to remember.
Text Logo
This option is highly convenient if you know that your company name is renowned, but you want a rebrand to modernize your company. A logo such as this is very easy to remember as the title itself indicates the activities you carry out. If you opt for an option such as this, then you can expect a minimalist option, and you will also need to pay a lot of attention to the font that is being used. When you come to us for your logo design, you can feel confident knowing that we will assess every font.
Combined Logo
This logo is very much seen as being a win-win. You will have an image and a name within it, and this allows clients to remember it and then understand the meaning that you wish to convey. If you choose the right composition and the layout of elements like this, then you will be able to really appeal to your customers.
Alphanumeric
This type of logo implies the presence of a few characters in the logo. It is often preferred by companies that choose to forego a long name.
The Color Scheme
 So, what color scheme should you opt for when you are trying to choose a logo for your construction company? Color will play a huge role in your construction role, and it is so important for you to give this a lot of thought. We have a lot of experience when it comes to construction logo design and we are very proud to say that when you come to us, you can count on us to not only choose colors that reflect your brand, but also colors that help you to stand out. The right shade will help your company to create the right feeling and it will also help it to be remembered by your clients too. The color will help to evoke a sense of reliability, dependency, trust, and professionalism. If you choose the wrong color however, you may find that you end up pushing your customers away.
Different Colors to Use
The color red is associated with strong feelings, such as passion and force. That being said, sometimes it is associated with aggression, and therefore it is not advisable for you to use this color unless you can balance it out and incorporate it well.
Purple is a color that is often associated with luxury, which can make your services seem expensive. A lot of science goes into choosing the right color for your construction logo and it is of course imperative that you choose the right hues where possible. By taking into account the psychology behind human perception, you can choose the color most suited to you.
So here at The Logo Design Company, which colors do we believe are the best for a construction company? We recommend calm and darker shades. This can include brown, green, blue, and black. Black and white for example conveys class while also showcasing stability and reliability. Yellow and orange are also colors often used, due to the high-visibility jackets that construction workers wear. Psychologists also tend to associate colors like this with both trust and calmness. When you look at our previously designed construction logos, you will see that we incorporate a lot of orange for this very reason.
Getting your Logo Designed by the Logo Company
We have years of experience when it comes to construction logo design, and we pride ourselves on providing a solid service to all of our customers. We know how difficult it can be to find a logo that hits all of the marks, as well as ensuring that it conveys the message you want your brand to put out there. That is why when you come to us, you can count on us to truly surpass any requirements that you may have. We also have a lot of logo design packages available as well so if you are interested in finding out more about this, then the only thing that you have to do is visit our site. If you want to contact our company so that you can enquire about the logo design services we offer, or if you are interested in seeing if our team can help you with any rebranding efforts you are undertaking, then you can contact us at logosale@thelogocompany.net/. We are open 24 hours a day, 7 days a week, so you can always trust in us to answer any enquiries you may have about our team or our services.