First of all, logos for Chinese restaurants are just as important as the delicious Chinese dishes that you want to prepare. There are many different food trends sweeping their way through the United States. One of them emphasizes the importance of authentic dishes. Not Americanized ones. This applies to foods from many different countries, including China. Yes, there's a movement towards real, authentic Chinese food.
However, the Americanized version is still popular. However many people want to branch away from the overly sweet sauces and heavy fried rices. Perhaps more towards noodle dishes and other things that are actually eaten in China. If you want to open up a restaurant like this, you'll need to keep a few things in mind. It also helps if you know what traditional (read: real) Chinese food is, so we'll start there.
What Is Real Chinese Food?
Well, real Chinese food is pretty much everything that you won't find in a typical Chinese restaurant. While some if might be close, especially since sweet and sour chicken is a real Chinese dish. However, there are quite a few differences. Let's start with the sweet and sour sauce. The Americanized version is extremely sweet, while the authentic kind is more savory. You'll also find rice and stir-fries on the menu, but not the kind with meat-flavored fried rice.
The overall food profile is quite different. Once you're aware of the difference, you next have to choose which dishes to serve.  Furthermore, you might want to include some of the Americanized dishes on the menu. Similar to the way that Mexican restaurants often have a small section with cheeseburgers, French fries, and chicken tenders.
Understandably, the options need to be there for people who aren't interested in expanding their palates. Of course, this is entirely up to you. After all, you don't have to place anything on the menu that you don't want to. With that said, you do want to have a good variety of things to choose from. For instance, you'll need some main entrees and side dishes. Both of which need to go together. After all, a good rule of thumb is to think about what you want to eat and put together something that works.
We already went over the fact that there's a large market for these types of authentic meals. Thanks to Instagram, stories, reels, and all the other other social media channels. Network who tout the importance of eating so-called "exotic" dishes while abroad and then looking for their equivalents back home. No matter how you look at it, if you make tasty food, people will want to eat it.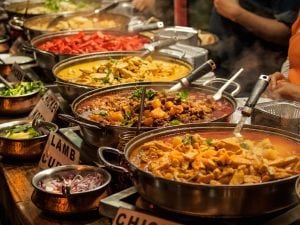 The Basics of Opening a Restaurant includes Getting a Take Away Logo
Now that you've decided what type of restaurant you want to open and have a menu in mind, the next step is to find a location. Above all, this depends on two different factors. 
1. the cost of the rent (or mortgage, if you purchase the building) 
2. the amount of foot traffic that the location receives.
More importantly is the latter since you'll need someplace that's convenient for people to get to. Perhaps, look for open storefronts in or around malls, in shopping centers, and standalone buildings on a heavily trafficked main street. Although there have some restaurants that conduct good business despite being in the middle of nowhere, these are few and far between.
Furthermore, you definitely need to set up your restaurant in a place that's easy to find. Where logos for Chinese restaurants can easily be spotted. Otherwise, you may not get a lot of business. That can spell doom for even the best restaurants. Next, you'll need to name your restaurant. Since your niche is in making and serving authentic Chinese food, the name needs to reflect that.
Chinese or Han Characters on logos for Chinese Restaurants
One suggestion is to use Chinese or Han characters. Yes, many people won't know how to pronounce or even read them, so that's why you follow those characters with a more pronounceable name in English. Most of all, the combination of the two needs to work well together. After all, tell the world what your restaurant is all about. After the name, the next step involves hiring a staff. Food instance, you'll need a cook, some waitresses, and a greeter who can show people to their table.  This is the bare minimum. Often restaurants have more than one chef. However, be prepared to manage all of your employees in order to keep everything in your restaurant working like clockwork.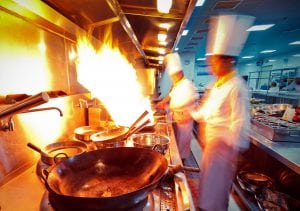 Finding Customers and Promoting Your Business with a take away logo
The name – both in Han characters and English – plays an important part in the take away logo design process. After all, you'll need one that makes it clear that you're running a restaurant, and both versions of the name need to be represented. Otherwise, you might as well just have one name, and that's not the point, right? The take away logo will be placed on your restaurant's business cards, menus, advertising, website, and other marketing materials, so it needs to be done properly.
Above all, marketing is an essential part of running any business, as it helps get the word out about what your business. Understandably, a good website is essential since people will look at it to get a sense of what your restaurant is about.
For instance, a digital version of the menu should be prominently located. As well as pictures of your dishes, and information about your hours and location. Remember that whatever logo or logos for Chinese restaurants that you choose for your business cards play an important role in the website design. After all, you should use a similar color plan and have a digital form of the take away logo created for the website that matches the one on your business cards. Since the menu plays a huge part of the business overall, the logo for a Chinese restaurant should be placed on it. Of course as well as all of the related information on your dishes, including prices, should be located below.
Wrapping Up
Starting an authentic Chinese restaurant is about more than filling a niche. It's about successfully naming, advertising, and running the business. There are a number of things that must be done before you can open your doors, including finding a location and hiring your staff. Choosing a logo and putting together a menu are also on that list. Once all of the pieces are in place, you'll be ready to begin!