When people hire someone to paint their homes or offices, it feels personal. The colors they choose are often a reflection of who they are as people. They invite painters into their personal spaces. For people who own painting companies, it's important to cultivate trust and respect with their customers.
Because painting is a service and not a product, it's essential for companies in the painting trade to do a good job branding and marketing themselves. There is certainly plenty of competition, and you have to find a way to make your company stand out from the crowd.
Logo Design for the Painting Industry
The first element of branding for any company is the logo that represents you and your business. It needs to be an accurate representation of what you do, but at the same time, it must be unique and memorable.
It can be tricky to find a way to differentiate yourself in an industry where certain images, such as paint brushes and rollers, appear again and again. The trick is to find a way to make your logo recognizable and special at the same time.
How to Use Colors in Your Logo
Because the painting industry is associated with colors, it's especially important to choose the right colors for your logo. Many companies choose to use a palette or rainbow of colors to convey creativity and choice to their customers.
Of course, companies that specialize in painting industrial and commercial spaces may not benefit from going overboard with color choices. Sometimes choosing one or two colors is better than attempting to use many.
It's important to keep psychological considerations in mind. A company that paints office spaces probably won't want to use bright colors like red or pink in their logo. By contrast, a company that specializes in kids' murals will likely want to choose primary colors to highlight their strengths.
Making Traditional Painting Iconography Unique
Another issue that painting companies must grapple with is choosing the icons and images to use in their logos. Common choices include paintbrushes, paint rollers, cans of paint, and even splashes of paint.
While it's important to make sure that prospective clients know what you do, you also need to find a way to make your paintbrush special – and different than the ones that show up in your competitors' logos.
It's also important to keep in mind that showing splashes or drips of paint may connote sloppiness or carelessness. If you do that, make sure to be careful to also convey responsibility and precision.
Logo Analysis
To understand how these various elements can come together in your icon, let's analyze a logo that we designed for a painting company: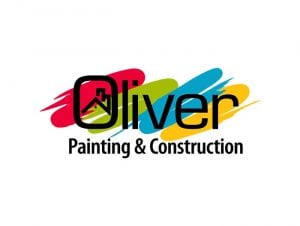 This logo combines a selection of paint colors with the image of a home – appropriate, since this company does construction as well as painting.
The colors themselves are bright without being aggressively so. They clearly indicate that this company is creative, and yet still appropriate for people who might have conservative taste.
The paint streaks might appear messy at first glance, but they quite controlled. This is a good example of a logo that uses paint effectively. The stripes suggest test strips painted on a white wall – something that many homeowners do before making a decision about which color to choose.
Branding Tips for Painting Companies
Your logo is an important part of your brand, but it's not the only thing you need to worry about when building your brand. Any piece of information that appears about your company online or in the real world can impact the way people think about your brand.
The Importance of Creativity
For many painting companies, conveying creativity is a must. Even companies that apply conservative paint to office walls want their clients to feel that they take pride in their work – the same pride that an artist would take.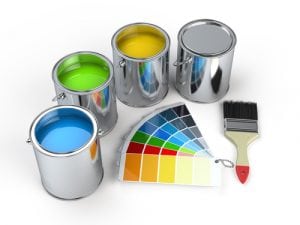 Of course, creativity is even more important for companies that paint murals or kids' rooms. They must demonstrate their creative thinking and ability to clients, in their logos, on their websites, and everywhere else their brand name appears.
Knowing Your Audience
One of the key elements of branding is knowing your audience. The branding that appeals to parents of small children is unlikely to appeal to business owners in conservative industries like insurance and finance.
If you specialize in a particular kind of work, you may already have a very clear idea of who your audience is. If not, you may need to do some research. For example, you might do any one of these:
1) Conduct a customer survey to gather key demographic information about your audience
2) Pay a research company to collect data on your behalf
3) Give questionnaires to current clients
Once you have that information, you can use to develop a brand personality and a brand voice, and to create content that will speak directly to the people who are most likely to use your services.
Where and How to Use Your Brand
Your brand must be consistent and memorable no matter where you use it. Research suggests that the average consumer has to hear of a brand between seven and ten times to be familiar with it.
Your brand should guide the content that appears on your website and on your social media pages. It should also come through in any printed marketing collateral you create, and in your personal appearances and office.
Because painting companies send workers out to people's homes and offices, you may want to put your logo and brand on uniforms, company vehicles, and even on certain painting equipment like drop cloths.
Content Marketing Ideas for the Painting Industry
There's no denying the importance of content marketing in today's world. The content you create – whether it appears on your website, on your Facebook page, or your annual report – all helps to create the public's perception of your company.
The content you choose, therefore, must inform and entertain your target audience. The more value you provide, the more likely it is that the people who interact with your content will use your services.
Visuals – the Power of Before and After
The first thing to consider when creating content is the power of visual content. The product you provide is inherently visual. You apply paint to the exteriors or interior of people's homes. You may paint furniture or automobiles – or create vivid and memorable murals for people's walls.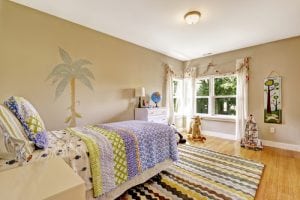 Whatever you create, there is a before and an after. Using those visuals can help convey, more powerfully than any words, the value of what you do.
Videos
Video marketing is powerful and effective. The average consumer watches about an hour of online video every day, and that number is expected to rise in the coming years.
You can use video marketing to demonstrate your working methods so that potential clients know that you will treat their homes with respect. You can film video testimonials from satisfied clients, or even introduce your painting staff so people know whom they will be welcoming into their homes.
You might also consider using live video tools like Facebook Live or YouTube Live to broadcast events or to take questions from prospective clients.
Adding a story or a bit of humor to your marketing videos greatly increases the chances that they will be shared – which, of course, has the potential to build your audience.
How to Use Content to Attract New Clients
Now let's talk about some of the ways you can use marketing content to attract new clients. Here are some suggestions:
1. Blog about the psychology of colors and give potential clients some pointers on how to choose the best colors for their homes or offices.
2. Shoot time-stop video showing your progress on a job from beginning to end so that people can see how you work.
3. Educate potential clients on the importance of paint quality and proper preparation. This method increases the value that people attach to the work you do.
4. If you paint murals, give clients a behind-the-scenes look at your creative process as you collaborate with clients and work to create your masterpieces.
5. Give clients tips on how to keep their new paint job looking great – for example, you might explain how to clean painted walls or how to do a touch-up if they have a scuff or a stain.
Any of these ideas can demonstrate your expertise and authority and provide clear value to your clients.
Conclusion
Painting companies must find a way to convey creativity while also demonstrating that they are trustworthy and reliable. That's a difficult combination to get across, but the right logo and branding choices can help you make a good first impression.
After that, the key is to create unique, memorable, and valuable content that helps potential clients understand what you do – and why they should hire you instead of your competitors. If you can do that, you can attract new business easily.