Fashion industry is a fierce one. There are few industries that are more subject to changing trends and tastes than the fashion industry. While companies in other industries might offer the same products for sale year after year, fashion companies change with the seasons.
For that reason, branding is hugely important to every company in the fashion and apparel industries. New products come and go but a strong brand is forever. That's why many top designers and apparel companies use logos or branding elements in their clothes and accessories. Gucci's interlocking "G" design is recognizable instantly even when it appears on this season's newest handbag.
Differentiating Your Brand
The first step in choosing a logo for your fashion brand is finding ways to differentiate yourself from others in the market. Of course your designs and products do that to some extent, but it's just as important to give serious thought to who your customers are and the effect your logo will have on them.
Finding a Focus for Your Fashion Logo
Begin by taking a moment to think about what makes your designs unique. Perhaps you design clothes for small children or for very wealthy women. Maybe you use only natural fibers or incorporate technology into your clothing.
The reason to focus on these things is that it will help you determine a focus for your fashion and apparel logo. Your logo needs to communicate who you are in an instant. If it doesn't, it won't be effective from a branding standpoint. Let's look at a logo we designed as an example.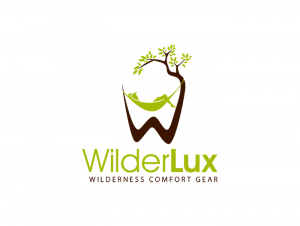 This logo represents a fashion company with a very tight focus. They design and manufacture outdoor clothing. The shape of the logo clearly communicates that with the stylized W turned into a tree where a woman lounges in a hammock. Anybody seeing this logo would have no doubt what to expect from the company's products.
Choosing the Right Colors and Shapes For The he Fashion Industry
Colors and shapes are important in logos because they inspire emotional reactions in people who see them. Companies in conservative industries tend to choose blue as the primary color in their logos because it inspires feelings of trust and reliability.
One thing that can be both a positive and a negative for companies in the fashion industry is that there aren't any hard and fast rules about colors. It's a creative industry and you can choose any colors that appeal to you. We do recommend to our clients that they try to choose one or two colors, three at most. Using more than that can be overwhelming.
Branding For High End Fashion Companies
The logo above used green, which is often used to represent companies with an environmental or natural focus. Purple is the color of luxury and may be a good choice for high end fashion companies. Kids' clothing lines often use bright primary colors in their logos.
The shapes you choose matter too. Round shapes signify warmth, community, femininity, and love. Squares and rectangles convey stability and balance, while triangles are masculine and powerful. You don't necessarily have to use one of these shapes in your logo, but a good logo designer will keep the overall shape of the design in mind.
Understanding Your Customers
Now that you've given some though to differentiating yourself, it's time to focus on your customers. Effective branding and marketing requires understanding who your customers are and what they want. Armed with that information, you can make smart decisions about your marketing strategy going forward.
Developing a Fashion Industry Avatar
Branding experts often recommend developing a fashion avatar – a visual representation of your ideal customer. Companies who design for both men and women or who have multiple lines of clothing at different price points may need more than one avatar.
When you think about your avatar, start with basic demographics. How old is your ideal customer? Think about age, gender, income level, marital status, and other information of that nature first. Once you've done that, you should consider hobbies, interests, and anything else that might help you identify your audience.
For example, a luxury fashion line might have an avatar who's a professional woman in her 30s, someone with a lot of disposable income and a preference for natural fabrics. That information can help them find her online and target their marketing to her.
Locating Your Fashion Industry Clients Online
The next step is thinking about where to focus your marketing efforts online. The avatar example above features a well-to-do woman in her 30s. As this hypothetical company researches social media options, they would discover that Pinterest's users are overwhelming female and affluent. It would make a lot of sense for any company marketing to this avatar to use Pinterest as a marketing tool.
On the other hand, a company that markets to teenagers might choose to focus their marketing efforts on sites like Snapchat. The key is to identify the sites where your ideal customers are most likely to be and then allocate your marketing budget accordingly.
Branding, Marketing Strategy & Tactics
The final step here is to use what you've learned about your customers to develop a marketing strategy. A marketing strategy is like a blueprint, a big-picture overview of how you intend to market your company. It might include things like social media, blogging, Google advertising, and creating YouTube videos.
After that, you'll need to break your strategy down into specific tactics. Using social media is a strategy. Shooting a video of one of your designers on work and posting it on Facebook is a tactic. You should be as specific as possible.
How to Use Content to Connect with Your Customers
Bill Gates once said "Content is king," and that's still true today. While traditional advertising certainly has its place in the fashion industry, online marketing requires new strategies. One of the best ways to connect with your customers online is to create compelling and relevant content.
Fashion Industry Blogging Tips
Blogging is one of the best ways to keep the content on your website fresh and attract new customers. Google prioritizes websites with new content.
Here are some tips to help you use your blog effectively:
1. Integrate your blog with Instagram. It's impossible to have a fashion blog without photography, so it's best to embrace it.
2. Write blog posts that offer immediate value to your customers. For example, you might feature a scarf from your line and show 10 different ways to tie it.
3. Vary your content. You'll probably use a lot of written content combined with photos, but don't be afraid to add infographics, videos, and even illustrations to mix it up.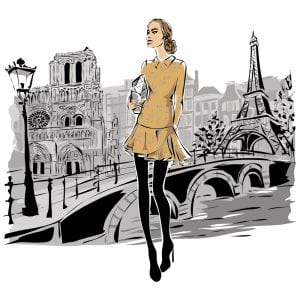 4. Set up a blogging schedule and stick to it. Writing one blog post per week is better than posting sporadically.
If you follow these guidelines, blogging can become an effective marketing tool.
Social Media and The Fashion Industry
We already talked about Instagram, but using social media in general is very important for fashion marketing. Here are some ideas to consider:
1) Use your logo as your profile picture or avatar on every social media site you use.
2) Follow major fashion publications and share their content with your followers. Make sure to include some commentary of your own most of the time.
3) One very effective way to build your following on social media is to sponsor contests and giveaways. Both Facebook and Twitter make good platforms for this type of marketing.
4) Encourage participation from your followers. Instead of simply posting a picture of something from your new spring line, ask followers to post their own pictures.
5) Integrate customer service and social media. Consumers expect to interact with the companies they buy from. Monitor comments, reply to questions and messages, and let customers know that you care about them.
As mentioned above, focus your attention on the social media sites where your customers are most likely to be.
Video Marketing
Videos are very popular – in fact, they're one of the most frequently-shared forms of online content. Creating videos and posting them on YouTube and other social media sites can give your marketing a real boost.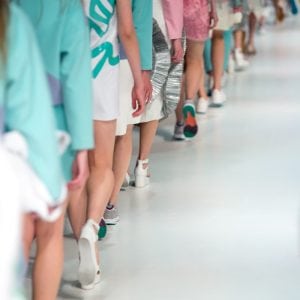 The most effective marketing videos tend to focus on storytelling instead of selling. One recent example in the fashion industry comes from designer Kate Spade. Her Miss Adventure videos featured young actresses like Anna Kendrick and Zosia Mamet in a series of fun videos highlighting her products.
Here are some video ideas to get you started:
1) Give someone a wardrobe update and film the transformation
2) Provide customers with a behind-the-scenes look at your design process
3) Share clips from your fashion shows or events
4) Do profiles of your designers or company employees
You can set up your own YouTube channel for free and use it to share videos as you create them. Always keep your target customer in mind.
Conclusion – The Fierce Competition In The Fashion Industry
Marketing and branding in the fashion industry has its challenges, but these tips can help any company stand out from the crowd. The most important thing to remember is that you have a unique perspective to offer. Visualizing your ideal customers and tailoring your marketing to them will ensure a perfect fit, every time.