Do you want to know how it's done?
First of all, if you want to create a successful digital marketing campaign for your business, it's vital that you understand the importance of social media design.
For instance, by 2025, it is predicted that over 4.41 billion people will use social media in some form. Above all, that's great news for businesses because it's an excellent marketing opportunity for them.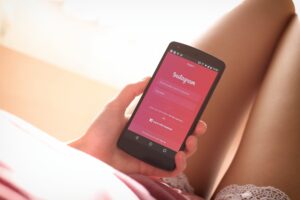 Most importantly and as you know, Social media networks like Facebook, Twitter, Instagram, and LinkedIn are all excellent places for businesses to find new customers. I won't mention TikTok since I think it's mostly for kids. However, there is a lot of competition on these platforms. For instance, users are scrolling through thousands and thousands of posts. So businesses need to do something special to convince people to stop and actually read their content.
Furthermore, creating useful or entertaining posts is important, but have you considered your social media design?.  The Logo Company's infographic is a great to learn more about the importance of social media design and what elements you need to get right.
Why Is Social Media Design So Important For Businesses and do you get social media right?
First of all, creating effective social media campaigns isn't just about posting regularly or using the right hashtags. It's also about producing outstanding designs that will catch people's attention.
For instance, your social media page has space for a number of different images and headers. Getting these right is a crucial element of your branding. As you know, your social media profile demonstrates your professionalism, personality, and attention to detail. However, if your social media designs aren't good enough, they could damage your brand.
So, poor design choices instead of clean, crisp visuals give the impression that your business is amateur and unprofessional, and that's the last thing you want.
Above all, the visual elements that you choose say a lot about your brand, so getting them right will help you attract the right audience. Think about color schemes, logos, and images. These should all work together to produce a specific mood or feeling. Furthermore, this can be fun and welcoming if you're a casual business or powerful and authoritative if you're a more serious company like a finance business.
Choosing the right visual design
Furthermore, choosing the right visual design is an essential part of your social media marketing strategy because this is how people judge your brand at first glance. If they like what they see, they'll follow you. Giving you access to their contact details – but if they don't, then it's unlikely that they will become customers. Social media competitive analysis
Social media design also has a big impact on engagement, which is one of the most important metrics to measure for social media marketing. After all, studies show that Facebook posts with images see 2.3 times more engagement than a basic text post.
More importantly, if you can encourage more people to engage with your content, then you will achieve better results. However, if your image is boring or badly designed, people are unlikely to bother reading the accompanying text. On the other hand, if your image stands out and looks attractive, more people are likely to click it. Most importantly, people are more likely to share it. When people share content, they are vouching for it, and they will only do that if the quality is high.
Furthermore, getting your social media design right is essential to your success on all platforms. Unfortunately, many business owners don't know which elements they need to get right. Image sizing is one of the most important things to consider, but it's also where a lot of people go wrong.
Image Size In Social Media Design
The image size makes a big difference in social media design and there are different guidelines that must be followed depending on the platform.
Facebook big part of getting the social media right
First of all, Facebook is an excellent platform that displays well on mobile and desktop devices. However, your images will not be altered to fit the shape of the header or profile photo area. They will be automatically cropped instead, which can cause problems.
The ideal image sizes for Facebook are as follows:
Banner photo – 1200 x 628 pixels.

Profile photos – at least 180 x 180 pixels.

Cover photo – 820 x 312 pixels.
However, the ideal image sizes differ on mobile devices and it is important that you customize your social media design for both devices. For mobile devices, use:
Cover photo – 640 x 360 pixels

Profile photo at least 140 x 140.
You do not have a banner photo on mobile.
All images should be exact sizes, in JPEG format. Try to keep the file size below 100KB for best results. If the image contains text, it needs to be uploaded as a PNG to display properly.
Second up is, Twitter is the least customizable platform and it is used for text posts more often than images. For this reason, people often overlook or rush their social media design on this platform. However, you can still display a banner image and other visual content. It's just as important that you get the dimensions right as it is on any other platform. The ideal sizes are:
Profile picture – 400 x 400 pixels.

Cover photo – 1500 x 1500 pixels.

Image in tweets – 900 x 450 pixels.

In-stream photos – 440 x 220 pixels.
Thirdly, is a popular platform for images, but the image sizes are different from those used on Twitter or Facebook. So, it's crucial that you get your social media design spot on when using Instagram because it is a primarily visual platform and poorly displayed images give a very bad impression of your business. The dimensions you should use are:
Profile photo – 110 x 110 pixels.

Images in posts – 1080 x 1080 pixels.

Instagram stories – 1080 x 1920 pixels.

Thumbnails – 161 x 161 pixels.
The majority of Instagram users access the site on mobile platforms. So, when you are designing your social media pages, always check how they look and optimize for mobile devices over desktop ones.
YouTube - not to be forgotten in the game to get social media right
Last one up, Youtube has a few different requirements depending on the type of image and where the site is displayed. The general sizes for your channel page are as follows:
Channel icon – 800 x 800 pixels.

Channel art cover photo – 2560 x 1440 pixels.
However, the most important aspect of social media design on Youtube is getting your thumbnails right. This is what will draw people to click on your videos in the first place before they have even viewed your channel page.
However, it's a mistake to make clickbait-style thumbnails because these can lead to frustration for the viewer. Instead, you need the design to be eye-catching but also give a good representation of what the video is about. This ensures that people watching it are likely to be part of your target audience. Using clickbait to increase traffic from people that have no interest in your business will not have a positive impact on sales.
As well as getting the design right, you also need to get the right size for thumbnails so they display well. Furthermore, your thumbnails should maintain a 16:9 ratio and display well for various video resolutions. For this reason, it's best to design these yourself. If you don't have the necessary skills, hire a professional social media design service to do it for you.
This is the last one, I swear, LinkedIn is used primarily for business, so it's crucial that your social media design takes this into account. It's a very professional platform and users have a high level of trust in the service, so you need to ensure that your brand is displayed in a way that reflects that. You still need to get the image sizes and resolutions correct too. The ideal dimensions are:
Hero image – 1128 x 376 pixels.

Custom module image – 502 x 282 pixels.

Company photos – 900 x 600 pixels.
Other Important Social Media Design Rules
Although image sizing is one of the main areas you need to focus on, there are some other important social media design rules you must follow.
Consistent Branding and Style
Above all, consistency in the branding and style between different images is crucial. If your banner photo is sending an entirely different message from your profile photo, it makes your social media page look cluttered and unprofessional.
Professional Banner Photo Design
Remember that your banner photo is the first thing people will see on your page. So, it's crucial that this image reflects your brand and doesn't look like something you've found online. It needs to be professionally designed by branding experts, not hastily put together as a placeholder.
Suitability For The Platform is important to get your social media right
Above all, different social media platforms have different audiences. Therefore, it's important that your images are suitable for the platform you are using them on. For example, LinkedIn requires professional branding while Twitter is more relaxed and casual. Instagram users tend to be much younger than the average Facebook user, and your image choices should reflect this. You will have more success if you tailor your social media design to specific platforms.
Professional Social Media Design Services
At The Logo Company, we are experts in social media design. Our experienced designers can get your branding looking just right and ensure that you have a cohesive social media design style that gets results. For more information, visit our social media design page or get in touch to discuss our services! Take a look at one company we helped with their social media presence Social Media Client for TLC