Thank goodness it's Friday… Feature time! As you know, last week we spoke about logos with E
It's also F time as far as today's look at corporate logo design goes.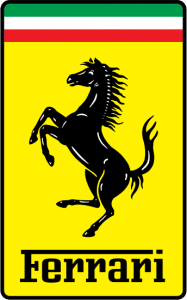 1. The Ferrari logo design is a rather striking one, featuring a black horse rearing up against a yellow background (usually accompanied by a bar at the top displaying the colours of the Italian flag). The horse, known as the 'Prancing Horse' was inherited by Enzo Ferrari in 1940 from legendary Italian Air Force ace Count Francesco Baracca. Like many pilots he died young, and it was via the Count's mother the Countess Paolina that the symbol was introduced to Ferrari. He met her following a track race victory on the 17th of June 1923, Countess Paolina suggesting that he should use the Prancing Horse as it would bring him good luck. However, he did not take her up on her offer until 1940.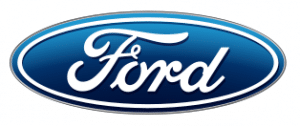 2. The Ford logo has a rather less cinematic history behind it, but it has definitely changed since the company's founding. Starting out as a rather complex black and white logo that also included the company's full name and place of origin (Ford Motor Co. and Detroit, Michigan respectively), it was reduced to the word 'Ford' within a simple oval in 1912 before finally taking on its familiar blue colour in 1928. Although the iconic 'Blue Oval' design has undergone some minor alterations over the years, it still remains largely the same to this day.

3. The Facebook logo is another that has largely remained constant. With its distinctive white lower case text on a background of varying shades of blue, it's easy to identify at glance despite being incredibly simplistic. Apparently the contrast of these colours is meant to signify the passion and zeal of those that originally helped form the network.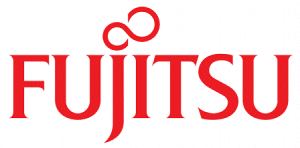 4. The infinity symbol that forms the dot on the J and the I of Fujitsu in their logo refers to the company's old slogan "The possibilities are infinite". However, in April 2010 this slogan was largely retired in favour of a more customer partnership-focused one: "Shaping tomorrow with you".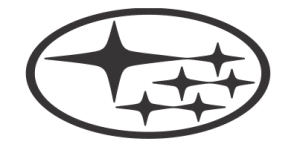 5. The current logo of Fuji Heavy Industries was adopted from the company's Subaru division in 2003. Subaru is the Japanese name for the Pleiades star cluster that inspired the logo, but it also represents the six companies that merged into order to create Fuji Heavy Industries.
G is next on the list, so do suggest any companies you think we should feature (yes, we do have Google) by posting on The Logo Company Facebook page or tweeting them to us (don't forget the #fridayfeature hash tag!).