Here are the things you need to think about to kick start the logo design process.
So you want to kick start the logo process?  See our simple logo process below to better understand it Logo design process I think in this case it is very appropriate to look closely at this study that was made for you. I want to use the case study of "Presenting the Past", a business specialising in history and heritage talks to show you how to kick start the logo design process.
1. Define your brand identity
Q. What does your company do i.e. what products/services does it provide?
A. By presenting the Past gives lectures on history and heritage to schools and local interest groups. 
Q. What is your Unique Selling Point i.e. why should potential clients choose you over another company?
A. Mostly because our speakers have a true passion for the past, and furthermore have postgraduate level understanding of their subjects. All of our lectures are done using PowerPoint.
Q. Who are your customers i.e. what sort of people are you trying to attract?
A. Schools and local interest groups who want to learn about the past in a fun and engaging way. A lesson in the past.
2. Determine what you intend to use your logo on. How ow do you want to kick start the logo process?
This is an important point to consider, as what may look great on shop signage may not work so well on a business card. 
The logo will be used for business cards, flyers and our website.
3. Determine what type of logo you want. Where in the logo process are you? 
Are you at the beginning of your thought process or are you almost there ? Logos are either text only, image only, or a combination of the two. Above all you need to decide which will work best for your company. Please see a previous blog, What type of logo is right for your business? for a discussion of the various types.
Presenting the Past is a brand new business, so a combination logo would work best for us.
4. Determine what text you want on the logo design
Q. So, do you just want your company name, or do you want a tagline added? Maybe you want to use the full name of your company, or just the initials? See our portfolio for inspiration TLC Portfolio
A. We would just like the name "Presenting the Past" used. We do not have a tagline.
5. Determine what type of font you'd like to use. Determine this early in the logo process. 
A. Something with an historical feel to it, but nothing too fussy or complicated as it needs to be easy to read at various sizes.
6. Color
Q. How many colors do you want to use? Bear in mind that some printers will charge extra if your design has many different colors.
A. Not certain. Maybe three or four.
Q. What colors would you like to use?
A. Not certain.
Q. What colours should be avoided?
A. "Hot" colours like red, orange and yellow. Nty very associated with the past in a good way. 
7. Any additional information you might think would be useful for us to kick start the logo process?
Q. Are there any other important points that you think need to be mentioned that haven't been covered by the other questions? If you already have a good idea of what you want, or even just a vague flavor of what you're after for your logo, this is the time to get it on paper.
A. We use modern technology to tell stories about the past. Perhaps something that reflects both if possible. Really don't want anything too complicated. Keep it clean and simple.
The client also sent us some pictures of ancient rock carvings, asking that they be incorporated into the design in some way.
Using this information the designers came up with these five designs: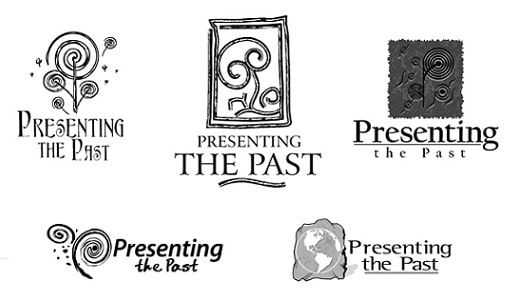 Logo design revisions are a normal part of the logo process. 
After two sets of revisions using feedback from the client, this design was chosen as the final product:

Business cards order
The client then went on to have business cards created, ending up with this design:
So these are the main things you need to consider when going for a logo design. Hopefully this article will have made things a bit easier when making these decisions. Remember, the more information you can give your designer, the better the designs will be. If you're still lacking in inspiration there are plenty of logo design examples out there that may help you on your way. If you can pinpoint what you like in other companies' logos, it can help you to define what you might need for yours.
In conclusion, it is not hard to think it through. With a simple brief that we send you it is easy for your to determine what it is that you want in the logo process. You will have 5 designated logo designers at your service trying to visualise what you mean and they are extremely good at it after many years of experience. The brief helps us understand you better and it is an important part to kick start the logo design process. Perhaps you should put a plan together