First of all when it comes to building brand awareness! Did you know that one in three people discover new brands, products, and services on social media? 
So, although it seems like most people use social media to share selfies, memes, and cat videos, these platforms are powerful tools for reaching your customers and building brand awareness. 
But how do you stand out from the crowd and create a loyal fan base? 
In this blog post, we'll share five effective tips to help you craft a winning social media strategy. One that boosts your brand recognition, engagement, and conversions. Whether you're a small business owner, an influencer, or a marketer, these tips will help you take your social media game to the next level.
Let's dive right in!


1. Understand Your Audience When Building Brand Awareness Through Social Media
Getting to know your audience and understanding their pain points, needs, and interests is a crucial step. After all, that can make or break your social media efforts. 
What are your customers struggling with? What are they looking for? How can you help them with your content? 
Churning out social media posts just for the sake of it won't yield the results you hope for. 
High-quality, educational content that adds value to your audience and offers a solution to their pain points. — A factor that will give you a competitive edge. 
By understanding your audience's pain points, you can create content that resonates with them. More importantly, addresses their needs, and showcases your value proposition. You can also use emotional triggers to capture their attention and motivate them to take action.
Shop Solar Kits clearly understand the problems their potential customers face when they decide to purchase a solar power system. Above all, many of them have no idea how to pick and install the right kit. The brand makes the most of YouTube by sharing super helpful videos about solar technology and different products that even people who don't know the first thing about all this can easily follow and understand. One of the company's videos generated massive engagement. As a result, the comments section speaks volumes about why this approach is so successful for building a following and brand awareness.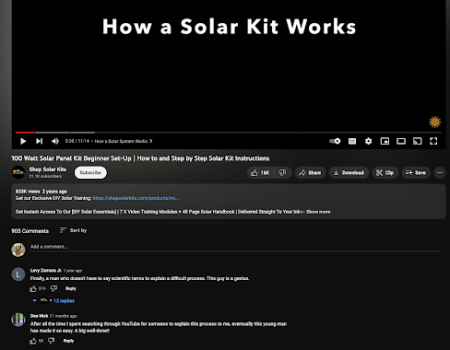 2. Double Down on User-Generated Content
Customers will engage with your brand on social media only if your content is authentic and if it resonates with them. The truth is that no matter how hard you try, you can't achieve the level of relatability that original, brand-specific content created by your customers has. 
That's why sharing user-generated content on your social media channels is a surefire way to increase your brand visibility, awareness, and credibility. 
Customers trust other people, even if they're perfect strangers, more than they trust brands. So it's obvious that involving your customers in the creation process comes across as more persuasive than blowing your own horn.  
Additionally, you'll make your customers feel more valued by giving them the floor and putting them in the spotlight. And this is a recipe for spurring word-of-mouth and improving your brand awareness organically. Furthermore, people will be more than happy to re-share their own posts featured on your channels with their networks. Thus significantly expanding your reach. 
LaCroix frequently uses their Facebook to showcase how customers enjoy the brand's refreshing drinks. This way, the company connects with their target audience on a more personal level. Encouraging them to become active participants in content creation. Such an approach clearly works, as the brand boasts a massive following of 442,000 people.  Other categories that showcase how customers enjoy their products are beauty bloggers. 


.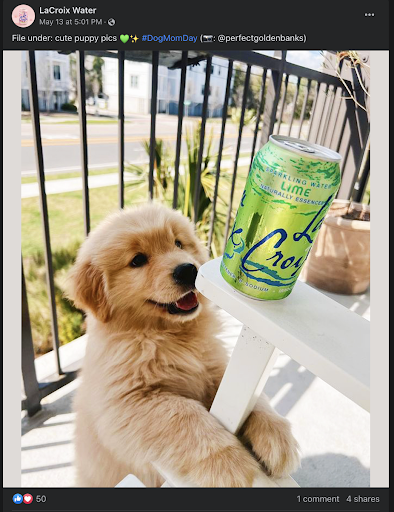 Authenticity and credibility is key when building brand awareness
Gili bases their Instagram strategy on the images and videos created by happy customers. So, instead of praising their own products, the brand adds a layer of authenticity and credibility to their promotional efforts by letting customers do the talking.
3. Always Respond to Feedback
Social media is not a one-way street where you can just post your content and forget about it. It's a communication channel where you can interact with your audience. Nor forgetting an excellent way to build relationships, and grow your brand awareness. 
One of the most important ways to do that is to respond to your followers' feedback and do it quickly.
This way, you demonstrate that you've acknowledged their opinion and that it matters to you. — Regardless of whether they're praising, criticizing, or insulting you. Such a professional attitude will protect your brand reputation and show that you take your customers' comments seriously. 
Zappos is a great example of treating their audience with the utmost respect. They not only respond to each comment promptly but also make sure that every problem or faux pas is resolved in no time. The brand's Twitter doubles as an effective customer support channel and even the feedback from disgruntled customers doesn't get ignored: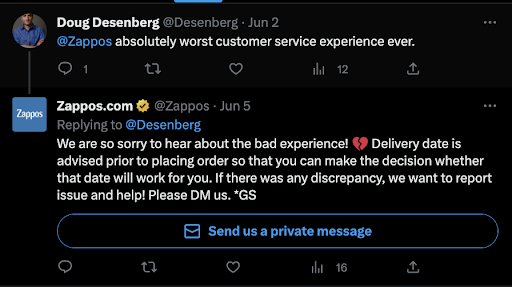 4. Leverage Social Proof For Social Media Awareness
If we bear in mind that 92% of customers read online reviews and testimonials when they're trying to make a purchasing decision, it's obvious that flaunting social proof is a must. 
But instead of letting prospects work and search for testimonials, reviews, or brand mentions, make it easier for them by posting different types of social proof on your Instagram, Facebook, or LinkedIn. Given that people are more likely to engage with and share content that contains social proof. After all, this tactic can help you increase your organic reach and exposure to new audiences on social media platforms.
There are different ways to include social proof in your social media strategy, such as: 
Enabling reviews on your Facebook Business Page so that your followers can leave reviews. Based on which a cumulative star rating will be displayed. 

Showing appreciation for any mentions of your brand on social media by thanking the person who mentioned your brand. For example if they gave a recommendation, or left a positive review. 

Sharing your company's milestones or achievements can help you show potential customers how many other people buy from or follow you, as well as how successful and reputable your brand is.

Collaborating with influencers, since that will allow you to tap into their following, additionally expand your reach and visibility.
Sharing user-generated content to show people using your product, which will show social proof as well as encourage more interaction with followers and customers.  
User-Generated Content
Starbucks is a great example here. The brand regularly uses its social media channels to share user-generated content. Showing happy Starbucks customers sharing their Starbucks-related experiences or just their enthusiasm for the brand's drinks. They've thus built a genuine community around the brand, where the customers are its strongest ambassadors. Like in the example below, most of the comments in their posts are raving reviews for the featured drink.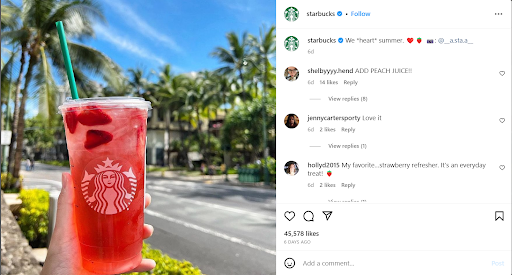 5. Pick the Right Channels For Brand Awareness
The more, the merrier isn't the right tactic when it comes to your social media strategy. Instead of spreading yourself too thin and creating content for several channels, identify the ones that work best for your industry or target audience and focus on them. 
For example, although TikTok is all the rage at the moment, it's very unlikely that a B2B C-level exec will browse this platform, for short-form, mainly funny, videos — at least for business purposes. 
Find out where your customers hang out and create content that will capture their attention.
Another factor to consider is what you want to achieve — to educate your audience, entertain them, or promote your products.

Aura, for example, invites customers to join their private Facebook group. This is where they can discuss the brand's Amazon repricing tool. Most of all, get first-hand advice from other wholesale resellers, and learn valuable tricks of the trade. This way, the company adds value to customers, and the purpose of the group isn't purely promotional.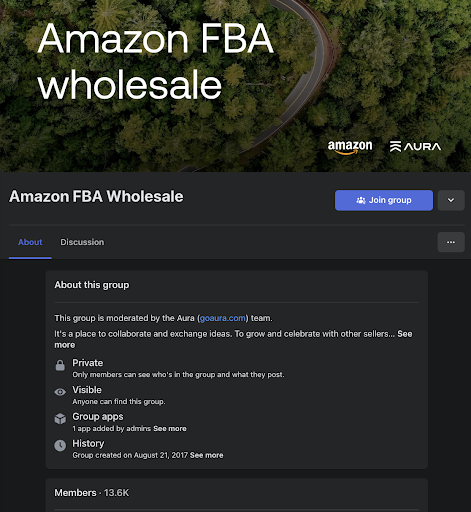 StockX realized the potential of Discord as a somewhat alternative social media channel for building community and boosting brand awareness. With more than 44,000 members, the online sneaker marketplace attracted a very engaged following. Followers actively participates in discussions and regularly posts in the "Kicks of the Day" channel. 
In Closing - brand awareness through social media
Building brand awareness through social media is not a one-time effort but a long-term strategy that requires consistency, creativity, and engagement. Social media awareness even more crucial today than ever. Furthermore it is important to analyse your competition regularly and your progress. For more information, do check out TLC infographic. By following these five effective tips, you can create a strong online brand presence, attract and retain your target audience, and increase your sales and loyalty. Remember to always monitor your results, learn from your feedback, and adapt to the changing trends and preferences of your customers.