Fourth Of July Logos come back every year in different timed logos. However some companies try to make it a little different every year. I want to have a little look at those that try to be different.
Every year a number of websites rolling out special themed logos and skins in order to celebrate Independence Day digitally. As the latter name suggests, the holiday commemorates the adoption of the Declaration of Independence, which occurred on the 4th of July 1776. Fireworks and flags are a common feature of Fourth of July celebrations, and as such it's no real surprise that they tend to be common motifs in any representation in logo form or otherwise.
The use of fireworks on the Fourth of July is said to be a symbolic representation of the Battle of Baltimore in 1812, which occurred at the end of the war. The lyrics of The Star-Spangled Banner, the United States' national anthem and often an integral part of Independence Day celebrations, are the words of a poem entitled Defence of Fort McHenry written by Francis Scott Key. The prevalence of red, white and blue during the holiday is – hopefully – pretty obvious, these being the colours of the US flag, nicknamed "Old Glory" by early nineteenth century sea captain William Driver.
So what about the Fourth of July Logos?

Let's mention Google's doodle. It was considered controversial by some as it didn't include an American flag. Although, to be fair, it was not the only company to lack one. However, it did have plenty of red white and blue as well as showcasing some of the States' most famous landmarks.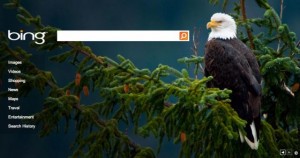 Bing chose a simple but effective motif for their Fourth of July landing page. A majestic bald eagle, the national bird of the United States of America.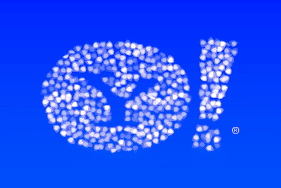 Yahoo went all out last year, having an elaborate animated Flash logo.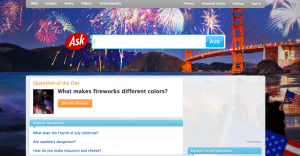 Ask.com went for a very traditional offering, replete with fireworks, landmarks and flags aplenty.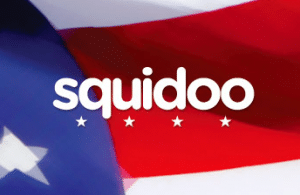 Squidoo released a suitably celebratory red, white and blue lens theme called Patriotic this year. Furthermore it also incorporates both stars and stripes!
Red, white and blue in the face yet?
What were your favourite Fourth of July logos this year? Let us know by tweeting @thelogocompany with the #fridayfeature hash tag or by dropping us message (and/or link) on our Facebook page.