If you like working with your hands, and you have an artistic flair, you may want to consider turning your jewelry-making hobby into a full-time career! Yes, it is easier said than done. By following a few initial steps, you'll have a successful business in the handmade jewelry industry.
Making jewelry requires a lot of creativity and talent, but a little education will help you too. Develop a plan for branding and marketing your business. You'll be selling your handmade jewelry faster than you can make it!
Creating with Your Hands
To create handmade jewelry, you will need to invest in the proper tools and any resources you may need. Tools may include wire cutters, crafting pliers, or storage systems for organizing small pieces. No matter what type of jewelry you're making, you'll need to purchase the metal settings, clasps, and any decorative pieces needed. Decorative pieces may be gems, precious stones, beads, etc. The list can go on and on, so it will greatly depend on the style of jewelry you intend to sell.
A Little History of Handmade Jewelry
Handmade jewelry is a highly creative form of art. Most would agree that the natural talent and having an eye for this type of art cannot be "taught". However, it is helpful to have an educated background in the history of jewelry or the medium you use. As a small business, you may consider taking courses in business or marketing. The skills you learn can greatly improve your ability to reach a target market and make a profit on your product.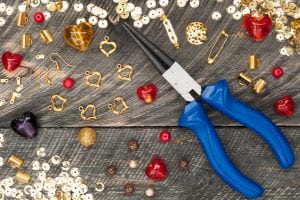 Ask yourself what inspires you to make jewelry. Also, ask yourself what inspires the look or style of your handmade jewelry. If you don't yet have the answers to these questions, know that inspiration can come from anywhere. Nature, specific colors or patterns, or a particular lifestyle are possible inspirations for your artistic, handmade jewelry. You may even find that certain people inspire the type of jewelry you make. Consumers will desire a product with a unique look, so put a heavy emphasis on your inspirations. This will separate you from competitors in your industry as well!
Branding Strategies for Your Jewelry Business
After you discover what inspires you, you will use this inspiration to create designs in your jewelry that are recognizable by customers. Smooth and curvaceous metal settings with rough, unfinished gem centerpieces is an example of what you could be known for as a jewelry maker. Modern-urban or bohemian-chic are specific styles that would be recognizable in your work as well. Having an appealing and creative voice in your work will be an integral part of your business's branding strategy. Put a lot of emphasis in this area. The louder your "voice" is, the more attention you will attract!
Finding Balance between quality and cost
Part of what makes handmade jewelry so appealing to consumers is the "handmade" aspect. A customer expects to see the handcrafted quality in the jewelry they purchase when it's not manufactured on a massive scale. Your jewelry will be more valuable to the customer if the personal touches and hard work you've put into making it is tangible. You must combine the handmade quality with a certain level of professionalism, nonetheless. A piece of jewelry needs to look handmade without falling apart or breaking. Perfectly execute your craftmanship every time you make jewelry for a customer. Having the balance between handcrafted and high-quality work will be the ultimate goal in your branding your Handmade jewelry business strategy.
Packaging your Handmade Jewelry
Packaging your jewelry can be a useful part of your branding that is easy to do. Carefully packaging a necklace in paper and placing it in a box with a logo is much more appealing than hastily wrapping and shipping your beautiful work in a plain box. The entire sale of your jewelry must be impressive to the customer, from the purchasing process to the delivery. After all, one of your final interactions with the customer is how the jewelry is delivered, and you want to leave a strong impression for the possibility of repeat business.
Marketing Strategies for Your Jewelry Business
To market your handmade jewelry, you will need to decide which is the best outlet to sell it through. Would you be more successful as an online business, or do you dream of a physical storefront? Could you have both? If you are just starting your handmade jewelry business, selling through an online website or selling page will be the most convenient way.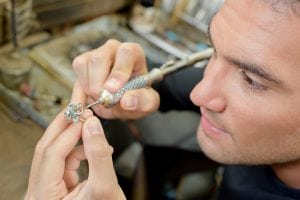 Where to Network Your Handmade Jewelry Business 
One of the best ways to market your business is to have an eye-catching name and logo. You will want to include the name and logo design on a set of business cards. Always include a business card in the packaging of your final product you have sold to a customer. Hand out your business card to other business owners or people you think would be interested in wearing your jewelry. You will find these types of people at art gallery events, fashion shows, art festivals, or even events specifically made for selling jewelry.
Other forms of advertising for your handmade jewelry business lie heavily on social media. The great thing about jewelry is that it is often beautiful to look at. This means photos will make a fantastic marketing tool! Posting photos of your jewelry on social media such as Instagram or Pinterest is a smart way to direct traffic to your website or seller's page. 
Conclusion
Of course, the most important part of your handmade'jewelry business is the creative work itself. The product you design will be what makes you profitable and grow your business! Make sure you put a lot of thought into what inspires your designs and how you can use that inspiration in your branding strategy. Then, you can find the right outlet for you to market your products. Even if you are only beginning your 'jewelry business, you are well on your way to opening that bustling store front!