Logo design trends across the USA
Do you need to consider trends in logo design across the USA when you create your logo design?.  Are you are just launching your business? Then the chances are that you have a lot on your plate right now. On top of that to consider logo design by State. This might seem too much but I want to show you that it is not.  Choosing your logo might not seem the most important task to focus on right now Wrong. This could be one of the most impactful business decisions you will ever make. 
Choosing the right logo can boost brand recognition and even help consumers create an emotional connection with your company. For those who are choosing a service or product provider, your logo can encapsulate and communicate goal, value, and identity. 
With so much at stake choosing the right logo can make a difference. No matter how modern and visually appealing your logo's features might be. Do remember that it is always important to put these elements into context. Especially the geographical one. Logo design trends are crucial especially if you look at which State you live in. 
Indeed, cultural nuances and the history of the state, region, or country where your business is born and developed will impact the visual and vocal identity of your brand. 
Follow this guide for the best logo design trends across the country.
In this guide by The Logo Company, you'll learn how custom logos change across the different areas in the US. Location and trends go hand in hand. 
Pro tip – Not sure why you should invest in a location-specific business logo? Learn more about the importance of great logo design here!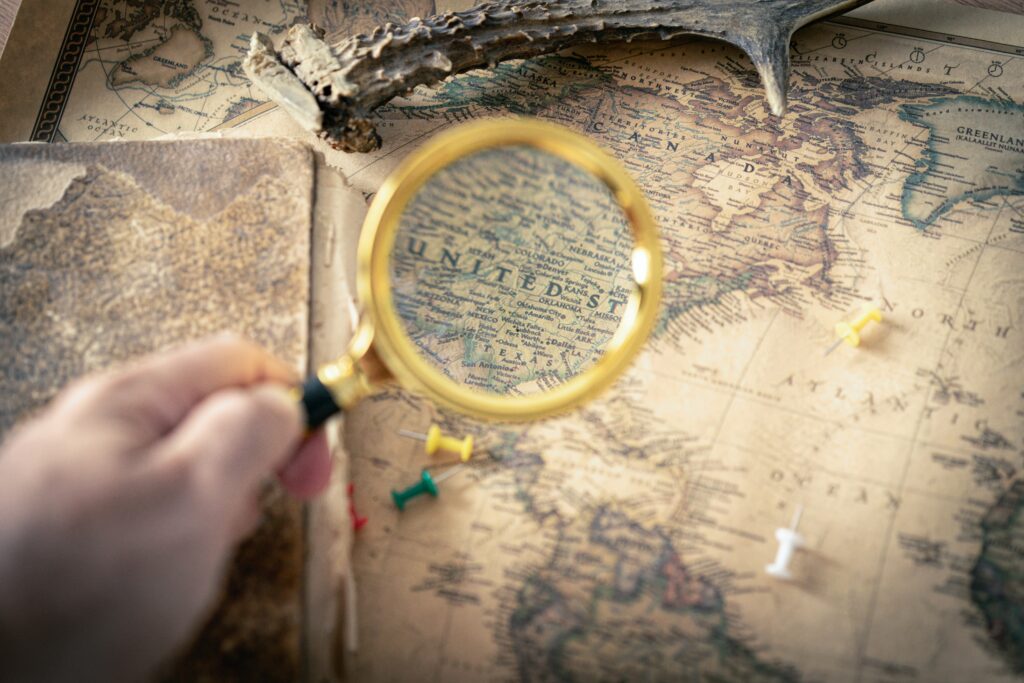 How Your Geographical Location or logo design by State Will Impact Your Choice of Business Logo
Have you ever noticed the behaviour of  certain international companies? When expanding beyond the borders of their country of origin, they adjust their logos? Logo design trends change by trends. This practice is an essential step in a brand's localization strategy. It is also important to connect with the local audience. Do avoid cultural faux pas, and bypass registered trademarks. 
Below, you'll find out more about the importance of finding a logo.One that reflects the culture and history of the location in which it is released. 
Cultural Nuances – Are logo design trends linked to cultural differences? Does logo design by State have an impact?.
Every country, state, and the region has a different culture. Adapting your brand to the nuances of a certain place's history, culture, and tradition is imperative. It can make it easier for your local audience to emphasize your brand. To create a deeper emotional connection. Yes, its is linked. Where you are born will influence how you think and impact how you create your logo.
Let's look at the colors of a logo. For example, the color red is often used in the hospitality and food service industry. Why?  Well because it is associated with hunger and passion. However, in China, for example, the same color is linked to celebration and fertility. A woman that just gt married usually dresses in red. That is custom. 
Choosing the right color according to the meaning that that color takes in a specific country is essential
Avoiding Cultural Faux Pas or making a mistake when it comes to logo design trends.
Words take different meanings in different countries and cultures. The name that you might have chosen for your brand might not be appropriate or suitable in other locations. 
Ensuring that the symbolism and description you have chosen for your brand convey the right message abroad is crucial. 
Navigating Already Registered Trademarks – be aware of trends in logo design across the USA
When establishing your business in other locations, you might have to deal with other brands and companies who have already registered a certain logo or trademark. Adjusting your own logo and visual identity to bypass these legal issues and establishing an original brand is essential to build a successful business. 
How Business Logos Change Across the US: 10 Examples
Culture, traditions, and history vary so much from one location to another. You don't event need to travel abroad to see differences! Indeed, even within the US, logos vary significantly from one State to another. 
While Steve Lovace in his Corporate States of America map attempted to describe each US state by its major brand, there is a lot that you need to know about how brand logos vary from one state to another. 
California: Cradle of Technology
Home to Silicon Valley and launch pad to internationally-recognized giants such as Google and Apple, California is truly the technological capital of the world. And, today, thanks to its thriving business environment, California is one of the best states to launch a tech startup. 
Nonetheless, the competition has never been fiercer, and your company's logo can make or break your new company. 
So, if you are looking to create a logo for your California-based company, make sure it expresses technological advancements and dynamicity. Those are their logo design trends so be sure to follow.
Delaware: History and Tradition
In 1787, Delaware became "the First State" by being the first territory to ratify the United States Constitution. With so much history and culture, Delaware's business environment is tied to values such as authenticity, originality, and tradition. 
If you have established a business in Delaware, you should consider creating a logo that communicates respect for the tradition while showing commitment to innovation. Lacking inspiration? Check out the logos of some of the most famous Fortune 500 companies based in Delaware, such as Navient and Chemours.
Alaska: Wilderness and Nature
When it comes down to merging your love for the outdoors with your entrepreneurial spirit, there is no better place than Alaska. The state offers the third most tax-friendly business environment in the US, and, today, it is home to nearly 70,000 small businesses. 
However, when it comes down to creating a logo for your new company, there is quite a lot to keep in mind. Indeed, life in the State is tightly linked to outdoor living and traditional activities such as fishing and oil production. On the other hand, Alaska is always more looking at the future and embracing innovation. 
When choosing a logo people can connect with, consider combining natural elements and futuristic details. 
Florida: The Sunshine State
Florida consistently ranks as one of the best places for business in the US, and it also offers one of the highest quality of living to its residents. The Sunshine State promotes a well-balanced, laid-back lifestyle, but it also supports its entrepreneurs and small business owners. 
When establishing a company in Florida and looking for a logo, get inspiration from public companies such as NextEra Energy or look up private local brands such as Florida Blue.
The Southern States: Hospitality and Warmth
The Southern States are one of the most up-and-coming areas of the US, and a great place to establish an alternative or disruptive business. However, upon incorporating your new company, make sure to research what local residents feel naturally attached to!
After all, the Southern States are famous for their unparalleled hospitality, great foods, and undying resilience. 
If you are unsure what your logo should look like, try to communicate values such as warmth, friendship, kindness, compassion, and brotherly love! You can never go wrong then regardless of the logo design trends in that State.
Georgia: Peaches and Coca-Cola
The Peach State is becoming one of the fastest-growing business hubs in the US, with major companies such as Google opening offices in Atlanta. But while Georgia offers a great business environment to all entrepreneurs, the state's competition is becoming fiercer by the minute. 
To compete, creating a recognizable logo is a must. For this, you might draw inspiration from the giants who have roots in Georgia, such as The Coca-Cola Company and AT&T Mobility, or experiment with new themes, designs, and textures. 
Hawaii: Living the Island Life
Hawaii is a haven on Earth for anyone looking to enjoy island life, have easy access to unspoiled nature, and tap into a thriving small business environment. However, business logos and signage play an important role in creating the aesthetics that have made the state famous around the world. 
In turn, you'll have to choose your brand's logo wisely and in accordance with the State's values! If you are unsure where to start, consider incorporating cultural elements such as the Yellow Hibiscus flower, palm trees, or details associated with the state's surfing culture. Looking for inspiration? Check out the logos of companies such as Hawaiian Airlines or Aqua-Aston Hospitality.  
Illinois: Blues and Deep-Dish Pizza
Nicknamed "the Prairie State," Illinois has a thriving food and musical culture – which you should consider honoring through the design of your company's logo! While the state is well-known to be the birthplace of international food-service giants such as McDonald's, you can incorporate retro and vintage-inspired elements while creating more sophisticated designs. 
Some of the most famous Illinois-based companies such as Caterpillar Inc. and Boeing employ clear fonts with highly-recognizable details. 
Iowa: Country Living and Undying Values
Iowa might be well-known to be the nation's largest producer of corn and other grains. But the state also offers an advantageous environment to establish and develop a business – especially in the farming and agricultural sectors!
When choosing a logo to help your new company stand out, make sure to combine new and retro elements, thus conveying the importance of tradition while communicating your commitment to innovation, technology, and development. 
For inspiration, check out the logo of one of the most famous and internationally-recognized companies born in Iowa: The American Popcorn Company!
Maine: Coastal Core Aesthetics
Life in Maine is tied to coastal living – and all about the country's aesthetics remind you of it! Whether you are establishing a local restaurant or cafe or you are founding a chain of retail shops, sticking to these aesthetics can help you win over your audience. 
Looking for inspiration? Check out the logo of Maine-based video production company Compass Light Productions!
Bringing to Life Your Business Logo: The Importance of Partnering With a Team of Experts
Regardless of where you are looking to establish your new business, choosing a brand logo that reflects the history, culture, tradition, and lifestyle of a certain state can help you connect more deeply with your audience and convey the right message. 
Here at The Logo Company, we understand the impact that choosing the right brand will have on the overall success of your business. That is why we have created custom logo packages designed to meet the unique budget, needs, and goals of your company. 
Check out the different packages today to tap into the creativity and expertise of a team of five logo experts and designers. Or, get in touch today with our specialists to find a custom solution for your company.