Logos with L. there are soo many! Friday's rolled round again, and so it's time for another Friday Feature. Last week we looked at logos with K This week I will show you some famous and some not so famous logos with L.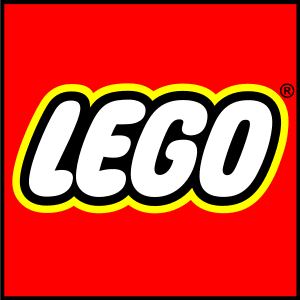 1. The Lego Group – A Company With L 
First one up, the history of the Lego Group began all the way back in 193. That was when Ole Kirk Christiansen began making wooden toys in his workshop. Surprisingly early, in 1934 that the Lego name was officially assumed. More interestingly, this coming from the Danish for "play well" leg godt. Furthermore, the company began making plastic toys in 1947. However, it wasn't until 1949 that they began producing the interlocking bricks. Actually then known as "Automatic Binding Bricks", that they are now most famous for. The modern version of the Lego brick was patented on the 28th of January 1958 at 1:58pm, with all bricks made that year still compatible with those produced today. Very practical for parents and children. 
The logo with L remained relatively unchanged until 1973 when the company started to experiment with different designs. For instance, the new design featured a yellow background with the letters in red, and this remained in use until 1998 when a more modern design was introduced. Actually featuring a darker shade of yellow and a different font, and it has remained in use to this day. Overall, the LEGO logo has changed considerably over the years but has always remained true to the company's values of creativity and imagination.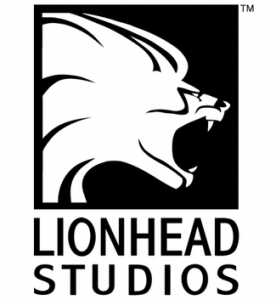 2. Logos with L as in Lionhead Studios
Let's talk about Lionhead Studios. Founded by Peter Molyneux in 1997. Its first major release being 2001's god simulation game Black & White. However, the company's logo with L featured quite prominently in this game. That is to say that the logo on the game's initial loading screen able to be manipulated by the player as well as it appearing as an icon and even tattoo within the game itself.
These opportunities for logo manipulation also appear in other Lionhead games. Like for instance, in Black & White 2. However, Fable II's initial loading screen features a number of alternative logos.
Firstly, the lion in the logo was not a reference to the founder Peter Molyneux's surname but instead represented the company's philosophy of relentlessly pursuing excellence.
Secondly, the lion is gender-neutral. Meaning, it could be interpreted as a male or female lion depending on the viewer's preference.
Thirdly, the original lionhead logo was made by artist Mark Healey, who used a photograph of a real lion as a reference. Finally, as a tribute to the company's legacy, the lionhead logo was made into an in-game mural in the 2017 video game title Forza Horizon 3.

3. Lenovo
Lenovo is a portmanteau, comprised of Le. Furthermore. This taken from the company's original name 'Legend' – and novo. The pseudo-Latin word for 'new'. However, the Chinese company took over IBM's PC division in 2004, and is perhaps best known for its range of laptops and tablets. Particularly the ThinkPad. For instance, its design is based on a traditional Japanese lunchbox. Before, it was also being the only laptop certified for use on the International Space Station).
More importantly, the Lenovo logo has changed over time to reflect the company's growth and focus. The original featured "Legend" with a stylized "L." When the name changed to Lenovo in 2004, the logo updated to feature the new name. So, in 2015, the logo was redesigned to represent innovation, diversity, and global presence with a stylized "Lenovo" in red and gray. Furthermore, the letters are arranged asymmetrically to reflect the company's heritage and reach. 

4. Lycos logo with L – Go get it
Despite most of its logo incarnations featuring a black Labrador Retriever, the name Lycos actually comes from Lycosidae. This is the family that wolf spiders come from. Presumably is a reference to search engine 'spiders'. Founded in Pittsburgh in 1994 and still around despite often being overlooked in favour of its more famous peers, the company's iconic dog was arguably a rather well chosen symbol. Going hand in hand (or is that paw?) with the company's slogan "Go get it!"
Eventually, Go Get It was later rebranded as Lycos Search but kept the dog logo until 2018, when Lycos retired it in favor of a new logo.

5. Because You're Worth It – Another logo beginning with the letter L, L'Oréal  
Last one of the famous logos beginning with the letter L is L'Oréal. So, the name L'Oréal comes from Auréale, the first hair dye formula created by French chemist Eugène Schueller in 1907. On the 30th of July 1909, Schueller founded the Société Française de Teintures Inoffensives pour Cheveux. Which translates as the "Safe Hair Dye Company of France" or, more literally, the "French Society of Inoffensive Tinctures for Hair". Interestingly, this would eventually become the company L'Oréal as we know it today. Furthermore, the company's slogan has changed over the years from "Because I'm worth it" to "Because you're worth it" and finally "Because we're worth it". Hoping to promote stronger consumer involvement. In the 1950s, the logo was updated to include the iconic symbol of a gold and black oval with the company name underneath. This signaled L'oreal's transition into a global beauty brand. 
Logos with M will be the next alphabet-based Friday Feature, so do send any suggestions via Twitter (@thelogocompany with the #fridayfeature hash tag) or Facebook.