How do you start marketing your yoga studio ?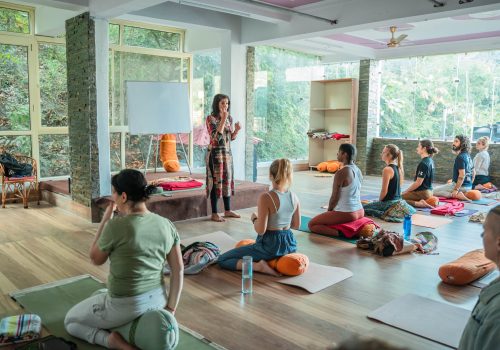 First of all marketing your yoga studio, opening a yoga studio and creating a yoga logo may seem like a daunting task, but it doesn't need to be. I have no doubt that you decided to become the proprietor of a yoga studio because you like this particular type of exercise. It can be calming and soothing. While running a business can be stressful, at least you'll be able to work through your fitness classes in order to deal with that stress!
With that said, there are decisions that you'll have to make before you can open your business. There are some plans that need to be put in place as well. Remember: well-planned businesses are the most successful.
Yoga Studio Marketing Plan Starts with Brainstorming
Clearly, you love yoga. That's a given. That's why you've decided to start your own studio specializing in the practice. If you aren't a certified yogi, then you should either become one (this will involve taking plenty of courses and learning various techniques), or you should hire one for your business. You cannot have a yoga studio without having an official, trained yogi on the premises. Your clientele will expect to have one leading classes. There's also a safety factor involved since a yogi knows the right ways to help people achieve the poses, as well as when they should stop pushing themselves, lest they end up injured.
Yoga studio location and yoga logo
After you've hired a yogi (or become one, that's up to you), you next need to find the best location for your studio. Yoga studios tend to have several different rooms, ranging from actual classrooms with mirrors and cubbyholes to hold street clothes and bags, to bathrooms and spaces to change clothes in. They also have a room with a front desk, for students to register at, as well as a small room selling yoga themed goodies. These can include items with your business' logo on it. (We'll get to that later.)
The best places for yoga studios tend to be on main streets where they can be easily found. You'll even find yourself gaining customers from the location alone, as people will drive past and then come in for a class. Lastly, you need to find your business' niche. There are many different types of yoga, and most studios only offer one or two different types. It's best to start out small at first. You can always add in different types of yoga as your business grows and you're able to hire more specialists.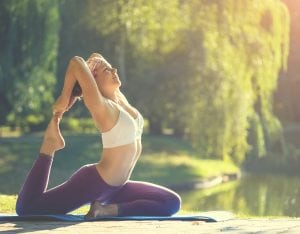 Branding the Business With A Yoga Logo and Stationery Design 
After your location and all of the other pertinent details have been chosen, the next step involves branding your business. You'll need a company name. Most yoga studios are named after a pose or related term, like Namaste, which acknowledges the fact that practitioners believe everyone possesses a spark or divine consciousness. While you could your name, and call it "Your Name Here's Yoga Studio" this isn't recommended, as it doesn't push your message. Instead, come up with something creative based on the practice itself.
Naming your yoga studion is crucial to create a perfect yoga logo
Once you have a name, you'll need a logo and slogan. These two things something, but not always, are developed at the same time. The logo should contain an illustration, such as a yoga pose or a picture of a mat. Most spiritual logos of this type contain rounded fonts and peaceful colors. Consider using bright colors and pastels, such as a warm pink or orange. Green is another good color, as it evokes nature. Blue is peaceful color. All of these will work well in a yoga studio logo.
The slogan should contain the same colors and use the same font. It also needs to reflect the fact that yoga is a meditative practice. Think of it as another extension of your business. A good logo and slogan will attract customers, while one that doesn't quite fit the scope of what you're doing might repel people. This is why it's crucial to find that balance. The name, logo, and slogan all play an important part in the next step, which is marketing.

Marketing Your Yoga Studio 
In order for your business to be successful, you need to market it. A good business plan will contain well-thought-out marketing plans, including those for a web presence, as well as advertising and networking. Yes, yoga studio owners need to network. This will help build the business and bring in new clients. With that said, let's start with a web presence.
Furthermore, you'll need a website for your yoga studio, complete with a domain name and a blog. The blog will help your SEO, or search engine optimization, efforts, which will, in turn, bring in new clients. The main page of your website should be easy to navigate. It needs a page with contact information, in case anyone has any questions. Your address and some simple directions need to be clearly listed as well since people will need to find you.
Schedule and explaining your yoga classes
On top of this, you'll need to have a basic course schedule, plus some definitions explaining what the different types of yoga offered are. (If you're only offering one kind of yoga, this becomes a simpler task.) The URL of your website should be on your business cards, and it needs to be listed in all of your advertising efforts. Consider placing online ads using Google or Facebook. They will draw in locals looking for a new yoga studio.
Another good idea is contacting your local business directory to get added, as well as place ads in your neighborhood newspaper. Believe it or not, people still read them! Next, you'll need to network. Networking involves interacting with other yoga studio owners, as well as business owners of all stripes. You never know who will be helpful, so promote your business as much as possible, without becoming overly pushy.
Wrapping Up you Yoga Studio marketing plan
Once your marketing plan is in place, your business is ready. You have a good studio location, an interesting logo that's on all of your business cards and marketing materials, and are either a yogi or have hired one. It's definitely time to open your doors and start teaching your clients how to do yoga.