Every year brings new logo design trends, and 2023 has just begun! However, we already want to give you a glimpse of what the year might look like and what logo design trends are becoming apparent. Thus we took a look at the latest famous logo redesigns and summarized the resulting trends:
Logo Design Trends: Know how to incorporate colors
When talking about trends in logo design, colors are among the most important factors to consider. Therefore, color combinations, color tones as well as the symbolism of the colors should be well thought through and interact with the core values of your business. Several companies recognized that and have pursued different strategies in updating the colors in their logo to become more trendy.
1. Bold and bright colors is definitely part of logo design trends 2023
Let's be bold this year by choosing bright colors to stand out of the mass and set a statement to be remembered for within your industry! For example, Gmail recently changed their logo from a red and white envelope to colorful "M". Google's initial thought behind it was to incorporate their brand colors in the logo of Gmail. With the change of colors Gmail is now more visually connected to the brand Google and stands out with these contrasting colors. Often such combinations or unusual color choices are enough to make your logo memorable and for becoming the trendsetter of the year 2023!
2. Logo Trends 2023 Involves Color gradients
For a more modern and simple logo design, incorporating color gradients offers a great opportunity. Gradients typically blend colors within the same shade or a wide range of hues, creating a pleasing abstract effect. This trend is not new, but it will likely continue to be popular throughout 2023. As seen in the logo of Instagram, that was changed in 2022. Companies are recognizing and incorporating this trend as they update their designs. Even though this logo is in its essence very simple, it becomes memorable with the color gradients. If you are now considering a gradient logo design, keep in mind to think about the color combinations and whether they align with your brand identity.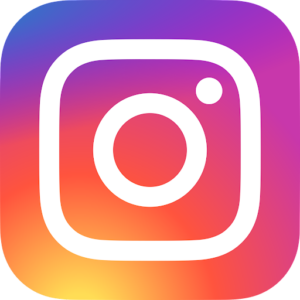 This might seem contradictory to the first point, but monochrome logos are also making a mark in the market. Logos with only one color and minimal design elements will be trending this year. It's important to note that a monochrome design features only pure black and white and has no shades or tones. This type of logo exudes simplicity, classiness, and
timelessness, as seen in the new logo of Nissan for example. They changed to a monochrome logo that "pivots to the future while staying proudly connected to its rich heritage, and tradition of innovation" Read all about the change in USA Nissan News Release
If you're considering designing a trendy monochrome logo for your business, it provides greater flexibility in printing on different backgrounds as color combinations are not a concern.
Logo Design Trends: Shapes matter
Another important factor in designing logos is shapes. Shapes can help define the tone of your brand by using specific associations, affecting how your audience perceives your business. In 2023, there are various ways to integrate shapes creatively to design a trendy logo.
Geometric shapes in logo design are absolutely indispensable in the trends of 2023! These include shapes such as squares, triangles and circles. A very well-known example is the Swedish car manufacturer Volvo, who changed their logo to a more minimalist geometric style. A simple logo, with a high recognition value. This year, if you choose logos with geometric shapes, you can create a logo design that is both trendy and timeless. However, keep in mind that you should choose your shape combinations wisely. Don't combine too many different shapes that could make the logo too complex.
5. Logo Design Trends with Hand-drawn shapes:
Do you want to give your logo a more personal touch? Then this new logo design trend is perfect for you! Including hand-drawn shapes in your logo design will make your business unique and stand out. You can put your ideas on paper in a classic way or use a digital tool such as Adobe Illustrator. Recently, Peugeot decided to change to a new hand-drawn design, updating their famous lion logo. Now with a focus on more elegance and minimalism. When considering designing your own logo, keep in mind to keep it simple. We know, it's tempting to get carried away in the creative thinking process, but your logo should still be functional. That means it should be scalable, easily displayable, and recognizable.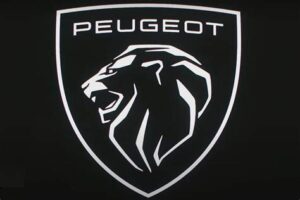 With a 3D logo type, you have the opportunity to create an eye-catching and engaging design for your brand! Stand out in 2023 by creating a memorable logo that impresses with its visual impact, just like PlayStation did. By using shadows, gradients, and highlights, 3D logos can also serve as a powerful communication tool, delivering a clear message about the type of business. Despite its advantages, 3D logos also have a downside, as it can be challenging to display them on marketing materials. However, using such logos to promote your business can be a powerful tool. When designed effectively and with consideration for displayability, they can convey important messages about your brand. This makes them a great opportunity to communicate the nature of your business.
Think outside the box: New Trends in Logos
But the trends in logo design 2023 are not just about shapes and colors. There is more to creating trendy logo! Having an original logo includes sending out a message that represents your brand identity and core values. Let's take a look at what other tools are available to become the trendsetter in logo design this year:
Many famous logos are now doing without words or only symbols in their logo, which are called pictorial marks. Often these logos started with words and the symbol itself became associated with the brand. If you already have a symbol that represents your brand well and you want to make your logo more easily recognizable, then a pictorial logo could be a great choice for redesigning a trendy logo in 2023! For example, Target is one of the companies that lately successfully implemented this strategy. In many digital versions of their logo, the name has been dropped entirely.
8. Unique typography designs - always part of logo trends
In contrast to the above mentioned trend, unique typographic logos offer another great opportunity for your business. This type of logo is entirely text-based, with little or no symbols or imagery incorporated. A famous example is the Netflix logo, which is known for its font. They changed their logo in 2014 to and left the 3D lettering behind. Ever since the iconic red Netflix is among the most recognizable brands. However, it's not just the font that you need to consider. The color and legibility at both large and small sizes are also important factors to keep in mind.
A few words to conclude these 8 logo design trends
After considering all the logo trends for 2023, you might feel overwhelmed about what steps are the right ones for you and your business to reach the next level. Just keep your target audience in mind and the message you want to convey with your design. Additionally, you should allocate enough time for the process of developing or redesigning your logo. If you're interested in what things you should avoid during this process, check out our blog post about 5 Logo Design Mistakes To Avoid for Your Business.