A food truck logo design is crucial to stand out!
First of all, a fantastic food truck logo design might be the difference in succeeding with your business or not. Simple. In the day and age where just about everyone is on the go, all the time, many standing restaurants don't survive in the food industry. The food truck boom is revolutionary, and it's time you got involved. Buying a truck and loading up your kitchen may seem easy enough, but establishing a successful food truck business takes a lot of hard work and creative thinking. 
Designing a business plan for your food truck is the turning point in becoming noticed in a sea of like-minded food truck owners. Even if you think your street tacos will knock everyone's socks off, putting the effort into your marketing and branding strategies is what is going to let your business soar. Following this outline is one of the first steps you can take to having a crowd-pleasing food truck business.
Food Truck Boom
Well, if you haven't heard of food trucks, then you probably live under a rock. Assuming you do not live under a rock, then you are well aware the food truck business is booming! After all, the concept has become wildly popular for a handful of reasons. For one, they are usually operated by small business owners that are passionate about making good food! An even better reason for the popularity of food trucks is that they're easy to access during lunch breaks for 9-to-5 workers. Furthermore, the meals sold from food trucks are often inexpensive and easy to carry and transport.
More importantly, if you want to be a part of the food industry, owning a food truck is a great way to benefit within it. Perhaps you want to teach others about the delicious food from your heritage. Maybe you want to share your family's home recipes, or maybe you just happen to be really good at cooking! Whatever your reasoning for owning a food truck may be, you can easily get into this business boom with an airtight plan. Starting with a good business plan, a dream and a food truck logo!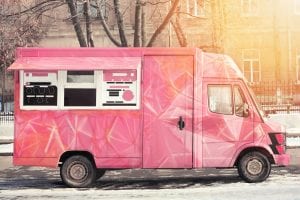 Create a Plan For Your Food Truck Business Success
Creating a plan for your marketing and branding strategies is integral to running a successful food truck business. Your business plan will offer you a timeline of how long it will take to get your business off the ground. For example, what you can expect to achieve can also be revealed in your timeline.
Marketing Strategies for Your Food Truck
Furthermore, the best part about food trucks is that, well, they're trucks! Understandably, you can take your business anywhere you think it will be the most successful! However, aimlessly driving around until someone buys your "world-famous chocolate chip cookies" isn't a very good plan. Therefore, creating a map of the areas you want to post your truck at. Making a schedule of when you want to be at each location. Also, look into the food truck regulation laws of your area. Making sure you are not violating any codes on where you can park for business.
Once you're parked in your location, you need to separate yourself from the competition. For instance, think about what makes your food truck special. For instance, why customers should want to buy your food over someone else's. For example, do you make the best pulled pork in town? Perhaps  your Italian-inspired dishes have Grandma's touch? Even better, your loaded nachos are truly loaded? Select a "special item" that will attract attention, and feature it prominently on your menu. Above all, you need to show your difference not only with your style of cooking, but also with a truck logo design that is unique to you. 
Socialize – that's the easy part!
More importantly, we know that social media is a food truck business's best friend. Using this channel and Insta, TikTok, Pinterest, etc will inform your customers where you are. Also, where you're going, and any other information they may need to know. Any social media channel will also allow your fans to share their experiences at your business, creating more traffic and demand for your food truck. My recommendation is to use the channels that you feel comfortable with, regardless of what's "good" for you.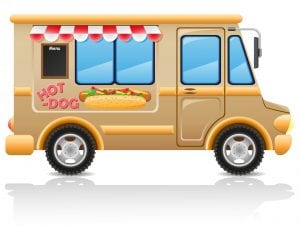 Branding Your Truck with A Food Truck Logo Design
You'll have to set yourself apart from the other food trucks you will undoubtedly be surrounded by. Consider the "voice" of your brand. Deciding what message you want to convey to your customers. Being unique in choosing your food  logo design since what food you have to offer will entice new customers to choose your food truck over their go-to lunch spot. Above all, customers will also be intrigued by your overall theme.
Location, location, location, – stick to the area you know
For example, many customers like local food trucks that actively take part in their community. Take a look at New York food trucks. Every day, you spot people picking up food and coffee on their way yo the office. Greeted by a friendly hello.  
After all, small businesses thrive on their local economy. Therefore, you will have to make your customers want to support you. Perhaps, try involving your food truck with your community. Is there a festival your town hosts every summer? I re recommend that you sign your food truck up to work the event! There might be a local charity that community members care about? Therefore, set up a fundraiser to donate some of your business's proceeds to that charity. For instance,  you may also want to consider employing members of your community in your food truck. Just to stimulate job growth. When your customers see that you care about them, they will care about you!
The Theme is Everything when it comes to ideas for your food truck logo design
A final, simple way to set yourself apart from the crowd is through decorating your food truck. Firstly, with a food truck logo design and secondly, giving it a theme. Let's say if you were hungry, would you choose to order from the plain, dull truck. I personally would prefer the brightly painted food truck with a logo? Especially when we are discussing eating, customers will choose a food truck that looks clean. Probably, detailed, and eye-catching. Designing a food truck logo for your business will make your truck recognizable and appealing. After all, logos for food trucks should tell the customer what food you sell and the overall atmosphere of your business. Make the investment, and have your food truck properly painted to match your theme.
Wrapping Up!
So, you may make the best burger you've ever seen, or the cheesiest mac and cheese. However your delicious creations won't sell at your food truck unless you firstly follow a solid business plan. Secondly get a great looking food truck logo. By following the few simple ideas above, you will be several steps closer to achieving your dreams in the food industry. Remember that some investments in time and money will make a world of difference and definitely get your food truck business noticed.