Do You Need An Extraordinary Tattoo Logo Design For your studio?
I believe Tattoo shops are gaining in popularity. Starting and marketing a tattoo shop with a Tattoo logo design is now easy to spot on Television shows that feature famous employees. Some have turned into into minor celebrities. On top of this, the younger generations see no problem with getting inked. The process isn't as taboo as it used to be. I personally love these images:  Talented tattoo artist  For all of these reasons, tattoo shops are flourishing. Some of them do both piercings and tattoos, bringing in additional clients.
Start your own Tattoo business. Yes you can do it. 
If you want to start your own tattoo shop, then now is the time to jump on this trend.  I love tattoos and I don't believe you need to hide them, ever. Be proud of who you are and what you want to show with your tattoo. Work of art – starting your own business
Designing Your Overall Plan for Your New Tattoo Studio 
The first steps of your new tattoo shop plan including meeting government regulations and hiring talented artists, as well as answering one very important question – why open a tattoo shop? Let's start there. Why do you want to open a tattoo shop? Are you a tattoo artist who wants to expand into your own shop, instead of working for someone else? Is there a lack of tattoo shops in a particular area and you want to take advantage of this? The reasons are numerous.
Find Your Own Niche
No matter why you need to find your tattoo shop's niche. Starting and marketing a tattoo shop needs to be analysed. Is there are a certain type of tattoos that you want to become known for? Or are you just going to be a general all-purpose tattoo shop?  The best way to show customers who you are there for is by illustrating it with a new tattoo logo. The answers to these questions will help you name your business, which you'll need before you can move on to the next step – paperwork.
Is the administration heavy when it comes to opening a Tattoo shop? 
Yes, there's a lot of paperwork involved in opening a business. You'll need to apply for a federal tax ID number, file with your state, and then make sure that you meet every regulation. Every new client needs to sign paperwork before they can get their tattoo (or piercing, depending on whether or not you offer them), and you'll have to meet health and safety requirements. If you don't, you could get shut down or fined. Remember waste regulations!. In other terms don't miss anything. Check and re-check. Do also check so your tattoo logo design is unique and not too similar to somebody else's. It's easy to make enemies and break rules. 
How do you get talented or not so talented Tattoo artists ?
Last but not least, you'll need some tattoo artists. If you're already a talented and experienced tattoo artist, then clearly you can "hire" yourself. Most studios are a one-man-show. However, given the amount of time that it takes to do tattoos, you'll need some additional help. Find new ones. Someone will need to keep an eye on the front desk, make sure that everyone fills out the paperwork, and handle the payments. It can't be artists since they'll be busy. This why you need to find some reliable employees before your shop opens.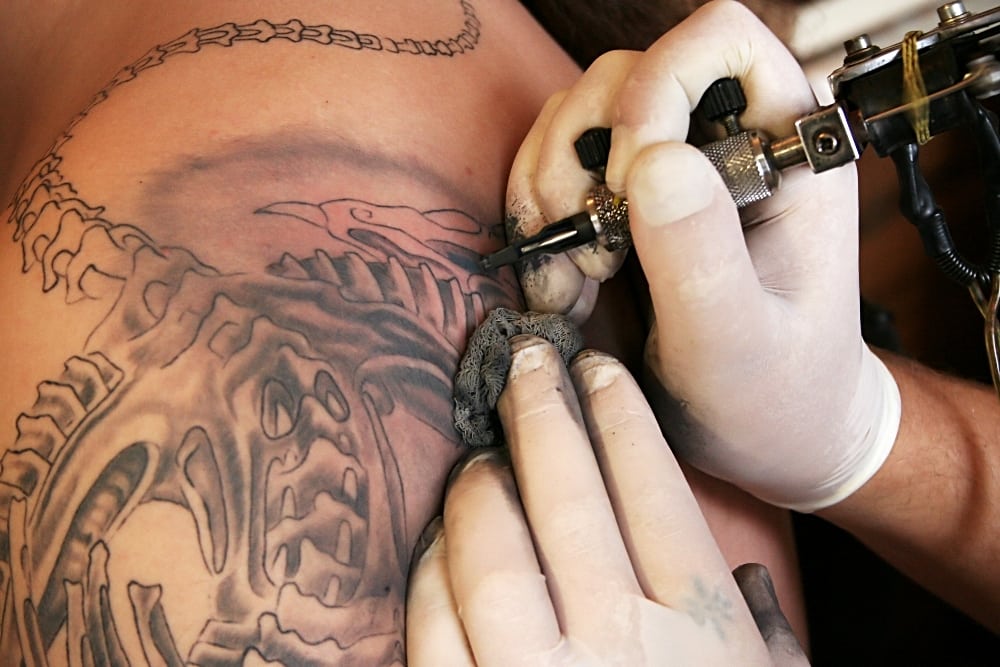 Setting Up Your Shop – start by creating a tattoo logo design
Actually setting up the shop requires a few steps as well. It all starts with designing a good logo. See the ones we made recently here for inspiration Recent tattoo logos  Then moves on to the shop itself. You won't be able to do tattoos in your home, thanks to health regulations. You'll also need a good online presence in order to inform clients and bring in new ones.
A tattoo shop logo is fun to design.
You have much more leeway here, given the nature of your business. Basically, have fun with it. You can use any number of different fonts, color choices, and can even include a picture of a tattoo in your logo. It's a creative industry, so use your imagination. The most important things I believe is that the name of your business is featured prominently in the logo and that it's very clear that you're running a tattoo shop. Be ultra clear about that.
Now its time to set up your trendy tattoo artist studio and create a website.
The logo design obviously needs to go to your website. Other information about the types of tattoos that you offer and a few crucial details, such as the times and days that you're open. A phone number should be included as well, especially if you want people to make appointments. It also couldn't hurt to have some tattoo care instructions that your clients can access after they've gotten one done.
Yes, you'll need to have them some written information on this, but if they lose it, it's good to have that information available. On top of this, some pictures of your work (in the form of an online portfolio), and a blog will help as well. Use real photos as potential customers tends to scrutinise every shop and you need and be authentic.
Location, location, location
As far as locations are concerned, many tattoo shops find that a downtown location or small storefront works nicely. You'll need to divide the space to include a front waiting room and desk, as well as some smaller back corrals where the tattoos will be done.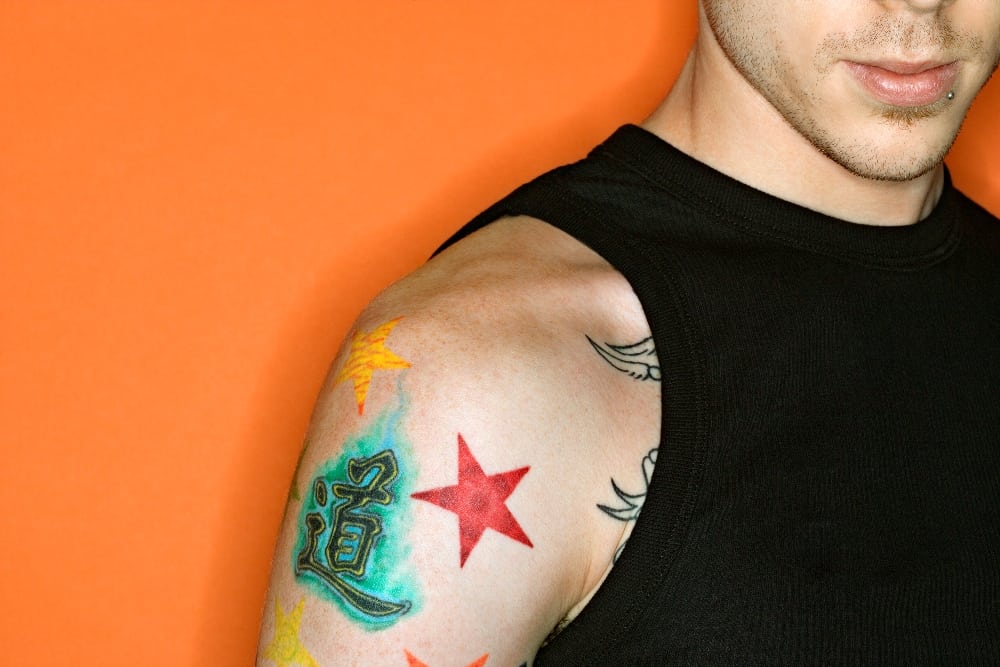 Finding Clients
In order to find clients for your tattoo shop, you'll need to use a combination of new and old-school advertising techniques. These include creating social media accounts for both your shop in general, as well as for each of your artists. It's all about awareness, and this works nicely. You'll also need to place some ads in local publications. If your town has a small newspaper, then this is ideal.
Discount Coupons Are Popular. Use It.
I would create a coupon-like advertisement that offers a discount for new clients who come in before the ad expires. You'd be surprised at how many will jump at the idea to use a coupon, even if it's for a tattoo. I would potentially also reach out to influencers, such as local people who have a very large social media presence. They can make the public aware of your business, and all that you'll need to do is offer these influencers something in return, such as a free small tattoo or discounts that they can give out to their followers.
Be creative as in your tattoo work.
Since you're running a tattoo shop, you can be a bit creative when it comes to advertising. Use your imagination that I am sure you have ltd of if you are into tattoos. 
Conclusion In Starting And Marketing A Tattoo Shop
Starting a tattoo shop or branding a tattoo parlor is quite a process. You'll need to go all of the required paperwork, plus design a tattoo logo that fits your business. Building a website. Even starting a blog, finding a shop location, and hiring employees all come next.
Once all of those pieces are in place, it's time to find some clients with cleverly placed advertisements and social media campaigns. While all of this takes some time, it's necessary. You do want your business to be a success, right? Of course you do. Be brave and yes you do need an extraordinary tattoo logo design to get noticed in today's market.