Do schools need a specific school logo design?
In all industries, like with a school logo design, the aim is to stand out from the crowd. Achieving great brand visibility. The education market is no different. You want to make sure that your name is the first one that people think about when it comes to reputable schools or educational institutions within a local area. The first place to begin in achieving this is with a striking, professional, and school memorable logo design.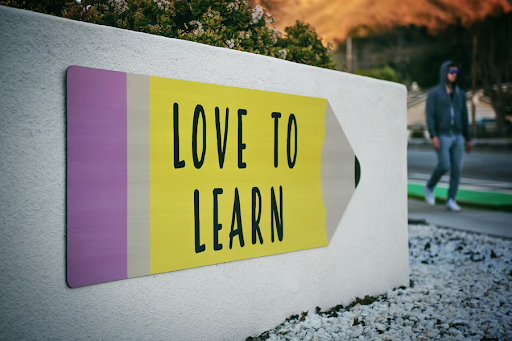 Why is it important to have a great education logo?
There are a number of different reasons why it is important to have a striking and effective logo in the education sector:
It grabs attention
There is only one place to begin. I am sure  with the fact that a bold and striking logo will capture attention. We have short attention spans these days. Parents especially are incredibly busy, and so decisions like choosing a school are always impacted by first impressions. 
Sometimes, you are only going to have around two seconds to show parents that your school is worth looking into further as an option for their children.
An effective education logo is able to grab your attention and communicate your core values in an intriguing way. You can use a person's short attention span to your advantage with an expertly crafted school logo design
Separate yourself from the competition
Daring to be different can pay off in the education sector! Your logo gives you the chance to show parents that your school is special and unique. After all, we are sure that there are many different schools in your local area, but what makes yours stand out from the crowd? It could be your eco ethos, for example, and this is something you can incorporate in the design of your logo. 
Communicate the background of your school.
An education logo that has been well-designed by a team of experts will communicate everything from the background of your school right through to your mission. From the font selected to the icon incorporated, everything matters when it comes to your logo. 
In other terms, your logo is the forum for conveying your values and showcasing why your school is not like other schools. You're not like them; you are better!
Your logo design is the foundation of your brand's identity
Successful branding involves telling a story. You need to put together a marketing strategy that is going to influence parents' emotions. It is as simple as that, and your logo is always going to spearhead your efforts. 
Yes, it may only be a part of the brand of your school but it is a very important part because it acts as the foundation for which the entire narrative of the rest of your story is built upon. Fonts, tones, and colors are all decided on by the story you wish to tell, and your logo is responsible for setting the stage for your story. 
After you have established your logo and start to build the rest of your brand presence, the elements you have selected will translate from your logo onto all of your other branding materials, including landing pages, business cards, your website, letterheads, and much more. 
Parents expect to see a professional logo
There are many benefits associated with a professional logo, but ultimately, parents expect it. Knowing this you simply cannot afford not to provide a professional logo. 
Think about it. When you are out shopping for an item, like an electrical gadget or a pair of shoes, you expect to see a logo. If you were to come across a shop and it did not have a logo! You would find it pretty weird, right? A good logo is not a luxury, it is a necessity!
Create a logo that everyone remembers and your business will always pop into people's minds
Your logo is a point of identification. Think about some of the most memorable brands today, from McDonald's to Nike, we are sure you remember their logos! Logos are a symbol that people use for recognizing your education institution or school. 
Ideally, you want to make sure that people are able to instantly connect the sight of your logo with the memory of what you do, and, even more importantly, how it makes them feel. As a logo is an aesthetically pleasing and visual element, which will trigger a positive recall about your brand that just the name of your educational establishment may not. 
Help to create brand loyalty for your school
Aside from the benefits that we have mentioned so far, another reason why you need professional and impressive logo design is that it will foster brand loyalty. While your brand grows, your logo ends up becoming more familiar to a broader audience, and the familiarity of this will create the perception that you are accessible and trustworthy. 
Make an unforgettable first impression on everyone who views your logo
You have one chance to make a first impression on someone. You cannot reverse this. So, you need to make your first impression count. A logo is your first introduction to parents, you need to make sure it is designed in a manner that will pique their interest and invite them to find out more about your organization. If you don't do this, you are going to miss out on big opportunities! 
The first impression your school makes will introduce you as an authority within the segment of the education market. Check put this school logo design we created. North Layton JR
What makes a great education logo?
Now that you know why an impressive school logo is so important, let's take a look at the different elements that make a great education logo:
Target longevity with your logo design

– There is only one place to begin, and this is by creating a logo with longevity in mind. This is where a lot of businesses and designers go wrong today. They only think about the here and the now, rather than thinking about what is going to look good five or ten years down the line. 
Make sure your school logo is unique

– You also need to make sure that your logo is unique. The last thing you want to do is be accused of copying someone else. Not only this, but if you go for a generic logo, you will not stand out from the crowd. You will struggle to make a big impression, which is what logo design is all about.
Focus on the immediate impact your logo will make

– As mentioned in the benefits above, it is so important to make sure that your logo is impactful and memorable. For this to be the case, you need a design that really does create an impact. It should stop people in their tracks and cause them to take note. 
Do competitor research

– Aside from the tips that we have mentioned so far, you also need to do some competitor research. The only way to create a logo that is better than the rest is by doing some research. Find out what your main competitors have as their logos. Once you have done this, you will be able to strategize and put together something that outshines them!
Make sure your logo is simple and engaging

– A lot of people make the mistake of thinking that they need to overcomplicate things when it comes to logo design. However, if you do this, it will be hard to create something that is memorable, and it will be difficult for people to see your logo from far away. Instead, it is much more impactful to create something that is simple yet packs a powerful punch. 
Choose a logo that is relevant to your school

– Aside from the tips that we have mentioned so far, relevancy is key when it comes to logo design. You need to make sure that your logo is relatable in terms of your school. You cannot simply pick something because you like it. People should be able to associate your logo with your educational institute and everything that you stand for. This is not the time for randomness. Instead, it is about aligning your vision with your logo so that you can make a big impact. 
Be mindful of color combinations

– Last but not least, a good logo is one that has a striking and impactful combination of colors. Never use more than three!
Contact us today to discuss your education logo
If you would like to benefit from an impressive education logo that ticks all of the boxes that we have discussed above, look no further. We have a huge amount of experience in the education sector. I know   exactly what it takes to come up with an impactful, memorable, and on-brand logo design. For more information, please do not hesitate to give our friendly and experienced team a call today.
In conclusion, Yes schools do need a specific logo design to show off and to actually attract their students and parents alike.