If you're looking for an expert New York Logo Design service then you've come to the right place. Learn more about how our experienced team at The Logo Company can help. We'll assist you in creating a professional logo that you'll feel proud to show off and distribute. Check out some logos in New York Time Square logo designs and information
Every company and small business owner needs a quality and custom New York Logo Design that stands out from the rest. Just us take a look at the famous newspapers in the city. We can create a stunning logo that has an original design that will ensure this holds true. Not only will you stand apart but the right logo can also help you wow competitors and customers alike. 
New York logo designs everywhere ! Check out the sparkling billboards in Times Square.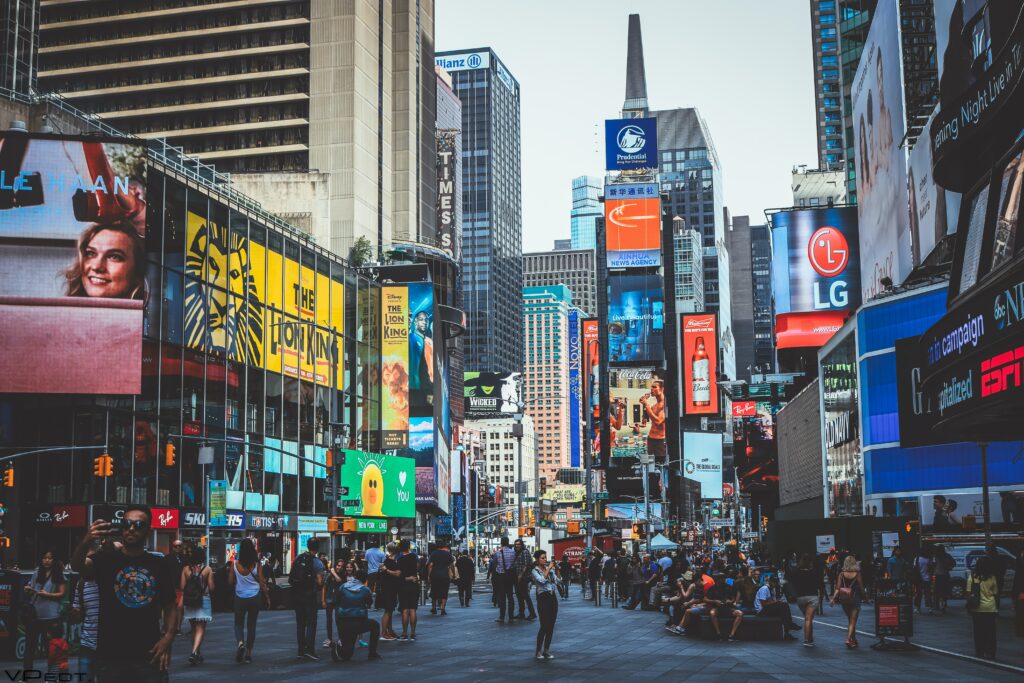 Importance of Having A Logo
There are several important reasons why a logo is an important and essential part of your business. For starters, it has the potential to grab the attention of your target audience. It's an excellent opportunity to make a great first impression as well. A custom and well-designed logo will allow you to separate yourselves from the competition. This will help you foster more brand loyalty from customers. One of the biggest reasons your company needs a logo is that your audience expects it. It'll allow you to create more credibility and pull consumers into your business and what you're selling.
Without a logo, your small business may get lost in the shuffle. Customers won't be able to quickly recognize your brand or products and you may lose out on sales. Another reasons why you need a logo are that it helps increase recognition and shows that your business is unique. Logos give your company longevity and invite new customers to get to know you better. A poorly designed logo design may cause visitors to exit your website or to make purchases from your competitors instead. Overall, a logo is the face of your brand and you'll feel lost without one.
What Makes A Good Logo
Here at The Logo Company, we understand what makes a good logo. We have the skills, tools, knowledge, and experience to bring your brand to life. It's an opportunity to differentiate your company.  To build brand loyalty and ensure you're conveying meaning to your audience and connecting with them on another level. 
Good logo design looks professional and also signifies something deeper that people come to recognize and trust in. You create a winning logo design by using the right typography that represents your values, and by choosing colors wisely. Your logo is the visual foundation of your brand identity. If you get it wrong or misstep in this area you risk losing customers and consumer attention being drawn elsewhere.
Reasons to Hire Professional Logo Design Experts New York
You now have a better idea of why your company needs a logo and all the reasons why you should make this project a priority. Now it's time to dive deeper into  why you need to hire a professional logo design expert in New York. See our New York logos here Inspirational New York graphics
Having a professional logo design is an opportunity to create a strong brand identity. It also enables you to create more awareness about your products or services. We truly are specialists in this area and have the knowledge, expertise, and creative abilities to make your logo look even better and stand out for the right reasons. Quality matters!. Especially when it comes to your products and it's no different when you're trying to represent your business.
Our expert team knows and understands design specifics on a deeper level. Some elements such as color, typography, and shapes are vital to logo design. It's all about the details and coming up with something that hits the mark. Your logo needs to be unique and make a great first impression. A professional and good logo design will create brand recognition for your business. Probably permanently etch your company into customers' minds.
New York & NYC Logo Design: How We Can Help
If you're in need of professional logo design services in New York then be glad to know we can help. Here at The Logo Company, we want to ensure you succeed in this area of your business. This is why we offer a variety of professional custom logo design packages. As a top and experienced logo design agency, our resourceful team is familiar with creating custom logo designs for all types of businesses, at an affordable price.
Our team specializes in New York Logos and wants to help you gain more visibility. We guarantee that the logo we create for your business will serve your business for years to come. Yours could even become the next classic, timeless logo that people can't stop talking about. We promise to come up with a logo design in New York that represents your brand and what you're selling in a unique and effective manner.
Our Approach & Process for Logo Design New York
What sets our logo design services in New York apart is that we have a unique and proven logo design approach. One of the ideal benefits of working with our team is that you'll have access to five logo designers instead of a single designer. It means that you'll have the best chance of receiving a design outcome that you love and one that will build your brand recognition. Not only will you have access to five designers but this also means you'll get five different concepts to review and choose from. These are not cookie-cutter results but they are always custom, professional logo designs created by qualified and experienced senior designers.
In addition, you'll receive unlimited redraws as part of our approach and logo design New York process. Our popular "Unlimited Redraws" policy will ensure you get a logo that you love and adore, no matter how much work we need to do to get you there. Along with unlimited redraws, you'll also receive access to unlimited revisions until the end result is nothing less than perfect. We will refine your logo design until you're entirely satisfied with it. Once your New York logo is approved and you're happy with it then you will receive a full package of high-resolution files for your entire web and print needs, plus a certificate of copyright ownership. What we can't promise you is that your competitors won't feel a bit intimidated and on edge once they see your final logo design.
If you have further questions about our logo design process, please don't hesitate to get in touch.
Why Choose Us
We are the New York and NYC logo design experts ready to help you achieve your business and brand goals. Our guarantee to you is that your logo will be completely unique to your business. When it comes to creating New York Logos, we hope you'll think of us first. There are several excellent reasons why you should turn to us for help with this project. Our team has years of experience designing professional and unique logos for a variety of companies. We're also happy to offer our custom logo design approach and packages.
Our experienced logo design team is committed to sitting down with you to learn more about your needs and brand before starting any work. We understand that no two clients are the same and will also adapt our approach and designs to meet your requirements and expectations. Your final logo design will always be bespoke and professional. The logo we come up with will effectively represent your business and help you command a presence in the midst of all the noise and competition. We strongly believe that the foundation of any successful relationship is trust and we will work closely with you to build it.
It makes sense that you want to get a better understanding of the kind of logos we've produced previously and what you can expect from us. We encourage you to review some real examples by visiting our portfolio of work to give you an idea of the quality you can expect. You can change to view examples from a different industry by using the drop-down menu. 
Next Steps
If you're a company owner that has big dreams and a lot of ambition then you'll certainly need a winning and strong logo that properly represents your business and products or services. In this case, we hope you get in touch today to learn more about our New York Logos services and New York Logo Design process. It's the right step in the right direction and will help ensure that your company can attract more customers over time and find long-term success.
We also have an FAQ section at the bottom of our contact page where we answer the most common questions. If you have a question that's not answered there or prefer a personal response then please use the online contact form. Our knowledgeable team of customer support staff is waiting to assist you.
We will always get back to you during working hours, and look forward to speaking with you soon!