Do you work with your hands well? Would you rather be working at a craft bench than at a keyboard? You may want to start a homemade craft business! It can be a lot of fun to make your own art and find buyers who can appreciate it. You will need to take the time to discover your talents and develop some strategies to market your business.
Put Your Craft Business skills Where Your Talents Lie
The key to any successful homemade crafts business is finding your talent and your passion. Practice makes perfect in any professional field, but seek out where your natural talents lie. Your homemade crafts could be highly artistic. Perhaps painting or drawing is your specialty. Your craft may rely more on the 'homemade' aspect. Your heritage, for example, may influence handcrafted pieces. Jewellery business, hand-sewn decor, or knitted clothing could be where your talents lie. Make sure you are passionate about whatever crafts you make. Your passion is key to making your business a worthwhile one.
Strategize your Craft Business
There is a lot of time and work involved in establishing your homemade craft business online. Before you can sell any of your work, you'll need to develop marketing and branding strategies. You'll also need to take time to create a website or webpage to sell your products. Once these bases have been established, then you can focus on your craft. Of course, actually creating your product will be an important but small fraction of your business. Following up on orders, scheduling your days, and managing your finances will take up a lot of your work time.
You must expect yourself to be very good at time management and self-motivation to have a successful homemade crafting business. Being your own boss has many appealing aspects. You can work on your own schedule and only make products for the people you want to. On the other hand, you have to be much more responsible than your average employee. You will be held accountable for the success in every part of your business. It will be easy to fizzle out or give up if you don't see progress or profit right away. Remember that running any business from home requires patience and a strong work ethic.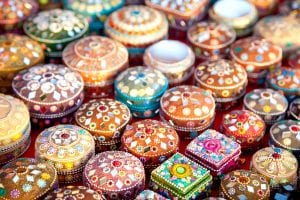 Marketing Strategies for Homemade Craft Business
It can be difficult to market homemade crafts. Part of your strategy is to use multiple marketing tools on the web to reach an audience. Begin with a personal website. You want to direct the majority of your online traffic to this website. It will serve as the main hub for selling your goods. It will also serve as a reference point for contact information and any other relevant information. Aside from a personal website, you may be interested in having a seller page on another website known for selling homemade goods. Etsy is a popular website used to sell homemade crafts and handmade pieces from individual sellers. eBay can also be a great third party to host your seller page.
Use social media to your advantage. Homemade crafts can photograph well. Utilize Facebook, Instagram, and Pinterest to post photos of your work and advertise. You can also use these social media pages to direct traffic to your business's website.
Art in a Name and Craft Business Logo
An important part of marketing a small business is to have a clever name and craft logo for your business. A clever name will attract attention and intrigue your target market. Your name should reflect what type of crafting you do and appeal to those who appreciate handmade art. Your logo should complement your business's name. Eye-catching imagery is an important feature. Use colors, shapes, and patterns that flow cohesively and speak to the type of crafting you do.
As a homemade craft business, you are a small, private business. Marketing and branding yourself will be different from promoting a larger company. Be prepared to connect with clients and customers on a more personal level. You'll have more face to face moments, and this could mean how you run your business will be scrutinized to a certain degree. Staying self-aware and having a hospitable style of management will be an important factor in seeing success in your small business.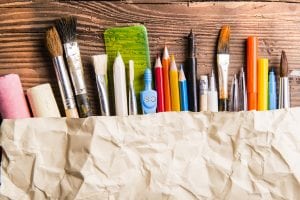 Branding Strategies for Homemade Craft Business
Your branding strategy will lie heavily in the quality and type of crafting your produce. Obviously, you will want your homemade craft to look like it was truly handmade. Typically, a handmade item costs more money than a manufactured one.
Customers will expect to see the handcrafted quality in their purchase, so they know they have a unique item that took time and effort to make. At the same time, you want the craft you are making to look professional and clean. A handmade item does not mean it should look sloppy to any capacity.
Crystal Clear Communication
As mentioned previously, part of your strategy will be to have personal interactions with your customers. Depending on your craft, you may be able to take requests from customers. Taking requests requires open and clear communication. Whether via email, phone calls, or messaging back and forth, make sure you have a crystal-clear understanding of what your customer is looking for. Your attitude should be nice, friendly, and patient when communicating with them.
Finally, your craft should be unique to you. For example, many artists can paint a picture, but every craftsman has their own personal touch that makes their art recognizable and in demand. Practice your craft, and find what gives your work a special look that nobody else can replicate.
Wrapping Up – Be passionate about your Homemade Craft Business
Creating a homemade craft business may seem like a lot of fun at first, and it can be! Making your own art that you are passionate about, and making money from it, can be a very rewarding experience. You do need to be very passionate about your business if you want to have a successful one. Remember, however, that there is a lot of work to put in first. Establishing your business requires an extensively planned marketing strategy and business strategy. After your strategies are put into place, then your art can flow!