Water Bottles With Your Logo Is Still An Excellent Marketing Tool For Your Business
Using promotional water bottles as a marketing tool can be traced back to the early 1990s when businesses started to realize the potential of using eco-friendly products for promoting their brand. The first promotional water bottles were given out at trade shows and business events to promote a brand or product.
As the popularity of environmentalism increased, businesses started to use promotional water bottles as a way to reduce plastic waste and appeal to eco-conscious consumers.
In the 2000s, companies began to focus on the design of promotional water bottles, creating unique shapes, colors and adding brand logos for better visibility. Today, promotional water bottles are widely used by companies of all sizes, and are recognized as an environmentally-friendly alternative to plastic water bottles. They are also a popular item that people often carry with them, which helps brands to increase visibility and build brand awareness over time.
10 good reasons to keep using and promoting your business with promotional water bottles.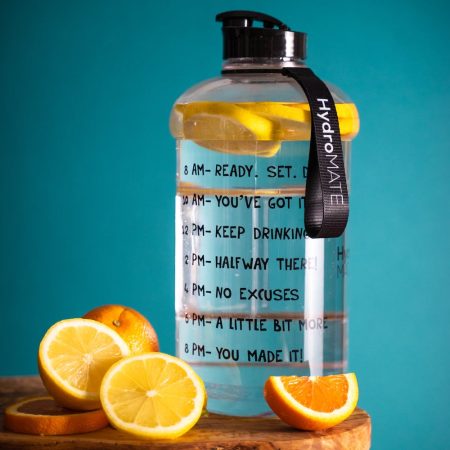 Promotional water bottles can be a great tool for your business. Here are ten reasons:
1. Versatile Water Bottles
Promotional water bottles are a versatile marketing tool due to their ability to be used by all ages and for various purposes such as sports, fitness, outdoor activities, and travel. Available in different sizes, materials, and colors. Also they can be customized and used as giveaways at events, tradeshows, fundraisers, or as gifts to employees, customers, and clients.  Most importantly, their long-lasting nature increases brand visibility and recognition. 
2. Perfect Brand exposure
Second reason is that they offer a cost-effective way of promoting your brand to a wider audience. For instance, promotional water bottles with your logo can increase brand awareness and customer loyalty. For instance, it creates a mobile marketing platform that generates brand recognition with gym goers, hikers, and office workers.
Giving away branded items can make people feel appreciated, leading to repeat business and positive brand perception. After all, it is an affordable yet effective way to reach potential customers while strengthening existing customer relationships.
3. Reusable Promotional Bottles
Well, obviously reusable water bottles provide prolonged exposure, as they can be used many times. However reusable water bottles are a great promotional item because they are practical, environmentally friendly, and offer long-lasting brand exposure. Furthermore, promotional water bottles with a logo are sustainable, reduce plastic waste, and showcase your eco-friendliness.
Custom designs and branding make them a unique and memorable marketing tool. They provide cost-effective,  brand advertisement because they are often used for a long time. Overall, they show your brand is sustainable practical, and  has value.
4. Highly utilitarian 
Water bottles are highly useful. That is to say anyone can use them and on-the-go people particularly appreciate them. It's quick and you can pick the color that goes with your outfit and look. I think everybody has a favorite promotional water bottle that just feels right. 
5. Promotional Water Bottles Are Eco-friendly
Most importantly, reusable water bottles replace disposable single-use plastic bottles, which helps reduce plastic waste.
There are many eco-friendly options for promotional water bottles. One example is the S'well Bottle, which is made from stainless steel and is triple-walled for temperature retention.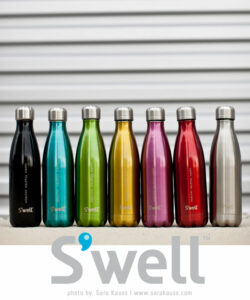 Another option is the Nalgene Reusable Water Bottle, which is made from durable and BPA-free materials. The Vapur Eclipse Water Bottle is also a great eco-friendly option, as it is collapsible and lightweight, making it easy to carry with you on the go.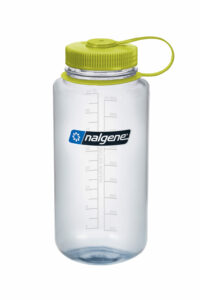 Another excellent one is, the Klean Kanteen Reflect Water Bottle is another great choice, as it is made of high-quality stainless steel and features a bamboo lid. Finally, the CamelBak Eddy+ Water Bottle is another eco-friendly option, as it is made from BPA-free materials and features a leak-proof design.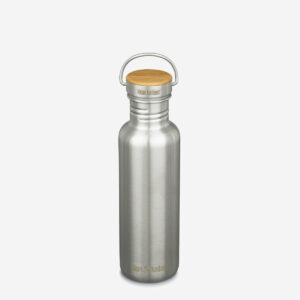 These promotional water bottles are not only eco-friendly, but also durable and stylish, making them great gifts for both employees and clients.
6. Customizable Water Bottle Logo
you can print your brand name, tagline, logo, or artwork on the water bottle. Just imagine how good your bottle would look with a water bottle logo design. Once you have created a logo design by a professional logo maker then you can add it to all sorts of merchandise. A water bottle logo design needs to be a simple design, so it's easy to read and effective. You do want people to see which business it is in the first 2 seconds.  
7. Perfect for a healthy brand image
Another aspect is heart, clients will love that you promote a healthy lifestyle. A water bottle with your logo on says that you care for yourself and your surroundings. A quick wash with warm, soapy water daily will keep pesky bacteria away. If your bottle has hard-to-reach areas, simply give it a little extra love while cleaning. 
8. Promotional Water Bottles Are Really Affordable
Yes, promotional water bottles can be affordable. The cost of promotional water bottles depends on various factors such as the material, size, style, and personalization options. Plastic water bottles tend to be cheaper than stainless steel or glass ones. Additionally, larger quantities of water bottles usually cost less per unit than smaller quantities. Choosing a simpler design or fewer customization options can also help keep costs down. Overall, promotional water bottles can be an affordable marketing tool, and their practicality and reusability make them a popular choice for businesses looking to promote their brand.
9. Creative Promotional Water Bottles
Well there are endless options for creating unique and creative designs that make your brand stand out. Let me give you a few examples: 
1. Infuser water bottles – These bottles come with a removable fruit infuser for adding flavors to water. Companies could put their water bottle logo on the bottle or on the fruit infuser.
2. Light-up water bottles – These have LED lights that can change color. This type of water bottle could be a great giveaway at events or parties.
3. Reusable silicone water bottles – These are collapsible and ideal for those on the go. A company could put their logo on the silicone material.
4. High-tech water bottles – These come equipped with Bluetooth speakers, temperature sensors, or reminders to drink water. These would be ideal for tech brands or health and wellness companies.
5. Stainless steel insulated water bottles – These keep drinks hot or cold for hours and come in various designs and colors. Companies could put their water bottle logo or make a custom design.
10. Great for corporate gifts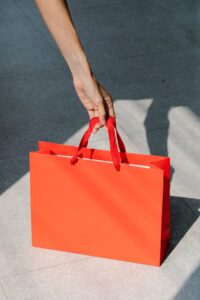 When it comes to picking the right corporate gifts, you certainly want to choose something that is both convenient and cost-effective. With promotional water bottles, you can have the best of both worlds. These practical, versatile products are not just affordable, but also environmentally friendly, which is sure to reflect positively on your business. By investing in these gifts and customizing them with your company name or logo, you can strengthen your brand recognition while also demonstrating your social responsibility and care for the planet. Additionally, since water bottles are a practical and useful item that people can use every day, they are sure to be appreciated and utilized, making them an excellent option for strengthening relationships with your valued clients, employees or business partners. So why not choose promotional water bottles and reap the benefits of an effective, convenient, and budget-friendly corporate gift?
Wrapping Up - Still An Excellent Way To Promote Your Business
In short promotional water bottles are suitable for different types of businesses and events. They can be used every day, increasing brand awareness and promoting sustainability. Customize them for trade shows, conferences, or product launches to create goodwill and loyalty. Start building your brand recognition today!