What do you need to think of when branding and marketing for tattoo parlors? Especially since, tattoos have become ways for people to express themselves through artistic visuals. After all,  tattoos are permanent, consumers want to find the best tattoo parlors in their areas. Therefore, you need to market for tattoo shops especially. More importantly, customers want to be certain that they not only get the best quality tattoo, but overall customer experience as well.
Above all, for tattoo parlor businesses, it is more about just being a good artist. You also have to run a clean and thriving business to keep your customers coming back and referring others. Thus it's crucial to know how to market for your tattoo parlor.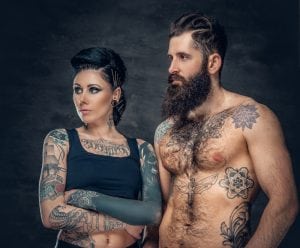 Tattoo Trends When Marketing Tattoo Parlors
First of all, tattoos are very popular among people all around the world. There is such a large range of people who choose to get ink tattooed onto their bodies for a variety of reasons. Above all I can understand why even if I don't have any tattoos. Perhaps some people will choose to get tattoos as a way to represent who they are and what they love. Then, there are people who will get a tattoo because it symbolizes something important in their lives.
Furthermore, you will see individuals with tattoos in small places. However, there are others who are tattooed from head to toe. full sleeve examples with colors etc. Sometimes, you would never expect specific people to have tattoos, but that is the beauty behind its art and effect on humans. See some in our beautiful TLC Portfolio of Tattoos
Hip and successful branding for tattoo shops. 
Since tattoos are so popular, it makes sense for aspiring tattoo parlor businesses to capitalize on this market by building a hip and successful business. One of the first things that a customer will look for when finding a tattoo parlor is the business has a skilled artist and craftsman.
Whether you are the artist or simply the business owner, you want to ensure that you have a trained and experienced staff who can provide customers with the best artistic experience. This is the best way to market and brand your tattoo parlor in my opinion. Be skilful and empty good, clean and honest people. Your good word will be spread. 
Following this, you want to sustain smart business practices. Obtain insurance and supply your artists with the most effective and modern tools that they can use. An artist can only be as good as his tools. Finally, find your audience and give them reasons to see why your tattoo parlor stands out from the rest. Well of course with great artists, cleanliness, state-of-the-art tools and that your business is insured. Tips on Starting your own ink business
A New Logo Design is a Great Way to Market Tattoo Shops
Most of all, tattoo logos are important for any business, but they are even more vital for a tattoo parlor. For instance, you cannot attract customers to an artistic establishment if the tattoo logo itself does not express some form of creative and innovative aesthetic. Logos are a great way for businesses to use an image that represents who they are. Also what they are all about.
For long-standing companies, sometimes their logos are more recognizable than their actual names. For instance, the Apple symbol will forever be one of the most popular logos known all around the world. Therefore, your goal is to create a logo for your tattoo shop that is synonymous with your business name and mission.
Furthermore, it might be a good idea to have one of your tattoo artists design your logo for you. However you may invest in a company who can create a logo that best fits your business needs. You can choose to go with something simple or a little bit more complex. Either way, the priority is your tattoo logo is what represents your business.
Branding Tattoo Shops on a Budget
Remember that, branding your tattoo parlor is just as important to sustaining your business as all other aspects of the industry. As your customers walk into your establishment, you want to give them the sense of who you are as a business. Through all types of marketing channels, you should create a solid brand of your company so that customers will trust in you and know they are receiving the highest quality service.
Of course, not every business, especially those starting up, have the financial means to pay for expensive advertising. So, you can take advantage of some of these great branding strategies without breaking the bank:
1. Decorate with Intent
When people walk into your parlor, they should feel a sense of individualism and artistic creativity. Decorate the walls with work from your artists as well as art that represents your business. Be mindful of the colors you choose for your walls. Whether you opt for warm or cool colors, keep it consistent throughout the entire building.
2. Keep it Clean
No one wants to come to a tattoo parlor that is dirty and unkept. Cleanliness of the establishment reflects the business practices of the parlor so make sure to always keep areas clean, even the front office. As customers are sitting in the waiting area, they want to feel comfortable that there will be no risk of infections or complications because your parlor complies with sanitation standards.
3. Follow-Up to make sure you are on the right track marketing tattoo parlors
Once your customers have left your parlor, be sure to follow-up with them afterwards. Give them a call after a few days and see how their tattoos are healing. Just like a doctor checking in on his patient, tattoo artists who check-in on their clients have a way of making clients feel cared for and appreciated. This serves as a great customer service tactic.
4. Hire Personable Staff – people with personality for your tattoo business
Most importantly, your employees are going to have direct contact with your customers. Understandably, it is essential for your business that they are not only experienced, but they are personable with your clients. After all, getting a tattoo can be a scary experience. Therefore, customers want to feel comfortable and taken care of when they come in for their appointment. So, staff who are helpful and friendly can make sure that your customers are at ease and confident with getting a tattoo at your parlor.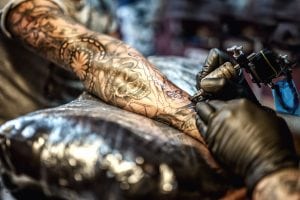 In conclusion, owning a business can be a fruitful and amazing venture. Owning and trying to market a tattoo parlor can be even more exciting because you will always get to see various customers coming in for different reasons. After all, they all share one common factor: the tattoo.
As you build your business, you should take into consideration all of these marketing and branding tattoo parlors strategies. Mostly, to ensure your business will have a lasting effect on your customers. Above all, when they get tattoos, they are getting more than art on their bodies. As they are getting an experience with a trusted artist in which they will never forget. Therefore, your business should aim to give them the best experience they could get.