Is it important to have an accounting logo design?
If you want to make sure that your bookkeeping business stands out from the crowd, then you have to make sure that you have a solid accounting logo design. A lot of self-employed accountants opt for free logos that can be found online. Perhaps because they think that they look professional, and they are also very easy to access. I believe that this is unfortunately. Actually, a major mistake. It doesn't matter whether you are a solopreneur who is starting your own accountancy business. You might already have a fully-fledged team of accountants who are working with you. Above all free logos will be the downfall of your business.
To start with, you have no idea who else is using the accounting logo design you have, and this can tarnish your brand name. It can also cause a lot of confusion amongst your users too. They may see your logo elsewhere, being used by a completely different company. Lastly, you have a generic logo that doesn't reflect your brand values, your mission, or what industries you serve.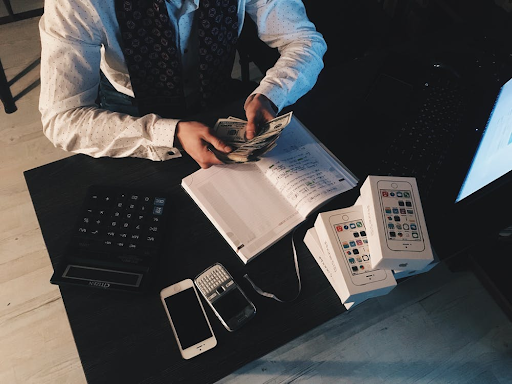 Bookkeeping Firms should Not Overlook the Power of a Great Accounting Logo Design
It is your first chance to make a true impression. A lot of bookkeeping companies tend to settle for an average logo for a number of reasons. To start with, they may not have the appropriate marketing skills. Maybe simply do not feel the need to advocate for their brand when it comes to their online presence. If you're following this logic, then you could be making a huge mistake. You may be compromising your brand and your strategy. I know this is the last thing that you need if you want to run a strong and successful business.
Be unique – I believe it's still possible
At the end of the day, it's also important to remember that there are thousands of bookkeeping companies on the market. All of them are providing a very similar service to you. I understand that you need a creative logo to get noticed. Having a good logo is no longer a luxury, it's a necessity. Bookkeeping companies who do not take their presence seriously are unfortunately the first ones to fail. I get that having a good logo can help you to gain a high level of visibility. I also believe it can help you to showcase your brand values.
Considerations for Designing your Logo 
Designing a logo for your bookkeeping firm, the graphic designer will have to cover many different aspects. To start with, the designer has to choose a color to ensure that it will have a positive impact on your target demographic. Black, silver, red and blue are often used to convey this. If you prefer the more conventional style of logo, then make sure that you talk with your graphic designer about this. My team can often position a suitable image within your logo. They can also help you to choose a font and slogan. The font should be readable, and it should also be easy to understand. In my opinion it's good to see straight away what kind of firm you are.
Always avoid clutter in a logo
Firstly ensure that the logo is not cluttered, and secondly make it clear, concise, and professional. I know that if If you add all of this together, then you will soon see that there is so much more to designing a logo than you might think. I'm telling you this to avoid waisting time and to hire someone who truly knows what they are doing. Oh like The Logo Company!. Yes, exactly so. We have designed many logos for accountancy firms in the past and we are very proud to say that our work has always been admired by our customers and their clients.
Why should You Hire the Logo Company for your Bookkeeping Logo?
Designing a logo is certainly no easy task. It is far better for you to have it designed by a professional like us because it will give you access to a huge range of benefits. If you want to find out more about them, then simply look below. I would follow these guidelines if I were you.
Saving Time
If you are a bookkeeper, then you will need to invest a lot of your time in your clients. Its necessary to streamline their accountancy documents and you will also need to take note of any financial transactions. Probably avoid sitting down at a computer muddling with designs. I say this because it will compromise the time that you have with your clients. You may even find that by trying to multi-task, the end result of your logo ends up being lackluster as well. If you want to work around this, then you need to let the designer take care of any logo work. He/She knows best.  
Cost-Efficient
A lot of bookkeeping firms tend to design their own branding material and marketing plan. This is especially the case with start-ups that are trying to save money. A few years down the line and you'll come to the conclusion that your logo is just not on-par with your competitors. If you want to do something about this, then you need to try and bring in a professional to do the job for you.
A Polished Image
When you go through a logo design company like ours you can feel confident. Knowing that you are going to get a professional and polished image. In this day and age, I know we live in a society that runs on the concept of perceived value. This means that if something happens to look better from the outside, it probably has value inside. A professional logo designer will help you to draw a lot of attention to your business. He/She has the experience and knowledge required to understand the more subtle techniques that are used when crafting your message. Knowing my team we will help to get all eyes on you which is essential if you want to stand out in a crowded industry.
What Should your Logo Communicate?
If you want your logo to communicate the right message, then this is a general guideline of what you should be looking for in your logo. I have been making logo design for accounting firms for many years and I am confident that we can help you. When you come to us to design your logo for you, we will work diligently to ensure that your logo encompasses all of this and more.
Services
Your brand message has to be recognized instantly. A customer should be able to look at your logo and guess your function. Sometimes it is helpful to include a sentence or word that summarizes your service features. This is of course, dependent on the logo that you go for and the general complexity. When you come to our team, we will ensure that your services are conveyed in either the image or the text that accompanies it, giving you plenty of flexibility with your logo design without compromising your message.
Benefits
After you have communicated your services in your logo, you need to convey to your clients the benefits that they will get when they go through your business. If you can communicate the benefits, then this will help to give your clients the essential aspects that they are looking for. Your logo should have a professional feel and it should make your clients see the unique benefits that they will get when they work with you.
Qualities
If you can include qualities of your brand within your logo, then this can help you out more than you realize. It helps your clients to know what you specialize in as well. You can convey this through different colors, imagery and even fonts. A simple arrow or even a bar chart can show your clients that you are CPA, or that your auditing solutions are not to be matched.
Values
Another aspect that should be in your logo would be your core values. This could be strength, safety, excellence, connection, or professionalism. A lot of the time this can be conveyed through the use of color, and your designer will use this when trying to craft your logo for you.
All in all, it is not easy to make sure that all of the marks are hit when creating a logo, as every company is different, with varying approaches and solutions. That is why it is so important for you to go through a professional. When you do, you can then trust in them to give you a logo you can be proud of. If you want to get the best logo for your company, then we are the best solution.
Compare your logo to others.
Check out some Accounting firms logo design on Trustpilot. They are NOT all made by pros I believe  Trustpilots results over best accounting firms USAHere at The Logo Company, we pride ourselves on making sure that we don't just meet our client expectations, but that we also exceed them. That is why you can count on us to give your brand a construction logo design that will stand the test of time, while also ensuring that your every requirement is met. Want to find out more about our logo design service? Then email us at: logosale@thelogocompany.net. You can also check out this page to see some of our previously designed accountancy logos.