How do you come up with a plan to market and brand a high tech business. Taken together, the elements of this tech logo work to represent a high-tech company that offers customers real innovation combined with reliability.
Branding a High Tech Business By Targeting Your Audience
While logo design plays an important role in branding, it is not the only consideration. Any marketing professional can tell you that good branding is possible only when you understand your target audience. When you do, you can speak directly to their most common difficulties and concerns and let them know that your products can help.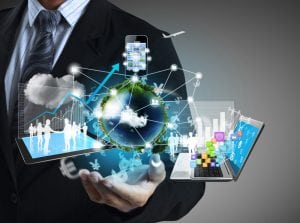 It isn't uncommon for high-tech companies to sell both business-to-business (B2B) and business-to-consumer (B2C).
Tips for Targeting B2B Audiences
For some high-tech companies, marketing to B2B audiences may be quite different from marketing directly to consumers. For example, they may be targeting their content and ads at tech pros, people who have a strong base of technical knowledge and can understand jargon.
In such cases, you can and should speak to the people in your target audience at their level. If you're introducing new technology you may still need to explain it, but you can use terminology and concepts that wouldn't be appropriate for consumers.
As you work to understand your core B2B customers, make sure you know what they understand and what they don't. Their needs and issues may look nothing like the issues that the average consumer would have.
Even if you are targeting IT professionals or tech people, you should still keep in mind that not every potential customer has the same level of experience. You may want to consider making explanations available even if they're not included in your content. Linking out to resources that explain your products is one way to do that.
Branding and Targeting A High Tech Business
Marketing directly to consumers usually requires more explanation than marketing to businesses. Of course, some consumers may have a great deal of technical knowledge, but you need to assume that many – if not most – do not.
That said, it's never a good idea to talk down to your audience. The key again is to understand what most of the people in your audience want and then explain how your product can help them get it.
In some cases, you might need to create more than one audience profile or avatar to market effectively. A product that was originally created with consumers in mind might also be helpful to business owners. Likewise, a service that appears to be more popular with young people may also appeal to middle-aged adults.
Market research is the key to targeting your advertising properly. Once you understand your audience, you can figure out the best way to reach them.
Content Marketing for High-Tech Companies
Effective branding and audience targeting will only get you so far. In the end, the content you create and share has to speak to your audience's concerns if you want to connect with them.
How to Make the Most of Your Blog
Blogging is still one of the best ways to connect with your target audience. It helps to keep your website up to date and fresh by Google standards. Furthermore, the blog also provides you with a place talk about your products as well as related topics that are relevant to your target audience.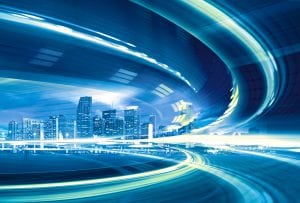 Whether your readers are fellow tech professionals or consumers, your job is to speak to them in a language they can understand. The topics you choose should be relevant, and your writing should aim to inform and educate people.
Here are some suggestions to help you make the most of your blog:
1. Write about aspects of your product or service that may require some elucidation. You know your products better than anybody else does, and a blog is the ideal place to share your knowledge.
2. Give your readers a look behind the scenes by talking about product development or manufacturing. The idea of getting special access is something that's appealing to people, and may help people understand your products and trust you.
3. Connect with important people in the high-tech industry and interview them or have them write guest blogs for you. Guest blogging gives you the opportunity to connect with a new audience.
4. Use every opportunity you have to optimize your blog for SEO. That means choosing the right keywords, using tags properly, and linking to reliable sources.
It's also wise to set up and stick to a blogging schedule. You don't have to write every day, but publishing one or two new posts per week will ensure that your content is always fresh.
Social Media Marketing for High Tech Companies
Social media marketing has become increasingly more important in recent years. Here are a few suggestions to help you improve your social media strategy.
1. Use your customer profiles to determine the best sites to use. B2B companies may want to focus their efforts on LinkedIn, while for B2C companies, marketing on Facebook, Twitter, and Instagram might be preferable.
2. Create and share valuable content to trigger the cognitive bias of reciprocity. Educating your customers is a must. If you share step-by-step guides, videos, infographics, and other informative content, you'll be increasing your followers' understanding of what you do and creating a sense of indebtedness that may prompt them to buy from you.
3. Vary your content, particularly if you're posting on Facebook. One of the best things about Facebook as a marketing platform is its versatility. You can post written content, photographs, videos, and anything else you can dream up.
4. If you have a new product to release, consider using live video to interact with customers and take questions. It's a great way to demonstrate your knowledge and accessibility.
5. Follow industry publications and share their content (with your commentary) to build authority and offer value to your followers.
These are just a few ideas. Ultimately, social media marketing can help you connect with new and existing customers, increase awareness of your brand, and grow your company.
Conclusion in Branding A High Tech Business
High-tech companies must find a way to balance innovation and technical expertise with accessibility and clarity. The suggestions here can help you do exactly that – and keep your company on the cutting edge.