There are plenty of accountancy firms, so you need to stand out. Regardless of what industry you're in, marketing your company effectively requires careful planning and strategic work. That is especially true for accountancy firms. If you expect people to trust you with their money, your marketing and branding needs to convey trust, reliability, and accuracy every step of the way. And in today's world of online marketing, the right branding is essential. A strong brand helps both existing and potential clients understand who you are and what you represent in an instant.
What Do People Want from an Accounting Firm?
When an individual or organization sets out to hire an accountant, what are the things they look for? Here are some of the most important qualities that your firm needs to have in order to attract clients:
When an individual or organization sets out to hire an accountant, what are the things they look for? Here are some of the most important qualities that your firm needs to have in order to attract clients:
1) First and foremost, an accountancy firm must be trustworthy. There are horror stories out there about what happens when someone hires an accountant who isn't trustworthy.

Therefore,

your marketing and branding must convey 

that your clients can trust you with their money.

2) Second, you must get across the idea that you are meticulous and accurate. Some industries can use playful branding to attract customers, but there's nothing playful about accounting. Your branding should be reassuring in that regard.

Thus, you should avoid colorful designs and use cartoons as elements, for example. 

3) Third, your branding must also convey the idea of reliability. Clients want to know that you'll be responsive to their needs and (in some cases) that you'll get back to them quickly.

In today branding strategy should emphasize your commitment to responsiveness and your ability to address client requirements in time. 

4) The

logo

you choose can do a great deal to communicate these essential qualities to your target audience.

The logo of Costa Accounting Solution InC serves as a great example for reliability and trust. 

The color blue conveys trust and conservatism, while a triangular shape gives the impression of speed,

corresponding to their fast ability to serve customer needs

.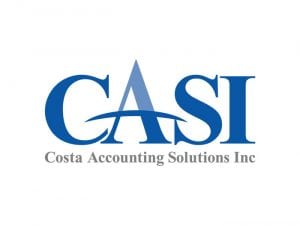 It is extremely important that the logo you select does a good job of making serves as a solid first impression on the people who see it. The next step is to find ways to differentiate yourself from the competition – because that's how you'll attract new clients and help your business grow.
How to Make Your
Accountancy
Firm Stand Out
To some degree, all accounting firms have similar goals with marketing. You want to communicate the fact that potential clients can trust you with their money – that you are honest, efficient, and accurate.  Just having these qualities and a well-designed logo isn't sufficient to convince clients to choose your firm over the competition.
Get some Accountancy Brand Appeal
Here are three basic things you can do to hone your brand and appeal to the people who are most likely to use your services:
1) Start by knowing your strengths. Do you specialize in quick turnaround? Are you particularly good at helping small business owners to identify deductions? Whatever your core strengths are, you must identify them – and then communicate these by using them in your marketing plan.
2) On a related note, it is also a must to identify your target customers and know what they want.  Your potential clients may have distinct needs. While some seek an accountancy firm to help them with retirement planning, larger companies may look for a CPA to handle their tax preparation. You can't target everybody, so narrow your focus and learn about the people who make up your target audience.
3) Finally, use the information you gather to create a client persona. Are most of your customers male or female? Are they wealthy or financially struggling? Business owners or homeowners? The more information you gather, the easier it will be for you to create a persona that fits. It's important to note that some companies create more than one persona.
For example, if you have both business and non-business clients, it probably makes sense to have separate personas for the two both sides of your business. Once you have created your client persona, you can use the information you have to market to people who will identify with that persona align with the attributes of the defined persona.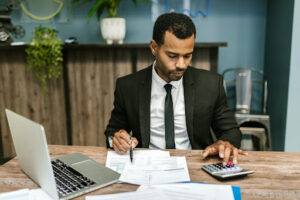 Marketing Your Accounting Firm
Some professionals think of marketing as a dirty word, but it really is not. It's a necessary part of doing business – and if you do it properly, it can help your accountancy firm to grow and thrive.
Why Accountants Need to Embrace Marketing 
You might not have the money to hire a full-time marketing person, but that doesn't mean that you can not to market your firm. According to research, up to seven interactions, before most people make a purchase. This is due to the reason that it requires repeated exposure for your branding message to effectively resonate and leave a lasting impression. 
The first impression the brand around your accountancy company leaves makes is key, but repetition is just as much of importance. The more times that a potential client is exposed to your brand message, the more likely it is that they will click your call to action or pick up the phone and make an appointment with you. In other words, marketing helps you to gather leads and attract new clients. Here are some other reasons to embrace marketing for your accountancy firm:
1) Repeated marketing messages can have a positive impact on client retention. It's far less expensive to retain existing clients than it is to attract new ones.

 C

onsistent marketing message is essential if you want to keep your existing clients happy. 

2) Effective marketing can help you increase your revenue and profits.

3) Marketing is the single best way to build your brand's reputation and solidify your

accountancy

company as a leader in your community – or in a specialized accounting niche. 
The money you invest in your marketing has the potential to bring you a great return on investment.The key is to be smart about what you do and how you do it.
Making a Marketing Plan
For Your Accountancy Firm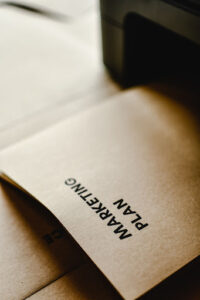 Marketing is not something you can approach without planning. A good marketing plan must be well thought through in advance. You can create a marketing plan relatively quickly using just five simple steps: 
1) Understand your accountancy company's current position, including your strengths, weaknesses, and financial situation. 
2) Identify your target clients and create a persona as previously discussed.
3) Outline your marketing goals. For example, you might want to grow your business by 20% or acquire a certain number of new clients.
4) Map out your marketing strategy and the tactics you will use to achieve your goals. Remember that strategy is a big picture plan, and tactics are the specific things you do to carry out your strategy.
5) Finally, set your marketing budget and decide how to allocate it. You might decide to spend the lion's share of your budget on social media marketing, or search engine marketing, or even on YouTube videos.
Once your plan is in place, you can move on to the next step.
How to Make Your Logo Synonymous with Your
Brand Accountancy
Firm
There's no point in having a great and distinctive logo if you don't use it in the right way. Your logo should really be synonymous with the core values of your accountancy firm. When you think about some of the most famous logos in the world, you'll realize that you don't even need to see the brand name to recognize them. For example, the black D with the green dot next to it, one instantly can associate it with the accountancy company Deloitte. 
Here are some of the things you can do to make your brand logo and the core values of your accounting company synonymous:
1) Use your logo as your profile picture on social media, making sure that it is easy to see as a thumbnail.  
2) Create a coherent branding message by repeating the colors and shapes in your logo throughout your marketing materials
3) Use a schema.org mark-up to tell Google where to find your logo and get them to display it on your search engine results page (SERP)
These steps will ensure that your logo appears consistently online and becomes inextricably linked with your brand in potential clients' eyes.
Content Marketing Ideas for Accounting Firms
Marketing is really an art form. Many marketers today agree that content marketing is the single most effective way to reach your customers. The people who follow you on social media want to be entertained and informed by the content you share. The same is true of people who subscribe to your email list or read your blog. But it is not only in the interest of the stakeholders of your business.
In order to achieve high rankings of your website in Search Engines you need to produce content that aligns with the users search intent.  You might want to try some of these content marketing ideas to get started:
Write a blog and post new content at least once a week.
1) Based on your customer persona, pick two or three social media sites that they are most likely to use and maintain an active presence there.
2) Follow industry publications and well-known figures in the accounting industry and share their content – with your own thoughts – as appropriate.
3) Create a useful accounting template for clients to use and share it on your website of your accountancy firm. 
4) Write an eBook and share some of your expertise with clients or prospective clients. 
5) Create an infographic that illustrates a complex accounting issue in a clear way.
These are just a few ideas. The key is to be creative, vary your content, and always focus on providing value to the people who see your content. After that, there's only one thing left to do – and that's to test your content and refine it so you're getting the highest possible return on your investment.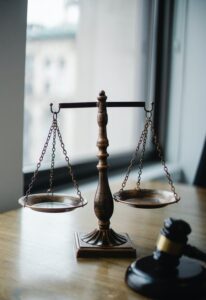 Refining
The
Marketing
of Your Accountancy Company
The final step in marketing your accountancy firm is to track the performance of your marketing efforts and refine them as needed. No marketing plan is perfect right from the start. In fact, the Pareto Principle says that, for any given endeavor, 80% of your results come from 20% of your efforts.
That means there's always room for improvement. Here's how to test and refine your results to maximize your ROI.
1) Use Google Analytics and other marketing tools to track the performance of your marketing efforts. For example, you can use Google to track the bounce rate on your website's home page. You might use the free metrics applications of Facebook, Instagram and LinkedIn to track impressions and shares on your content, and your autoresponder's metrics to look at email open rates.
2) Identify areas where you want to improve and come up with a hypothesis to test them. For example, you might wonder if putting a video on your homepage would decrease your bounce rate and increase conversions.
3) Set up split testing and – testing one element at a time – run comparisons to improve your marketing and refine your strategy. For example, you might test the font on your home page, or the color of your headline, or even the shape of your subscribe button. 
Each small improvement you make can help you to increase your sales and attract new clients. Remember that testing is an ongoing process. Be patient, and watch your ROI grow.


Conclusion:
How to Market and Brand Your Accountancy Firm
The bottom line is that marketing and branding are essential for any accountancy firm. The image you project will determine how successful you are at attracting new clients, and keeping the clients you already have happy and satisfied with your services.
Focus your attention on consistent, targeted branding and on refining your strategies, and the sales will be sure to follow. We have again summarized all the necessary steps you need to consider in the YouTube video below. Check it out and start right away with setting up your marketing and branding strategy for your accountancy firm!