Fashion Design should be fun and full of passion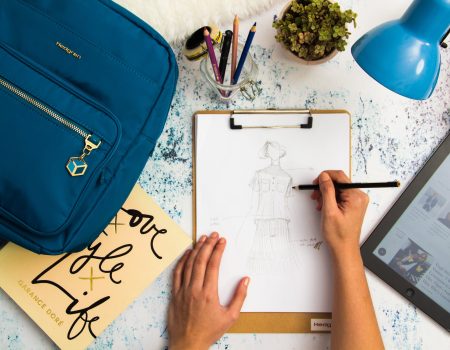 Do you have a passion for fashion? If you feel you have a personal touch when it comes to designing fashionable products, you may want to create your own design label! Before you rent your studio space, you'll want to invest time into a few important areas.
You may want to consider brushing up on technical skills with a formal education. Whether you decide to do that or not, you will absolutely have to develop a complete marketing plan and branding plan. With that in mind, you'll be on your way to hosting your first fashion show!
In the Fashion Design Label Industry
One of the most defining parts of your fashion design business will be to find your personal voice and style within your work. Although debatable, many consider the design industry to be a type of art form. Your designs will be creative and thought-provoking. It can take years to discover what makes your designs unique to you. Some people specialize in fashion accessories. Throughout your career, your fans will be able to instantly recognize your work. You may find a unique voice in the colors or patterns you use in your design. Perhaps your fashion sense is influenced by a specific time period or other designers. The most important thing to remember, in this case, is that you will develop your personal style by constantly creating.
To Study or Not to Study?
For some fashion designers, an education is crucial. However, it is not entirely necessary. There are many technical schools that specialize in fashion. You may want to seek out this education to learn the technical skills needed in designing. By creating your own fashion design label, you will be the one to judge what requirements are needed. You may decide that you wish to rely on your natural skills in designing. A degree in business may be worth considering, as well. This degree will give you some additional skills needed in managing a private business.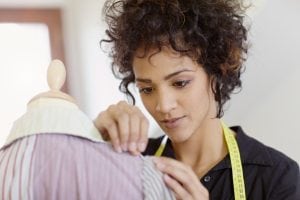 Delegating your time wisely will be a crucial component of creating your fashion design label. Many other things than creating products will require your time. Plan and schedule yourself accordingly to devote time to other areas of growing your business. You will need to make time to create marketing and business plans, as well as time to execute them. Marketing is a significant portion of your work week. This includes networking and creating a staff, if necessary. Branding will require you to invest time in other areas of your industry that may not directly compensate you.
Marketing Your Fashion Design Label
The most obvious and directly beneficial way to market your fashion design label is to network. Networking means connecting with like-minded designers and influencers in your industry to spread the word about your brand. Stay involved in local or even national design events. Communicate with other designers online or in person. Networking is also a great way to find resources you can rely on. As a designer, you'll need access to a studio work space, fabrics, and the tools needed to create your products. Through networking, you can gain access to these resources as well as make reliable business connections in the industry. The more connections you have, the more people will hear about your fashion design label. Competition is fierce but you can make it. 
Who Wears It Best?
Once you have established your business, you will need to hire models to showcase your fashion designs. This involves much more conscious planning than you may initially think. Just as much as your design reflect your style, your models will have to equally reflect the message you want to send to your target market. Is your fashion targeted towards children or adult? Would men, women, or both wear your fashion label? Is there another demographic that would be interested in your fashion designs? These are all factors to consider when searching for models.
Get a logo for your fashion design label 
Creating a fashion logo for your design label is one of the most important things you will do, aesthetically. After all, a label is recognized purely by looks, correct? Your logo will need to effectively symbolize your business. Consider any colors or shapes that correlate with your fashion sense. In many cases, fashion design labels will include either the name of your brand or an abbreviation of it. Once you have designed the logo, it will be incorporated into all of your fashion designs. You may also print the logo on business cards, which will be dispersed during networking.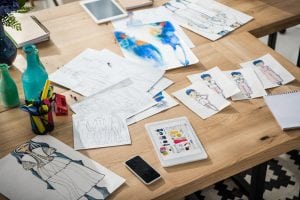 Branding Your Fashion Design Label
Your branding strategy for your fashion design business will be heavily focused on your personal values and ethics. There are many controversial factors that play into the fashion industry. Mainly, economics is a central concern. For many fashion brands, avoiding animal furs or skins is an important part of their brand. You may wish to keep your fashion designs completely vegan. Utilizing recyclable resources for your brand could be a great selling point for you. You may even operate through a location that emits minimal pollution. Some fashion brands hire workers from low-income families or poverty-stricken areas. Choosing economical resources, whichever will be best suited for your brand, will be very important.
Where Do Your Morals Lie?
Similarly, you will likely want to find a way to "give back" to your local community. As a small business in fashion, this will be particularly important. A simple way to execute this idea is to donate a portion of your proceeds towards a local cause.
Finally, collaborating with other designers will be highly beneficial to your fashion brand. You may seek out designers that do similar work to you, or you may find a designer that goes in an entirely different creative direction. If two designers complement each other, they can collaborate on certain products to reach a larger target market.
Conclusion in Creating your Design Label
You can see that creating your fashion design label takes much more work than sitting at a sewing machine. It will take a lot of time to develop your personal voice and style in your fashion. You will also need to devote many hours towards your marketing and branding plans. With some elbow grease, you can create a profitable and in-demand fashion design label.