Logo for cleaning businesses need to make an instant impression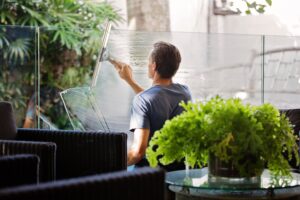 First of all a logo designer for cleaning industry needs to understand your business. As when you choose a logo for your cleaning company, you need it to make an instant impression on potential clients. After all, your customers are entrusting you with their property, whether it's their home, their car, or their office. Understandably, they need to know that you are reliable, trustworthy, and effective. One of our happy customers in the cleaning business is Infinity Carpet Care
However, an attractive cleaning logo design isn't enough. Therefore, the key to having a logo that can do all of the things you need it to do is to hire a logo designer. Not just anyone but one who has a comprehensive knowledge of the cleaning industry. More importantly,  someone who understands your concerns and will work with you. Mostly to ensure that your logo for a cleaning business is a true reflection of your company. 
A logo designer that knows the cleaning business needs to understand a few things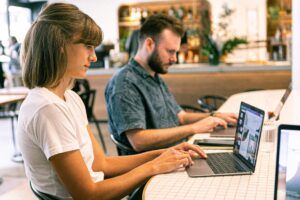 To get the best results – and the best logo – your logo designer for the cleaning industry should:
1) Understand that your logo for cleaning industry needs to tell people what you do as soon as they see it. It shouldn't leave them guessing about what you have to offer.
2) Know how to craft a logo that communicates who you are while also differentiating you from your competitors. A logo that looks like a copy of others won't help you stand out in a crowded field.
3) Grasp the psychology of shapes. Working with you to choose a shape are the most important to people shopping for a cleaning company.
4) Have a deep knowledge of the psychology of colors and be prepared to help you select the best colors for your logo.
Take the time to listen to your specifications and concerns. Craft a one-of-a-kind logo that truly represents who you are and what you do.
5) Listen to your feedback and collaborate with you to refine your logo until you are completely satisfied. Remember the importance of making a logo design for the soul of the company
6) Deliver your logo for cleaning industry to you in a file format that you can use to replicate it anywhere you want to use it. Including on printed materials, on signs, and on your company's vehicles.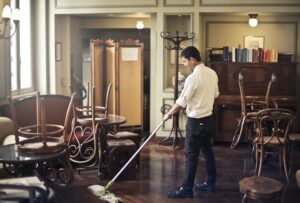 Why chose our logo designers to create your logo for your cleaning business. 
However, if you trust The Logo Company to design your logo for cleaning industry, we'll work with you every step of the way to ensure that you are happy with the final product.
Above all, we'll assign you five logo designers who have experience in the cleaning industry. More importantly, each one of them will deliver a minimum of one custom logo design that's tailored to your needs. For instance, we never ever use design shortcuts like clip art, so you can be sure that your logo for cleaning industry will be unique.
Do you want more information about what our logo designers can do to help you build your cleaning or janitorial brand. To attract new clients? If so, please read Branding and Logos for Cleaning and Janitorial Services. In it, I'll explain the science of logo design as it relates to the cleaning industry. I'll share valuable information about what subtle messages can be conveyed by the shapes and colors of your logo.
As I walk you through the design process, I'll give you examples of logos we have designed for cleaning companies. Talking about how they work to satisfy our clients' needs.
Designing an effective logo is an art and science. Don't entrust the design of your logo to someone who doesn't understand the cleaning and janitorial business.