The computer industry is constantly changing. Unlike some businesses, computer companies can't settle into a groove and stay there. That presents a real challenge when it comes to marketing and branding, since the emphasis must necessarily include some indication of your company's willingness to stay abreast of current trends and change with the times. Since branding is all about consistency, the trick is to find a way to present a brand image that is recognizable while also letting potential clients know that you're on the cutting edge. That's no easy feat.
Elements of Branding for Computer and IT Companies
Any effective growth agenda has to start with branding. Your brand is what allows people to recognize you. It consists of your reputation in your industry, and it also must indicate your specialty. Your goal in branding is to be both unique and consistent – recognizable without putting yourself too far out of the mainstream.
Why Branding is Important for Computer and IT Companies
Why should you be concerned with branding your computer company? The answer is simple. Your brand is what distinguishes you from your competitors – and in this industry, you have plenty of competitors. Not only do you have to compete with other computer and IT companies in your area, you also have to compete with people who are able to do the same work you do from remote locations. If potential clients don't trust you to know what you're doing and treat their information professionally, they'll look elsewhere.
How to Define Your Brand
Now let's talk about how to define your brand. This is a tricky topic because ultimately, your brand is how your customers think of you. You might try to develop a particular brand personality, but if your efforts fall short or outside forces affect them, you can still end up with a brand that isn't what you want it to be.
Your brand should tell people who you are and what you do. It may also have to communicate how you do what you do, particularly if it's different from the way your competitors work. Answering these questions can help define your brand:
1. Who are your competitors?
2. How does what you do differ from what they do?
3. Why should customers choose you over your competitors?
Once you know these three things, you can fine-tune your branding message.
Tips for Choosing the Right Logo
Your it logo is an important element of your brand. It provides potential customers with an easily-recognizable symbol of your company. When you see McDonald's golden arches or the Nike swoosh, you understand what those symbols mean.
A lot of companies in the computer industry focus on logos that emphasize innovation. They use colors like red, which indicates energy and excitement, and blue, which conveys trustworthiness and is also associated with technology. Effective logos in this industry include shapes that speak directly to the services being offered, like this one that we designed for a network auditing company: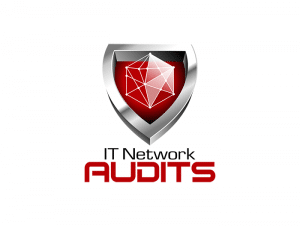 Note the use of red, and the interlocking lines that represent a network tucked inside the shield. These images together let potential customers know at a glance that this company's emphasis is on network security.
Creative Ways to Use Your Logo
Choosing the right it logo is important, but once you have done so, the next step is to use it to cement your brand image and increase brand recognition. Here are some ideas to try:
1) Use your logo consistently, both online and in person. Your internet logo should appear on your business cards, printed marketing materials, ads, social media profiles, and company vehicles.
2) Don't be afraid to play with your logo. As long as the primary shape and colors remain the same, you can change it up in small ways to make a point. For example, you might incorporate a new product into your logo by adding words, or do a holiday version of your logo to promote a special.
3) Put your logo on merchandise and give it to your customers. It's a good idea to stick to items that are related to your business, such as mouse pads. That way every time a customer uses their computer, they'll have your logo in front of them.
Your logo should always be front and center in your marketing. The more you use it, the more closely it will be identified with your brand.
Coming Up with a Voice for Your Brand
The final element of branding to discuss is coming up with a voice for your brand. On the one hand, computer companies deal with highly technical language and terminology. On the other hand, your customers may not be as sophisticated as you are when it comes to computers. Your brand's voice needs to walk that line. See some tips on how to create a memorable brand personality.
Ultimately, the point of developing a voice is to find a way to communicate easily and effectively with both current and potential customers. If you offer a tech service to IT professionals, you can use industry jargon without worrying that it won't be understood. However, if your primary customers are home computer users, then you'll need to take that into consideration. Spend some time thinking about who your audience is and how you might talk to them, and then use that voice consistently in your marketing.
Elements of an Effective Website
After you have established your brand, the next step is to give it an online home. While social media and advertising play a role, you must have an effective website – one that speaks directly to your potential customers – if you want to be successful.
How to Use Your Logo and Brand to Make a Great Website
Everything we have talked about thus far should play a role on your website. What does that mean in practical terms?
1) Your logo must appear on every page in a prominent position
2) The connection between your logo and your brand must be clear
3) The voice you use on your website must fit your brand and be consistent from page to page
Of course, you need an effective home page, About Us page, and pages for each individual service you offer, but when it comes to branding you need to focus on consistency and voice.
Benefits of Blogging and Blogging Tips
If your website doesn't already have a blog, then you should consider it as a way of building your brand and increasing customer loyalty. A blog offers you the perfect opportunity to communicate directly with your target audience, and to provide them with valuable information that can create a sense of obligation on their part – something that psychologists call the Reciprocity Bias.
Here are some tips to help you create the kind of blog that engages current customers and attracts new ones:
1) Share industry news and tips, making sure to include your opinions and perspective
2) Introduce yourself and your employees
3) Give practical advice about computers and IT that customers can use
The best blogs are those that focus on providing immediate value to readers – because ultimately, that builds brand loyalty.
Content Marketing Tips for Computer and IT Companies
Your company's brand, including your logo, website, and blog, all help lay the foundation for effective marketing.
What Should Go into Your Marketing Plan?
To do a good job marketing your company, you need to take a measured approach – in the same way you would to any technology problem. That means that writing a marketing plan has to take priority. Here are the elements of an effective marketing plan:
1. A mission statement or goal – what you want to accomplish
2. A marketing strategy – what tools and platforms will you use to accomplish your goal?
3. Marketing tactics — how will you use those tools and platforms?
4. A marketing budget – how will you allocate resources to specific tactics?
If you choose the wrong strategy or tactics, your marketing campaigns might fail before they ever get off the ground, so take the time to think everything through before proceeding.
How to Find Potential Clients
A key component of any marketing plan is choosing your strategies. Perhaps a better way to describe it is to say that you have to figure out which tools will help you find your target audience. After all, you wouldn't use the same tools to reach home computer users that you would to connect with IT professionals.
Some of the things to consider include:
1) Industry professionals, including IT people and business owners, are likely to look for computer services on LinkedIn
2) You can connect with professionals at industry conferences and associations
3) Network with local business owners by joining the Chamber of Commerce or attending industry events
4) Find consumers online by using social media sites like Facebook and Twitter
As you fine-tune your brand, you need to consider which marketing platforms are most likely to reach your target audience. Use that information to allocate your marketing budget.
Killer Content Marketing Ideas for Tech Companies
Now let's look at some killer content marketing ideas – things you can use to provide real value to your target audience, build your brand, and grow your business.
1) Write an eBook about a topic that's of interest to your target audience. You may even want to give it away as an incentive for people to subscribe to your list or fill out a lead form.
2) Host a webinar or online course to help people learn about your area of expertise.
3) Provide actionable tips on social media – practical information that people can use right away, such as a list of tools to help them determine if their website has security holes (which you can then help them fix.)
4) Create how-to videos that demonstrate how to complete a task or handle routine computer issues.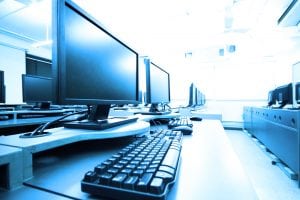 In general, try to vary your content so that it's not all the same. You should also follow industry publications and leaders and share their content (with your comments) whenever appropriate.
Market Testing
The final step in fine-tuning your marketing campaigns is to measure their performance and test them to make them more effective. This breaks down into two basic steps:
1. Use analytics tools to track the performance of your ad campaigns. As a computer professional, you are probably fluent in the use of Google Analytics. You may also want to use Facebook Insights, social media mentions, and email analysis to determine what ROI you get for your marketing efforts.
2. Determine which elements of your campaigns are underperforming, come up with a hypothesis about how to make each element better, and then test the improvements using split testing software.
The key is to test only one element at a time so that the results are scientifically valid. Over time, small tweaks and adjustments to your marketing campaigns can lead to significant improvements in your ROI – and in your bottom line.
Conclusion
The bottom line is that when you take the time to create a memorable and consistent brand, and then use that brand in your marketing, your business will grow. No company can succeed in the long term without effective branding, and a logo designed by The Logo Company can help you brand your company and ultimately, increase your profits.