What is a Spiritual Logo?
With a spiritual logo, you and your business have the opportunity to convey a meaningful and unique message. Most likely, assisting you in creating an emotional connection with your audience and create a sense of community. Understandably, I believe that spiritual logos are often associated with religious beliefs.
However, they can also be connected to holistic health such as yoga, meditation, or wellness. Therefore, companies offering such spiritual experiences often use this kind of logo design. For instance, their logos usually incorporate different spiritual elements and use different colors with spiritual meanings. Therefore, I recommend that you  consider which of these attributes can help you to transfer your brand's core values. Connecting best with your target audience.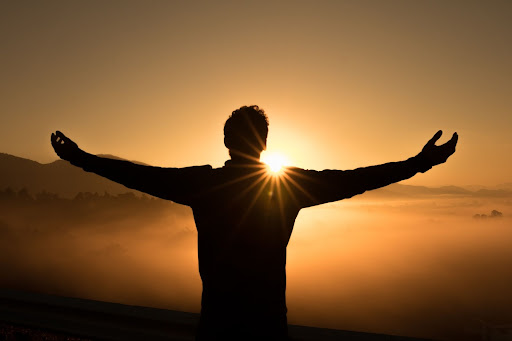 In this short blog post I will show you possible elements that is worth integrating in your spiritual logo. Hopefully, giving you some ideas for inspiration when creating your spiritual logo.
Elements of Spiritual Logos
Most of all, spiritual logos can come in many diverse ways. Elements often used in spiritual logos are elements such as trees, flowers, hands in prayers, or stars. Furthermore, these elements are often associated with peace, longevity, and faith. Knowing this can help you communicate these values and beliefs in a spiritual logo design. After all, you're aiming to inspire people, right?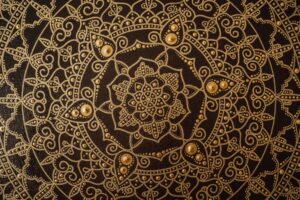 Most importantly, to give your logo a spiritual meaning, you can also incorporate various religious symbols. Showing diversity and awareness of all kinds of spiritual ethos.
Another typical element of spiritual logos can be any form of mandalas. Usually, mandalas consist of circular shapes with various shapes and symbols. Traditionally, I believe that they are arranged in a symmetrical pattern that radiates from a central point. Remember that these can be incorporated in many different ways in your logo design.
I  have seen that some logos have mandalas as a major player in their design. However, others companies only use parts in the background or surrounding the logo.  For example, Babyboon's logo features a mandala in the background with a meditating pregnant woman as the central element, while Sacred Spirit's spiritual logo centers around a mandala of two distinct colors, purple and green.
Colors used to add spirituality to your brand
Keeping in mind that, no matter what symbol you decide to choose, keep the color and font choices in mind. Knowing that they play an essential role in transferring the values you want. Creating a spiritually harmonious logo that conveys your business's message. I recommend that you try to maintain the balance and communicate and inspire people on a deeper level. In this case, less is more. More importantly, in both Hinduism and Buddhism, spiritual meaning can be attributed to various colors. For example, in Buddhism, yellow represents wealth and beauty whereas green stands for peace and protection from harm. Knowing about those different implications can help you transfer your spiritual message with your logo design.
Meanings of Spiritual Logos
However,  you should check not only the meanings of the colors you are planning to incorporate but also the spiritual symbols that you plan to use. Therefore avoiding possible miscommunication. I believe you should approach the use of spiritual logo elements with respect and sensitivity to their cultural and spiritual significance. Another aspect to keep in mind is that spiritual symbols can have different meanings in different cultural and religious contexts. Take as an example the spiritual symbol of a snake. I know that in some cultures, it is revered, while others frown upon it. For instance, in Christianity, the snake is called the devil, while in other Eastern cultures, it is known as a symbol of the original life energy, death and rebirth. Therefore, it is important to conduct in-depth research beforehand to avoid such ambiguities.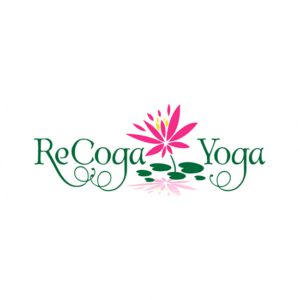 Looking at the logo of ReCoga Yoga, it's hard to miss the water lilies that take center stage. As we mentioned earlier, incorporating floral patterns like these can be a powerful way to convey spiritual meaning. In this case, the water lilies are a particularly fitting symbol for a yoga studio, as they represent inner peace and balance. Understandably, water lilies have been revered for their beauty and symbolism throughout history. Many cultures seeing them as a representation of spiritual and emotional purity. Furthermore, their association with calmness and serenity makes them a perfect choice for a yoga studio that promotes finding inner peace and balance. Especially since this spiritual symbol has been associated with old Eastern practices, it makes it a perfect fit for the eastern originated practice of Yoga. If you get the symbol right, then this will help when marketing and branding your yoga studio.
Cultural beliefs, religion and traditions play a big role in creating a logo
Let's talk about, Fierce Heart. This company that  decided to display an elephant in their logo. Above all, this majestic animal holds great spiritual meaning in many cultures, religions, and traditions across the globe. Historically, both Hinduism and Buddhism, sees the elephant as a symbol of strength and wisdom, embodying the spiritual values. Fierce Heart promotes this through its yoga therapeutics brand. After all, yoga is not only about physical exercise but also about achieving balance and harmony between mind and body. Making the symbol of the elephant such an excellent choice for a yoga studio. Its values align perfectly with the spiritual message that Fierce Heart seeks to convey through its logo design.
Symbols are used to create spirituality
Let's take another example, Coach Brandi has decided to integrate several spiritually significant symbols into their logo. You can see that, the main elements of the logo are an infinity symbol and a star, both of which are incorporated into a mandala. Furthermore, the infinity symbol signifies the concept of limitless or eternity. This symbol is particularly relevant that focuses on spiritual coaching, as it represents the infinite possibilities and potential. Next to that, the star represents happiness, guidance and renewal. Often it is also associated with the idea of reaching for the stars and achieving one's dreams. By combining both these symbols in their logo, Coach Brandi is promoting their spiritual guidance that may assist individuals to reach for their dreams and achieve their goals. Find out more on how to start your own healing business.
To sum up, spiritual logos come in many shapes and forms, they might carry different meanings to different target groups so it is important that you are sure how the logo will be interpreted by the audience you want to attract. However, spiritual elements can also carry a greater meaning so make sure that you do thorough research to ensure that you are not offending anyone or sending out the wrong message. Let's remember that, spiritual logos can be a powerful tool to add even more meaning to your brand and your values when done right and there are some great examples out there. The Logo Company can help you create a logo that conveys the right message and leaves an impression. If you are still unsure of how to convey your brand message, check out our blog post about different logo design shapes.