Paying for an education is one of the biggest expenses most people face in a lifetime – and also one of the most important. The education we get plays a direct role in our lives, and can determine our careers, our salaries, and our ability to retire. For that reason, marketing educational institutions and companies poses some serious challenges.
Any marketing you do must keep in mind that education is a powerful force. Marketing a school is not like marketing running shoes or milk. The education logo you choose, and the marketing techniques that you use, are likely to play a significant role in appealing to students and parents alike.
The Challenges of Branding Education
If you have the responsibility of marketing a school or educational company, you know that it can be difficult to land on the right marketing strategy. How do you brand a school without seeming mercenary or glib? Some major institutions like Harvard have a deeply-ingrained brand. All they have to do to appeal to students is to maintain their brand – which speaks to excellence and exclusivity – in their marketing materials. Schools with less name recognition face an uphill battle.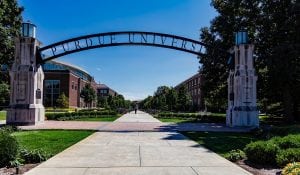 Education Statistics
To better understand why branding a school or university, or an educational company for that matter, represents such a challenge, it may help to look at some statistics that explain the importance of education. All numbers are from the National Center for Education Statistics.
1) As of 2014, there were 91,806 traditional public schools in the United States, and 4,207 colleges and universities
2) Undergraduate college enrollment as of 2014 was over 17 million
3) The average salary of a worker with an undergraduate degree was 25% higher than the national average and nearly 67% higher than that of workers with only a high school diploma
4) The average cost of attending a public university in 2014 was approximately $12,750 per year, while the cost of attending a private, for-profit university was $21,000 per year
5) As of 2012, the average expenditure for each student in elementary or secondary school was $11,700 per year.
It is clear that education is big business. If educational institutions expect parents and students to spend thousands of dollars on tuition, they must have a strong and appealing brand and effective marketing.
Logo Design Considerations for Educational Institutions
One of the biggest challenges of choosing a logo for an educational institution is coming up with something memorable that doesn't seem overly commercial. People want schools to take themselves seriously, and they need to believe that spending thousands of dollars on a school is a good use of their money.
Another consideration when choosing a logo is how good it will look on a variety of products. Many schools and universities sell apparel, mugs, notebooks, pencils, and other merchandise with their logos. However, the logo must also be something you can use on your website and on letterhead. Potential students are very likely to come into contact with your logo before they hear anything about your school, so it's essential for the logo you pick to be a strong one.
Some of the things you may want to keep in mind include:
1) The colors you choose can communicate quite a bit about the type of institution they represent. For example, bright, primary colors are often associated with early education while darker, richer colors tend to be used by colleges and universities.
2) Because the symbols of education, such as books and pencils, are commonly used, they should be incorporated into your logo with care to avoid seeming clichéd.
3) Sometimes, a classic or even gothic-looking font can be effective, particularly for schools with a long history. However, such fonts should be used sparingly.
This logo that we created for Saint Philip Preparatory School is a good example. Prep schools are fairly exclusive, and this logo uses two rich colors, dark green and gold. The heart shape calls to mind the Sacred Heart – appropriate because this is a school with a religious affiliation – and the keys imply that attending the school will open doors for students.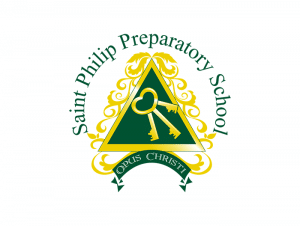 Using Social Media to Market Educational Organizations
Because many schools and educational organizations need to connect with people of all ages and social backgrounds, social media can be the ideal platform to create a strong brand. The opportunity to connect with potential students and their parents – or with educators – on a personal level allows educational institutions to communicate who they are and what they have to offer.
Tips for Making a Content Creation Schedule
The first thing to do if you want to make effective use of social media to market your school or educational company is to set up a content creation and posting schedule. When you use social media as a marketing tool, it's important to remember that it is, first and foremost, meant to be a social tool. People who follow you on social media want to hear from you regularly, and there are scheduling tools you can use to make sure that content goes out on a regular basis – even when you're not around to post it.
Some social media sites, such as Facebook, have built in scheduling tools that allow you to set the time and date to post an individual piece of content. However, if you plan on using more than one site for marketing, you may want to use software such as Hootsuite or Sprout Social to manage your content.
As you begin posting, pay attention to which types of content result in the most engagement – and note if particular times of day are more popular than others. You can use this information to make smart decisions about what to post and when to post it.
The Benefits of User-Created Content
When students are contemplating which college to attend, they take many factors into consideration. One of the most important is whether they think the college will be a good fit. Will they feel comfortable there? The same thinking may also apply to charter schools.
For that reason, many educational institutions encourage their followers on social media to create content and share it with them. One good example comes from Tulane University in New Orleans. In 2015, they encouraged students who had been accepted to Tulane to take creative pictures of themselves holding their acceptance letters. They asked followers to vote for the pictures by liking them, and then awarded a $300 gift certificate to the campus book store to the winner.
What can you do that would encourage people to create content that would help you market your school? Many young people are comfortable with digital media and might be encouraged to take photographs, shoot videos, or create memes that you can then share with your followers.
Content Marketing Ideas for Social Media
Social media marketing is a must for any company that wants to connect with young people. The key is to choose the right sites to use, and then use them properly to attract teachers students and parents alike. Here are some ideas to consider:
1. Feature your campus. Incoming and prospective students want to get an idea of where they'll be attending school. The visual focus of social media is perfect for sharing photographs and videos, whether you hire a pro to shoot them or solicit photos from current students and faculty.
2. Share local events. Another important factor when students are deciding where to go to school is the surrounding community. A recent post on Harvard's Facebook feed featured an article about Boston and how the city has changed over the years.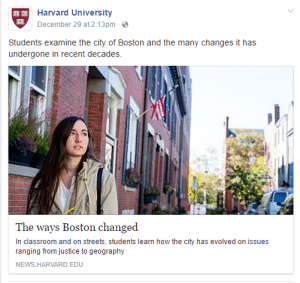 3. Share the accomplishments of students and professors. For many students, attending a prestigious school is important. Did researchers at one of your graduate schools recently publish a study? Did an alumnus win an award? Sharing news stories is a good way to brag about your school without seeming to brag about it.
These are just a few ideas. The overall goal of your social media accounts should be to highlight what your school has to offer. You might post about tailgating at the football game or share reunion pictures. The main thing to remember is that the content you share should be pertinent to the audience you want to reach.
Blogging for Brand Awareness
In addition to social media, you may want to consider adding a blog to your website if you don't already have one. Whether you are marketing a school or a company that makes educational supplies, a blog affords you the opportunity to provide valuable and relevant information to your target audience.
Benefits of Blogging
First, let's talk about some of the benefits of blogging. A 2016 study from Hubspot showed that companies who have blogs on their websites are 13 times more likely to see results from inbound marketing than companies who don't have blogs.
Blogging can improve your SEO too – something that's important when you consider how serious the competition is in the education industry. When you post regular blog entries, Google has to re-index your website to cover new content. Since their algorithms prioritize fresh content, the SEO benefits are clear.
Blogging gives you an opportunity to cover topics in more depth than is possible on social media. And, of course, you can share your blog posts on social media as a way of getting more traffic to your blog.
Ideas for Blog Entries
What sorts of content should you post on your blog? If you're thinking that blogs must feature written content only, think again. More schools and universities are diversifying the content they share on their blogs, expanding to feature photographs, videos, infographics, and more. Here are a few ideas to consider:
1) Share information from student publications and endeavors. Did you recently sponsor a student Art Night? Share photos of the art and quotes from attendees. Does your school have a newspaper? Link to a recent compelling story. Schools are content-rich environments. Don't be afraid to use what you see around you.
2) Feature biographies of faculty and administrators. When students and parents are contemplating a school, they want to know who will be teaching them. You probably already have bios on your site, but you can expand on them or even do a video Q & A to mix things up.
3) If you are marketing an educational company, share stories about how and where your products are used. For example, a company that made tools used in special needs classrooms might feature a particular school as a case study and explain how their products helped students learn.
The best way to use your blog is to look at what you have to offer students or educators and then figure out how to highlight it. These ideas all do that.
Conclusion
The key to branding and marketing educational institutions and companies is to target everything you do to clarifying who you are and how students, parents, or educators can benefit from it. Education is something that can make a huge difference in people's lives, and your marketing should reflect that.