Marketing a legal firm poses some unique challenges. While corporations and certain people may keep a law firm on retainer, most people only call a lawyer when they need one. That usually means that they're in trouble, and so some of the normal rules of branding don't apply.
Companies in the legal industry have to convey the core qualities that potential clients want to see while also finding a way to make themselves appear unique and different than their competitors. That's a real challenge.
Choosing the Right Logo for Your Legal Firm
The first step to branding a legal firm is to choose a memorable logo. What makes the process tricky is that under normal circumstances, a company might expect a prospect to encounter their brand as many as 10 times before making a purchase. However, people tend to contact legal firms when they are in extremis. That means you have to make an impression quickly.
Meeting Industry Expectations
First and foremost, your logo must convey what you do. Many law firms use traditional icons and images such as gavels or the scales of justice to indicate the industry they are in. These images are particularly important because the names of most law firms don't lend themselves to wordplay.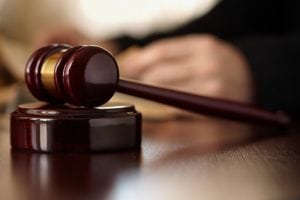 Your logo must also project the core values you want clients to know about. Legal services are expensive. Your clients must trust you, and many legal firms choose conservative colors and typography to indicate their stability and trustworthiness.
How to Make Your Logo Unique
The next challenge is to make your logo unique. You might be using similar imagery and colors to your competitors, but you must find a way to differentiate yourself if you hope to attract new clients.
Keep in mind that an experienced logo designer can take any image and make it unique and special. The fact that you use a gavel in your logo doesn't mean that it has to look like an ordinary gavel. You can work with your designer to find a combination of images, typography, and colors that make your firm stand out.
Logo Analysis
To put everything together, let's look at a logo we designed for a law firm.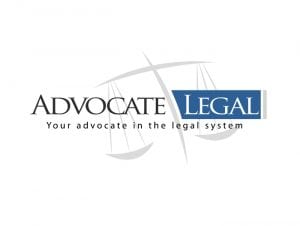 As you can see, this logo uses the scales of justice to represent the legal profession. However, it does so with a twist. Notice the way the scales of justice tilt to the side, giving a sense of movement.
It almost looks as if the firm's name is carrying the scales of justice into battle. That's an apt image for a firm that bills itself as an advocate. It implies that potential clients can count on this firm to represent them well and vigorously.
This logo is also interesting because it combines traditional and modern elements. The color palette is extremely traditional, featuring only blue, gray, and black. The font chosen for the company name is a traditional Serif font, while the tag line is a modern, Sans Serif font. It's subtle, but the idea conveyed is that this is a company that understands the traditions of law but has modern ideas, too.
Creating a Consistent Brand
Your logo is important but it's only the first element of branding to consider. To attract clients, a legal company must create a consistent and compelling brand.
Finding Your Brand's Voice
What voice should your brand use in your marketing content? The challenge for legal firms is to strike a balance between demonstrating your legal knowledge and ability and appealing to people who don't know the law.
A law firm that markets to corporations might be able to get away with using legal jargon in its branding, but a company that represents individuals should probably take a more conversational approach. You should always keep your target audience in mind. A firm that specializes in custody issues would use a different tone than a criminal law firm.
Positioning Your Firm
The next step is carving out a niche in your market so you can stand out from the competition. You might be competing against dozens of other firms who offer similar services. Your challenge is to differentiate your company so that the people who are most likely to benefit from working with you can find you.
For example, a lot of firms specialize in divorce law. A person going through a high asset divorce would need different representation that someone dealing with an abusive spouse. Your firm is better at some things than others, and the key to positioning is to identify those things and capitalize on them.
Developing a Branding Strategy
Finally, you need to develop a branding strategy. Where will you market your firm? What specific tactics will you use to attract new clients?
The strategy you use should be developed based upon your target audience and where they are most likely to be. A firm that specializes in corporate tax law might choose LinkedIn as its primary social media platform. That makes since given the site's strong business-to-business slant.
By contrast, a firm that specializes in entertainment law might use Facebook or Twitter to reach potential clients. They could target their marketing based on people with an interest in the arts and attract potential clients with compelling content addressing relevant legal issues.
The strategy you choose must speak to your target audience. If it does, you will attract new clients on a regular basis.
Content Marketing Ideas to Help Grow Your Legal Business
Now let's talk about some content marketing ideas that you can use to grow your legal business. The content you share should demonstrate your legal expertise and be relevant to your target audience.
Using Your Blog to Drive Traffic to Your Site
Blogging is something that every law firm should do. When you have an active blog, you have an opportunity to demonstrate your legal knowledge and provide actionable and useful content to present and potential clients.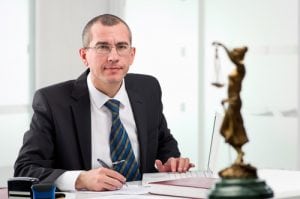 A blog is a good way to feature lawyers at your firms. You can also use it to address legal issues in the news, offer general explanations that might help visitors to your site decide whether your firm can help them, and even offer case studies as a way of demonstrating your abilities.
Choosing Social Media Posts to Boost
If your firm markets to consumers, then you need to use social media to connect with prospective clients. Social media marketing can also help you stay in touch with past clients and keep your firm's name fresh in their minds.
One of the best ways to use social media is to create valuable posts and then boost them. It's an inexpensive way to expand your reach.
The best posts to boost are those that attract a lot of organic traffic to begin with. If you share a blog post about taxes and it gets a lot of attention, that's a good sign that boosting it would be worthwhile.
When it comes to boosting posts, you should create a lookalike audience to share it. That way, you'll have the best possible chance of attracting new clients as a result.
Video Marketing for Law Firms
If you're not already using video marketing, you should be. The majority of consumers say they would rather watch a video about a product or service than read about it.
Here are three formats to consider for your video marketing:
1. Whiteboard videos are an ideal format to explain complex ideas. Since many legal issues qualify, you may want to consider hiring someone to create a whiteboard video for you. The combination of illustrations and voiceover can make even very complicated issues feel approachable.
2. Live video is still pretty new, but it's a good opportunity for you to connect with your target audience in a way that feels both immediate and personal. Live videos are a good way to answer common questions from your followers or share urgent information.
3. Finally, explainer videos are ideal if you're offering legal services that are unusual or specialized. They can help you differentiate yourself from the competition and define your position in the marketplace.
These three video marketing ideas can help your firm to capitalize on one of the most popular forms of online content to connect with your target audience.
Conclusion
Marketing a legal firm poses some special challenges, but they are not insurmountable ones. Using the guidelines here can help you choose the right logo, create a memorable brand, and engage your target audience to help grow your firm.